Thanksgiving is on the horizon, which means that many of us will be preparing to host friends and family over the holiday period. So, if you're in need of some festive culinary inspiration fit to impress even the most demanding of relatives, these vegan Thanksgiving recipes offer some unique ways to have an entirely plant-based feast without compromising on flavor.
Approximately 25 percent of Americans are eating less animal protein overall, with plant-based meats, in particular, becoming increasingly common for all shoppers throughout Thanksgiving and the holiday season. The most common reasons for this change are health (70 percent of participants) and environmental concerns (49 percent), with the uptick in vegan Thanksgiving dishes and recipes widely attributed to increased availability and visibility.
In addition to now staple brands like Tofurky and Field Roast, some private labels are also producing their own versions of plant-based roasts and mains, with UK supermarkets like Sainsbury's and Marks & Spencer stocking extensive options ahead of Christmas 2023. (Tesco has also announced its' returning favorite, the stuffing and seitan-based 'No-Turkey.')
However, if you prefer your meat-free mains home cooked rather than store bought – perhaps you have a family nut roast recipe dialed in exactly right – read on for some truly indulgent vegan Thanksgiving recipes and ideas. (Just look at that seitan pot roast…)
Vegan Thanksgiving recipes to try:
These vegan Thanksgiving recipes include starters and sides, several main dishes, and a few desserts, which means that some require more preparation and cooking time than others. Make sure you plan accordingly and note that some (like the pumpkin pie cheesecake listed at the bottom) can be prepared ahead of time and stored in the refrigerator. Enjoy!
Vegan Thanksgiving vegetables
Braised red cabbage with apple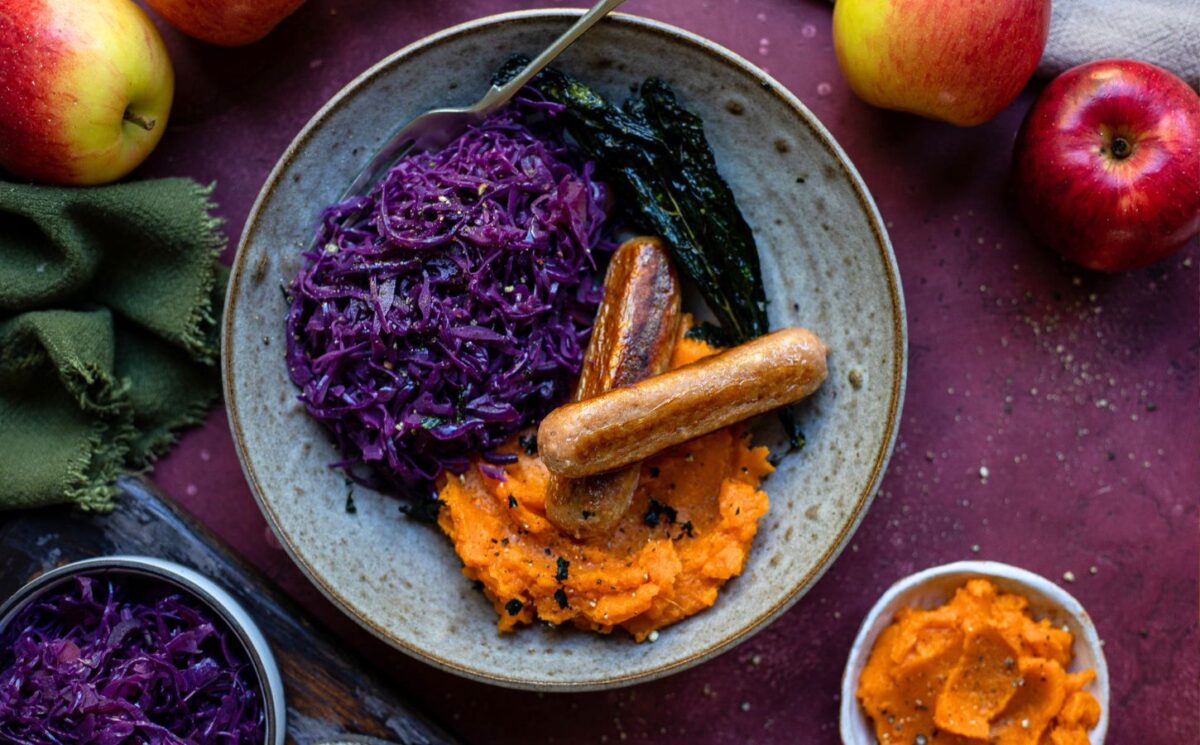 Braised red cabbage is an easy but delicious side dish often served at this time of year. The below recipe includes apple, cinnamon, red onion, and coconut sugar, which makes the cabbage tender, tangy, and brightly colored. Red cabbage is also well known for its nutritional profile, including vitamins C, K, folate, manganese, and fiber. This recipe comes from JAZZ Apple.
Find the recipe here.
Cranberry and garlic green beans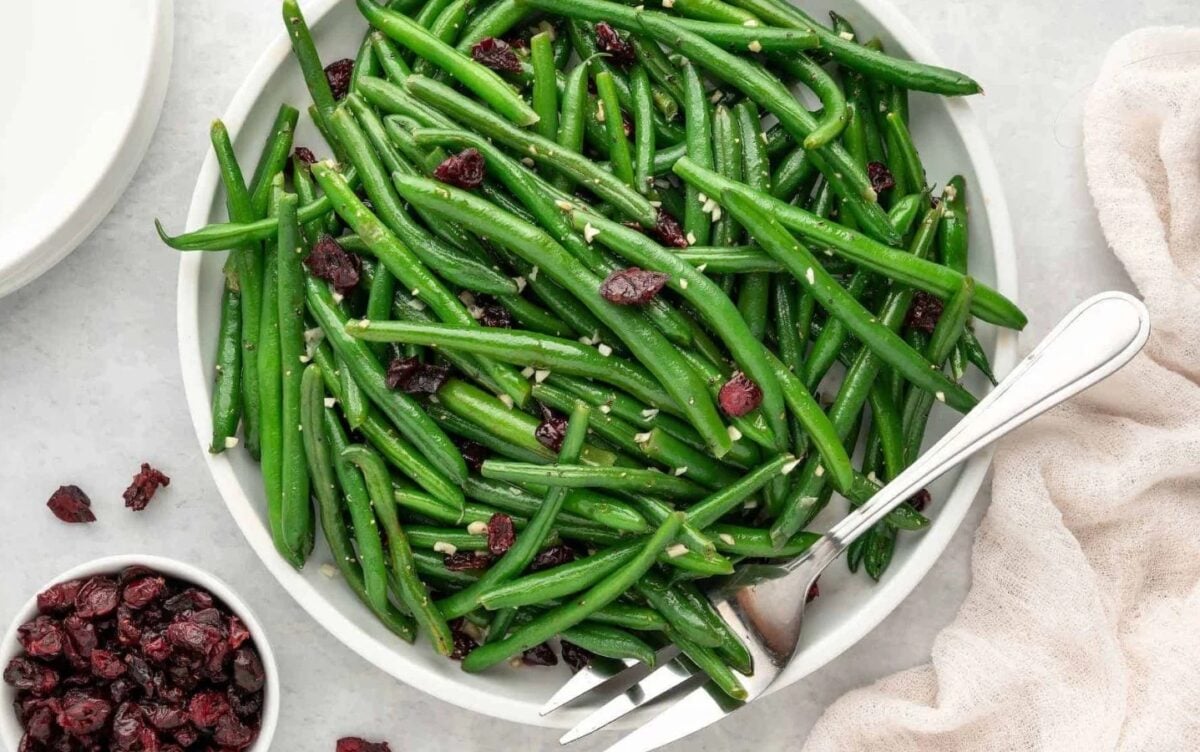 This recipe from World of Vegan combines green beans with garlic and cranberry (two ingredients also frequently associated with Thanksgiving) for a nutritious and flavorsome side dish. Green beans are in season in the month of November, which means that they are at their most nutritionally dense—containing fiber along with vitamins A and K.
Find the recipe here.
Maple-roasted sweet potatoes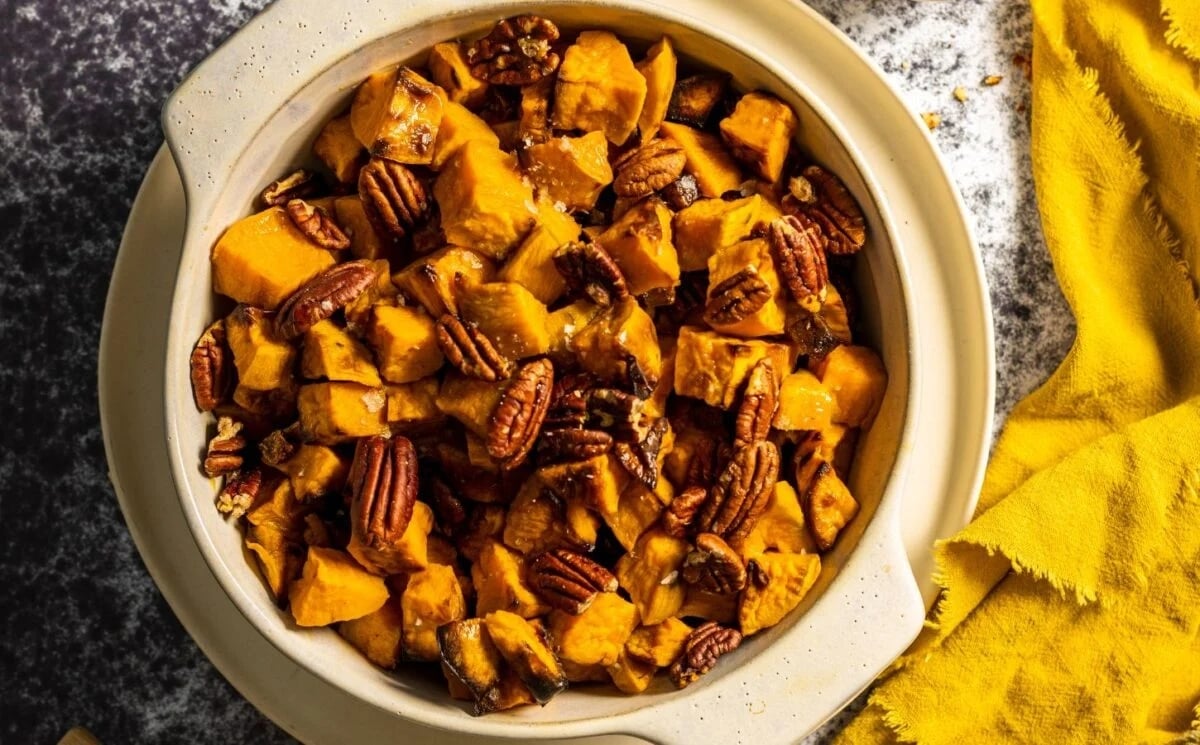 In the UK, sweet potatoes are just coming into peak season, while in the US the nutritious root vegetable has likely already been harvested. This recipe, which was created by Romy London, combines cubed sweet potatoes with toasted pecans for an unforgettable dish. (Plus they are rich in vitamin C, potassium, manganese, and both B6 and B5.)
Find the recipe here.
Vegan gravy
Brandy peppercorn sauce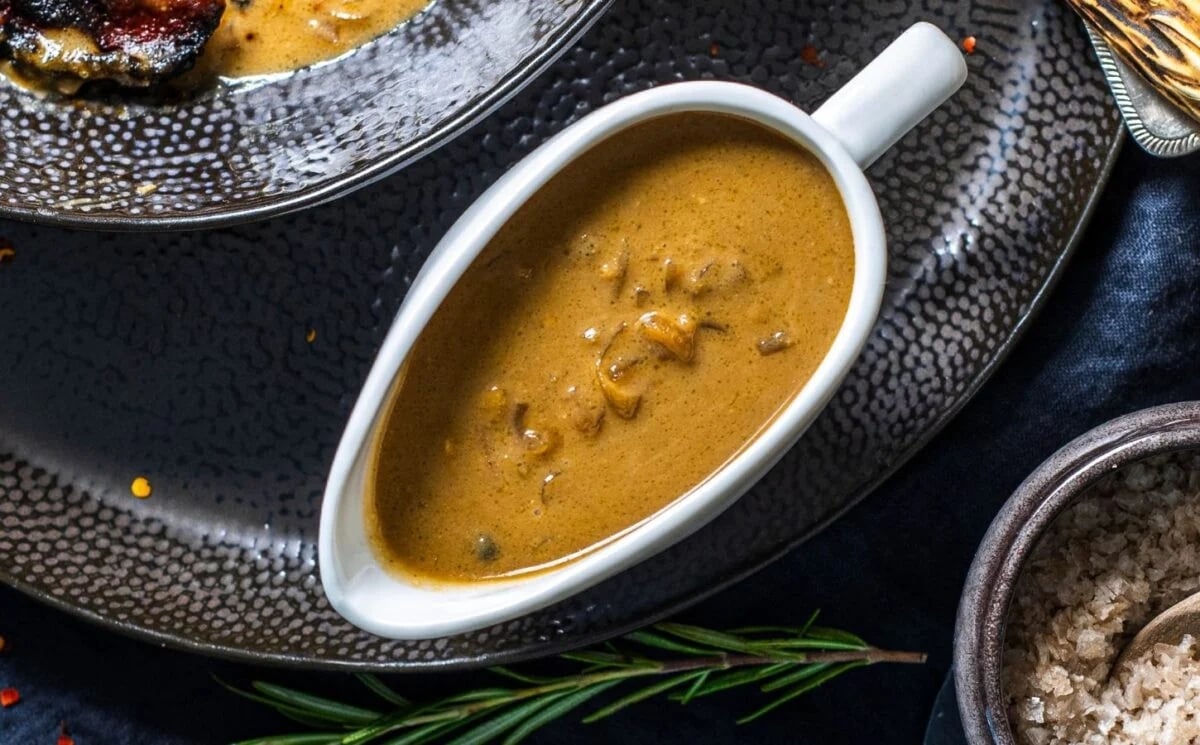 Brandy and peppercorn sauce might be often paired with a vegan steak, but it isn't out of place at a Thanksgiving table to be enjoyed with any other kind of roast or side. It's peppery, it's creamy, and this 100 percent dairy-free recipe also comes from Romy London.
Find the recipe here.
Vegan Thanksgiving mains
Meat-free cottage pie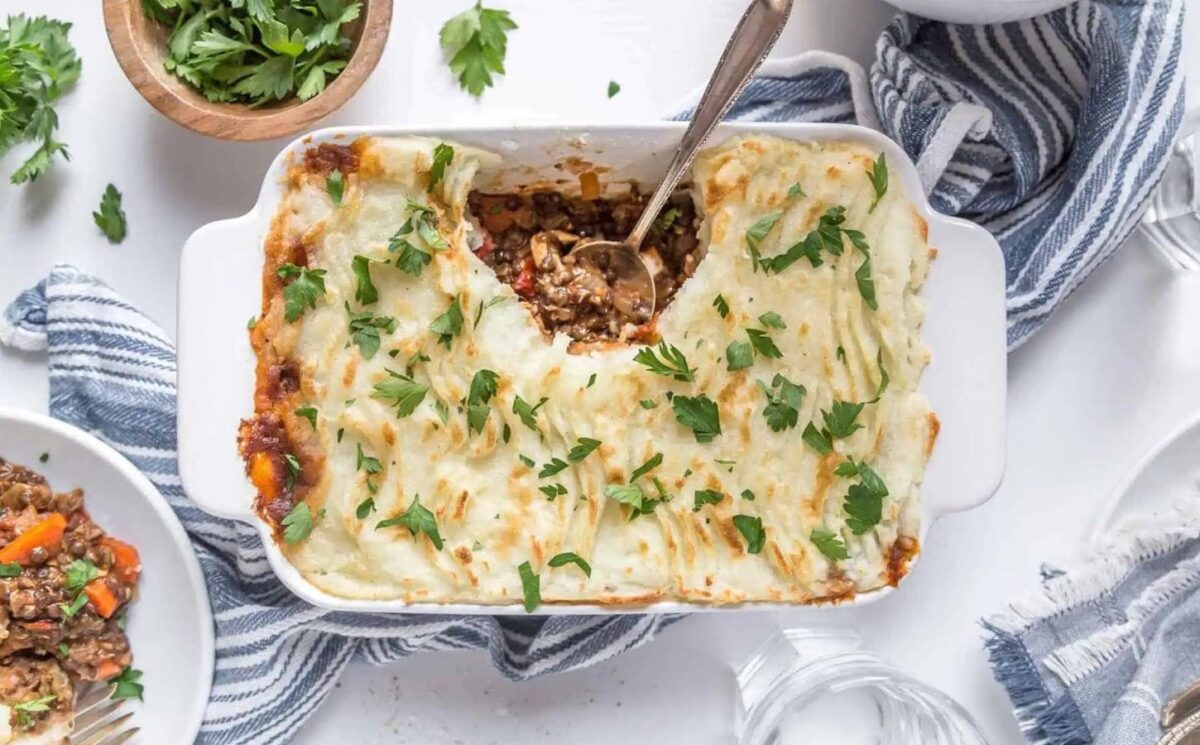 While not strictly a Thanksgiving recipe either, this lentil-based cottage pie (shepherd's pie for those in the UK) is ideal for feeding a lot of people a nutritious, delicious, and affordable meal with minimal fuss. Lentils are widely available, high in protein and minerals, and when varieties are mixed (green, brown, red, yellow, and black) they make for an extremely colorful replacement for traditional minced beef or lamb. This recipe comes from World of Vegans.
Find the recipe here.
Hearty seitan pot roast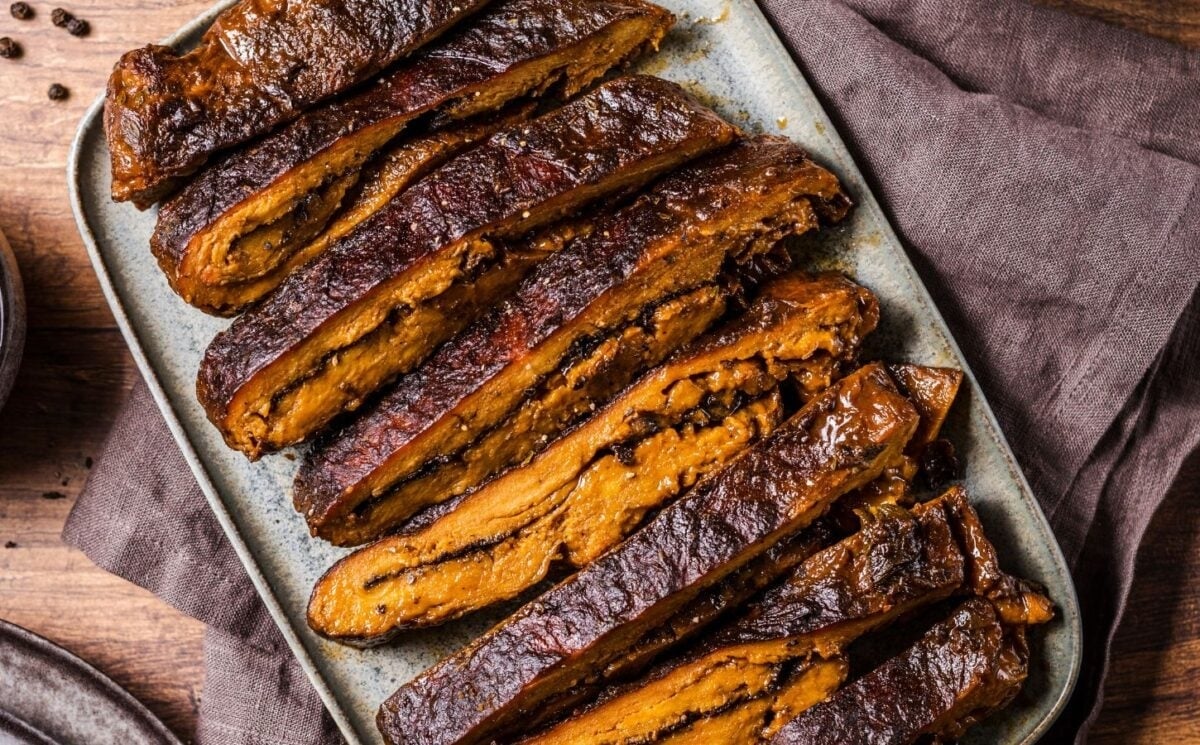 Traditional pot roasts involve slow-cooking meat with vegetables and seasonings, but this recipe from Romy London uses seitan. Sometimes nicknamed 'wheat meat' for its wheat gluten base, seitan is rooted in Chinese and Japanese cuisine but has become increasingly popular as an affordable and often extremely meat-like source of plant protein. (A typical serving of 28g contains around 21g of protein, selenium, iron, and calcium, with little fat.) While you can purchase wheat gluten itself, this recipe involves making seitan from strong white flour, and as a result, requires a little more prep time for an impressive roast.
Find the recipe here.
Wild mushroom loaf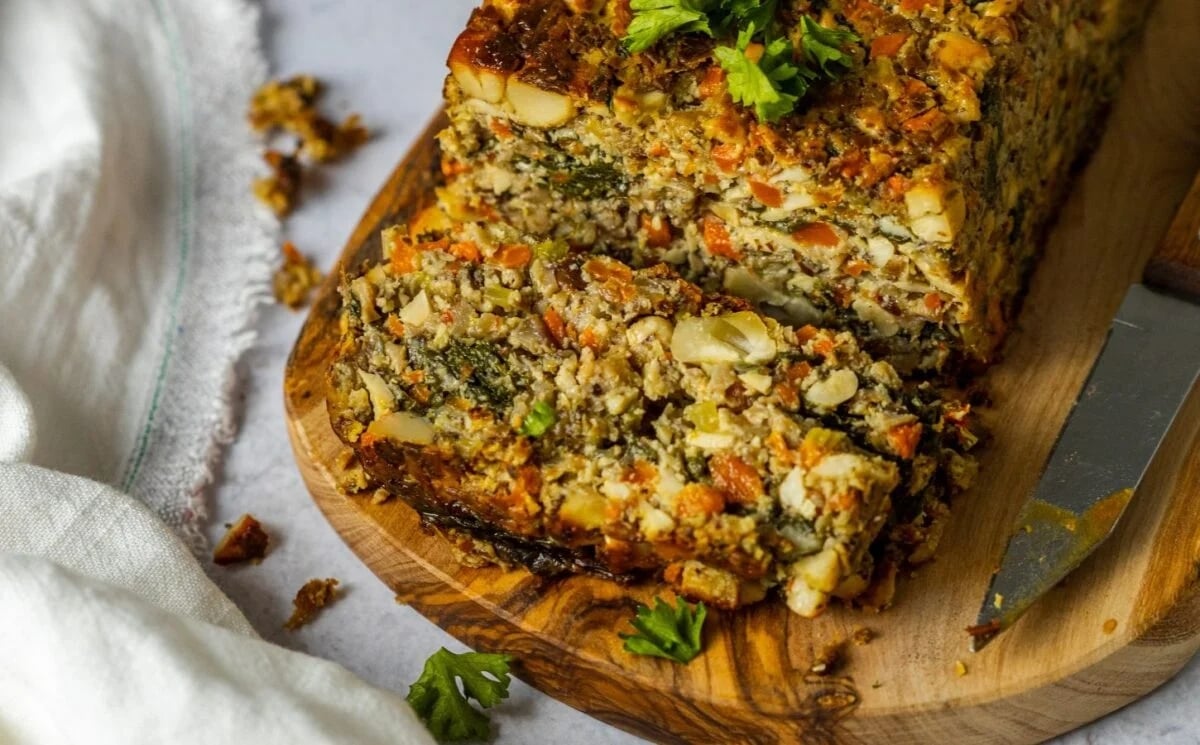 If you're tired of basic nut roasts, this wild mushroom loaf from Romy London might be the recipe for you. Ideal as a vegan Thanksgiving centrepiece, it contains a blend of oyster, maitake, king oyster, and shiitake mushrooms with white wine and aromatic seasonings.
Find the recipe here.
Creamy cauliflower bake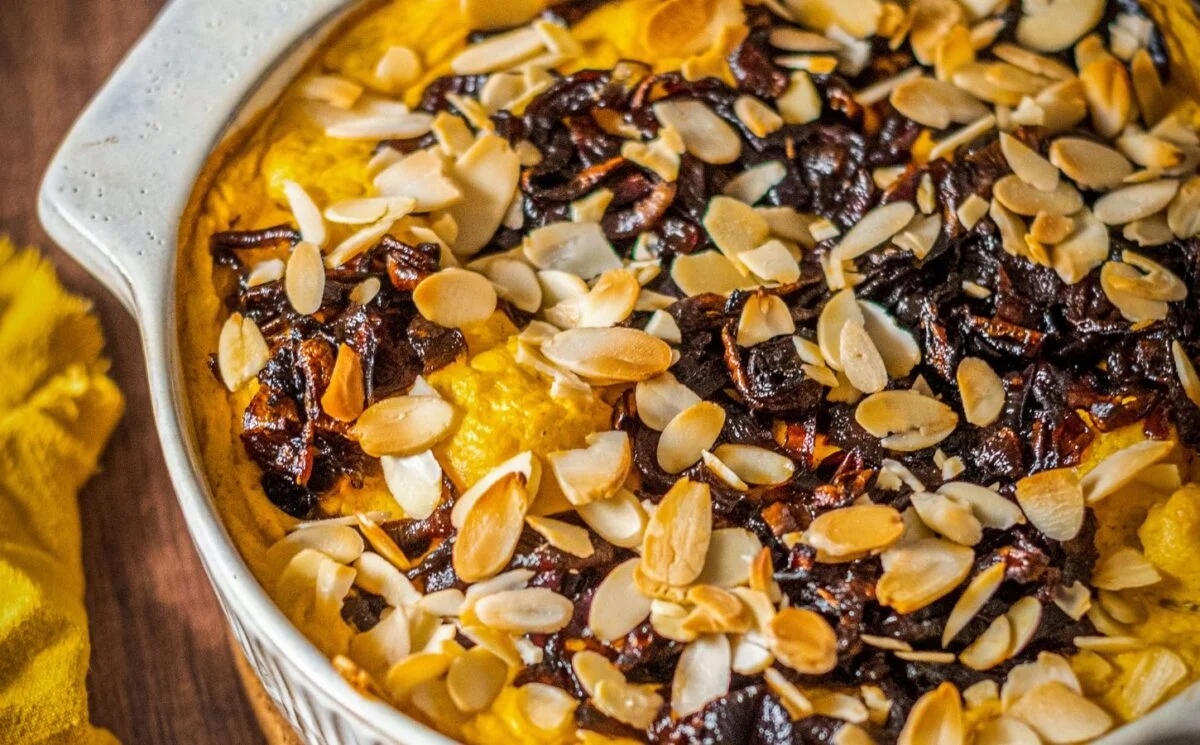 Cauliflower is an extremely versatile vegetable that soaks up flavors when seasoned correctly. This Creamy, buttery, cauliflower sauce by Romy London is topped with toasted almonds and caramelized onions for a crowd-pleasing vegan side this Thanksgiving (or any time of year). Cauliflower is also rich in vitamins and minerals like B6, C, K, and potassium.
Find the recipe here.
Lentil and mushroom Wellington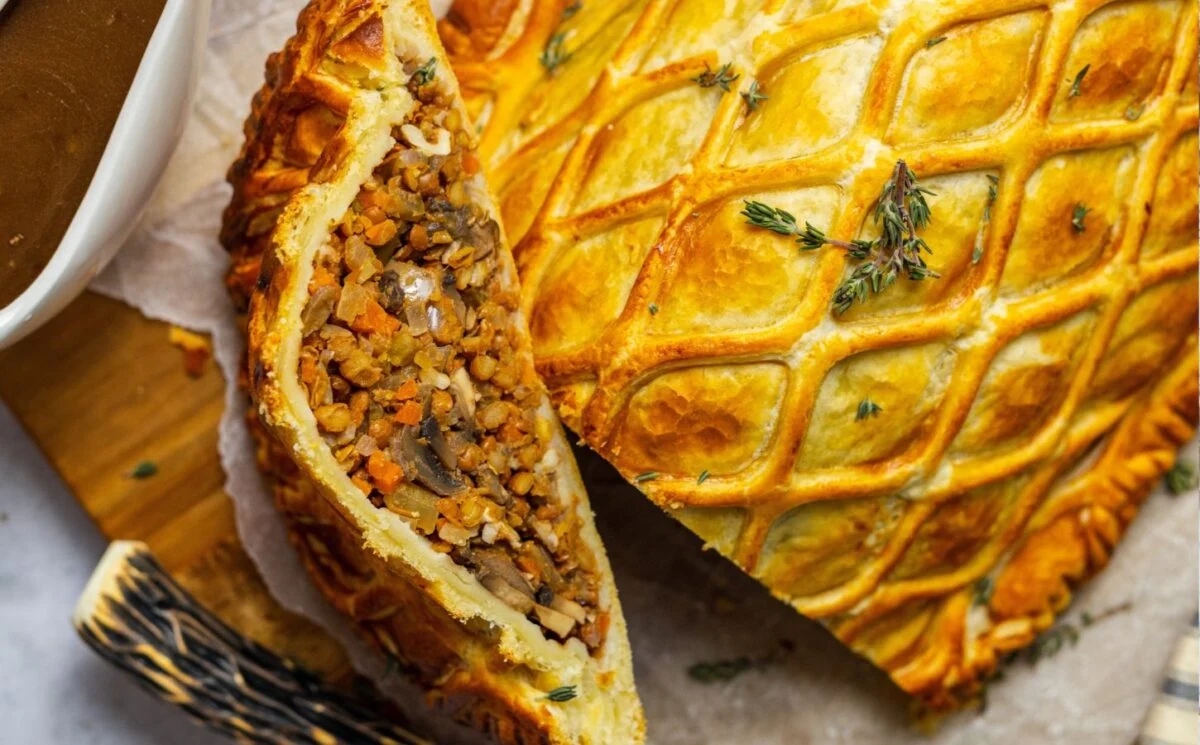 This Wellington recipe from Romy London reinvents the traditional version with lentils and mushrooms for a hearty, 'meaty' texture packed with nutrients. The lentil and mushroom mixture is seasoned and wrapped in flaky puff pastry, which you could make yourself or purchase in blocks and pre-rolled sheets. (US folks will find that Pepperidge Farm and Pillsbury both make vegan-friendly puff pastry, while in the UK Jus Roll and many private-label options are suitable for a plant-based diet.)
Find the recipe here.
Vegan Thanksgiving desserts
Sweet potato pie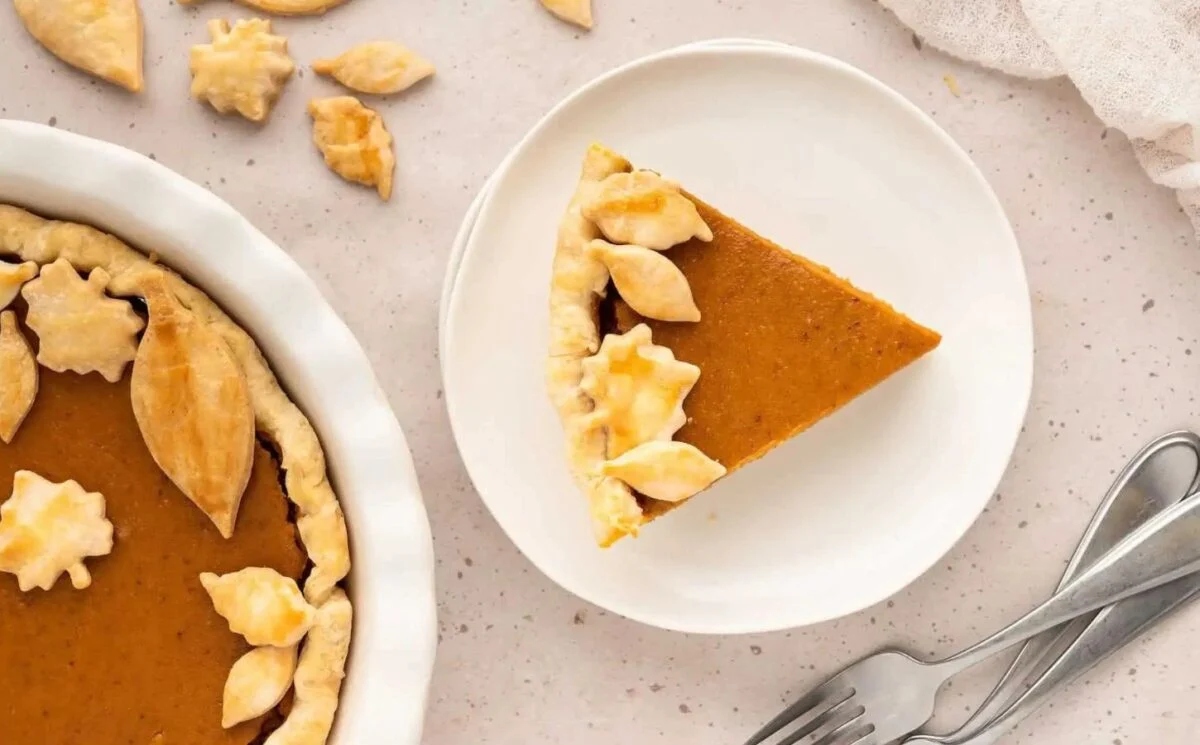 Just in case you didn't get enough sweet potatoes with your main meal, this sweet potato pie offers a slightly creamier alternative to pumpkin, particularly when topped with a scoop of dairy-free whipped cream. Another recipe by Romy London, this pie takes two hours to cook but requires at least four to set, meaning it's ideal for preparation the night before.
Find the recipe here.
Pumpkin pie cheesecake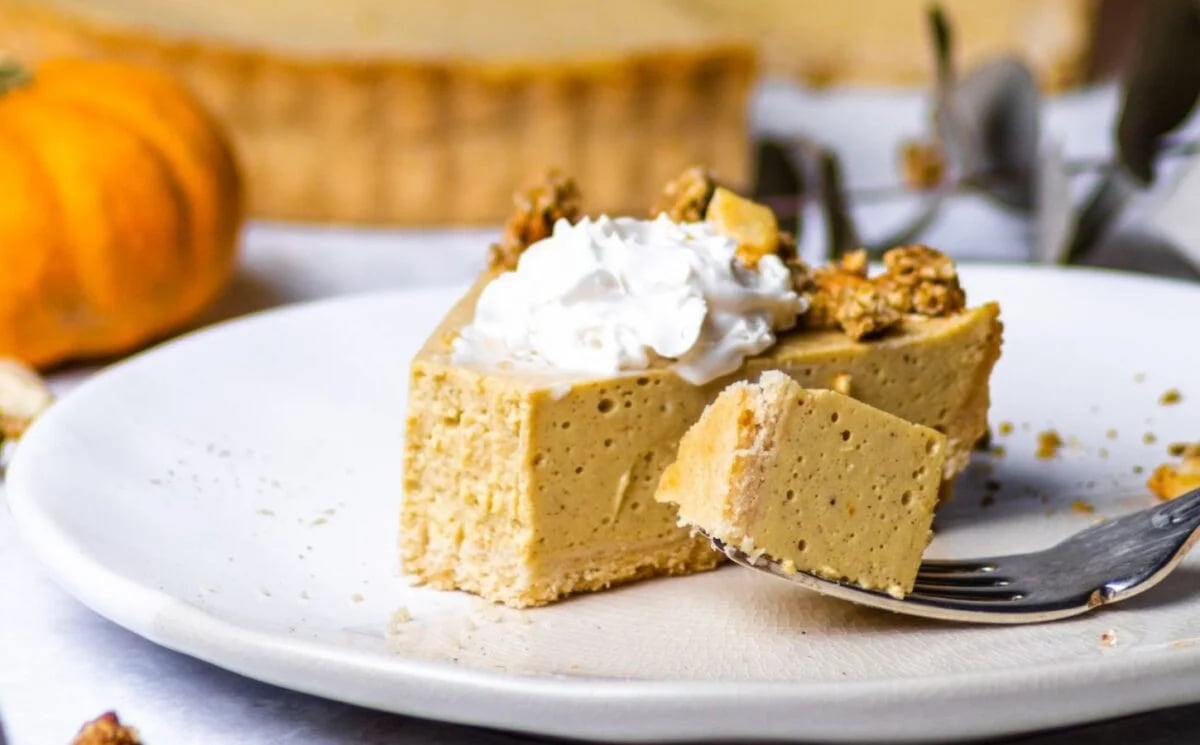 Pumpkin pie is the king of Thanksgiving desserts and this cheesecake-style version from Romy London combines soaked cashew nuts and plant milk with pumpkin puree for a creamy, spicy flavor. It also requires a little time to set, but it can be ready to eat as soon as 30 minutes after cooling in the fridge.
Find the recipe here.
More like this: