Planning the perfect vegan Sunday roast can at first seem a stressful task, as traditional roast dinners tend to be heavy on animal products. There are a wide variety of meat-free recipe ideas available, however, including this wild mushroom loaf.
A Sunday roast is a staple in many British households. The centerpiece tends to be meat, while Yorkshire puddings, roast potatoes, and other vegetables make up the sides. Veganism is skyrocketing in popularity in the UK, and more and more people are also cutting down on meat. Nut roasts are perhaps the most traditional plant-based roast option. These are available to buy in many supermarkets, and they're also easy to make at home.
While nut roasts are often hugely delicious, some vegan diners might be searching for something a bit different. If you're up for switching up your Sunday roast this weekend, look no further…
The below recipe, which comes from Romy London, shows you how to make a wild mushroom loaf complete with almonds, cashews, and flaxseeds. It's ideal served with vegan Yorkshire puddings, roast potatoes, and pigs in blankets, as well as your favorite gravy.
Here's how to make it:
Wild mushroom loaf recipe
There can never be enough mushrooms on the dinner table, if you ask me. I like to sneak them into my dishes as much as possible, as they add delicious depth to each meal. This loaf reminds me of a typical nut roast, being baked in a loaf shape—and it's not far off as we are adding almond, cashew, and flaxseeds. The freshly cooked wild mushrooms take this to a whole other level and add the perfect texture and deliciously earthy notes to this mouthwatering hero of a dish.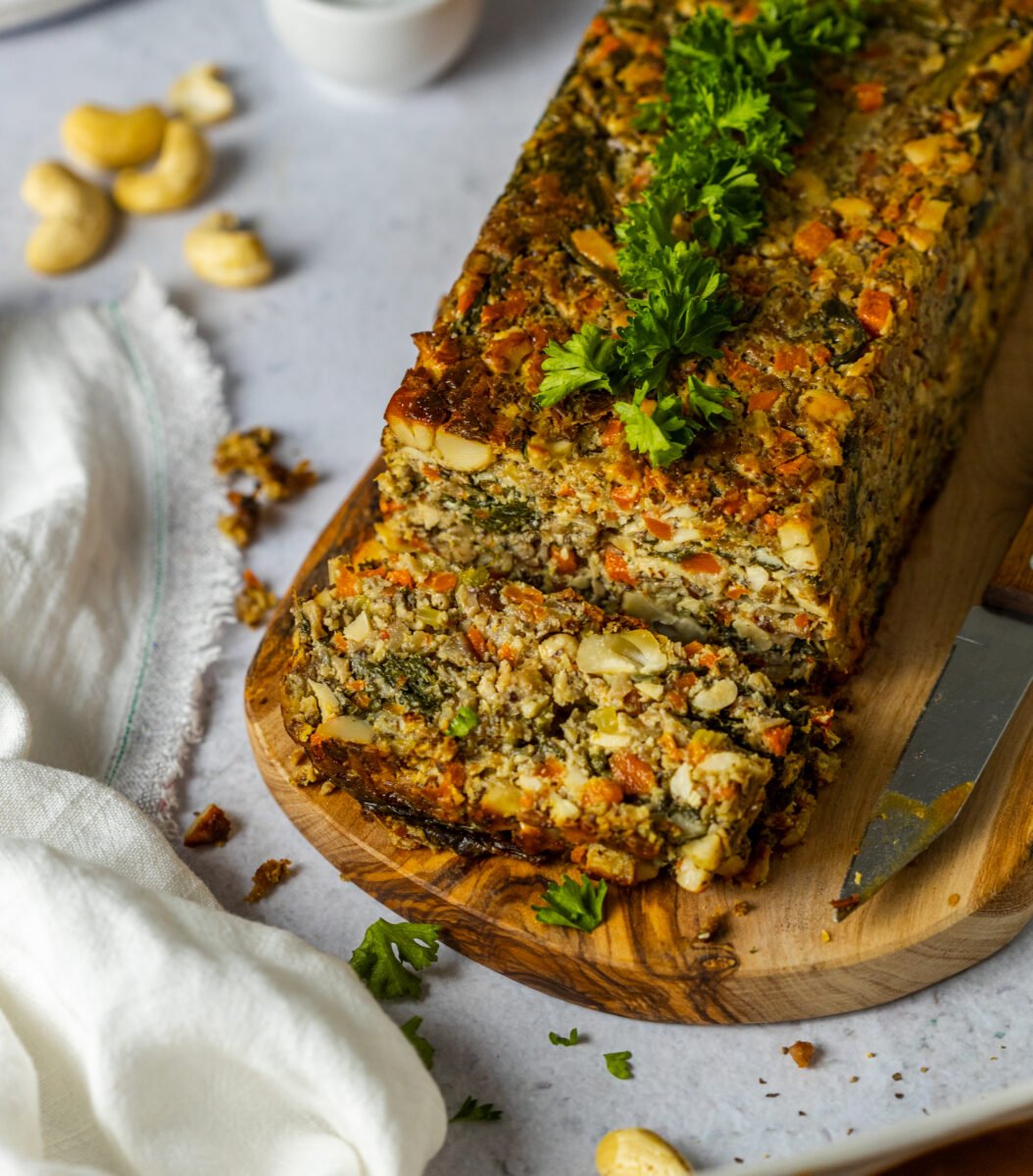 Ingredients
For the mushroom loaf
3 & 1/3

cups (500g)

mixed wild mushrooms of your choice (I use a blend of oyster, maitake, king oyster, and skiitake)

1/2

tsp

sea salt

1/4

cup (60ml)

vegan white wine

1/4

tsp

ground black pepper

2

tbsp (8g)

fresh parsley, plus more for optional garnish

1

tbsp (14g)

vegan butter

1/2

cup (80g)

finely diced shallots

1 &2/3

cups (212g)

finely diced carrots

1

cup (101g)

finely diced celery

2

tsp (10g)

crushed garlic

1 & 1/4

cups (120g)

almond flour

2

tbsp (20g)

flaxseeds

1

cup (129g)

roughly chopped cashews

7

oz (198ml)

vegetable stock

5

cups (150g)

fresh spinach
Instructions
Place the wild mushrooms in a large, dry skillet. Cook them over high heat, stirring frequently, for 10 to 12 minutes. After 5 minutes, sprinkle in the salt.

Deglaze the pan with the white wine, then stir in the black pepper and fresh parsley. Cook for 3 to 4 minutes, or until the majority of the liquid has evaporated. Remove the mushrooms from the skillet and set them aside.

Place the vegan butter in the skillet, then add the shallots, carrots and celery. Cook for 10 minutes, or until the carrots have softened, then stir through the garlic.

Sprinkle in the almond flour, flaxseeds and cashews. Pour in the vegetable stock and allow the mixture to simmer over low heat for 15 minutes. Add the spinach in batches and cook until wilted, then remove the mixture from the stove.

Add in the mushrooms, and stir to combine.

Preheat your oven to 375°F (190°C). Line and grease a 14 x 6–inch (35 x 15–cm) loaf pan.

Transfer the mixture to the pan. Even it out with a spatula, pressing down firmly to neatly pack the loaf pan. Bake for 25 to 30 minutes, or until the top is nicely golden. Allow the roast to cool for 10 minutes, before carefully turning it upside down on a serving platter. Top with the parsley, if using, before slicing.
Reprinted with permission from The Ultimate Guide to Vegan Roasts by Romy London.
Like this? Check out more of her recipes below: