We are fast approaching holiday season, and people all over the world will be planning an entirely vegan Thanksgiving feast later this month. If you're looking for some vegan sides to serve your family, this cranberry and garlic green beans recipe could be a great addition to the dinner table.
Green beans are a hugely popular side dish served on Thanksgiving. They are in season in November, meaning there is a huge number of them readily available in grocery stores. They are also very versatile, and can be cooked in a number of different ways: including boiling, roasting, and frying.
Benefits of green beans
As well as being popular for their taste, green beans are also regarded as a highly nutritious vegetable. As well as being a source of fiber, they contain essential vitamins and minerals including vitamin A and vitamin K. Holiday season meals often contain a number of very rich dishes, so green beans can balance these out and offer a healthier addition to the meal.
The below recipe, which comes from World of Vegan, features cranberry. Cranberries are native to North America, and are also in season in the fall. The tartness of cranberries complements the rich and savory flavors of other traditional Thanksgiving dishes well, so they are a popular ingredient at this time.
For many people, cranberry dishes are hugely reminiscent of the holiday season, so these beans will be a welcome addition to your Thanksgiving. Here's how to make them.
Cranberry and garlic green beans recipe
These cranberry and garlic green beans marry sweet with savory, and are a delicious addition to any Thanksgiving meal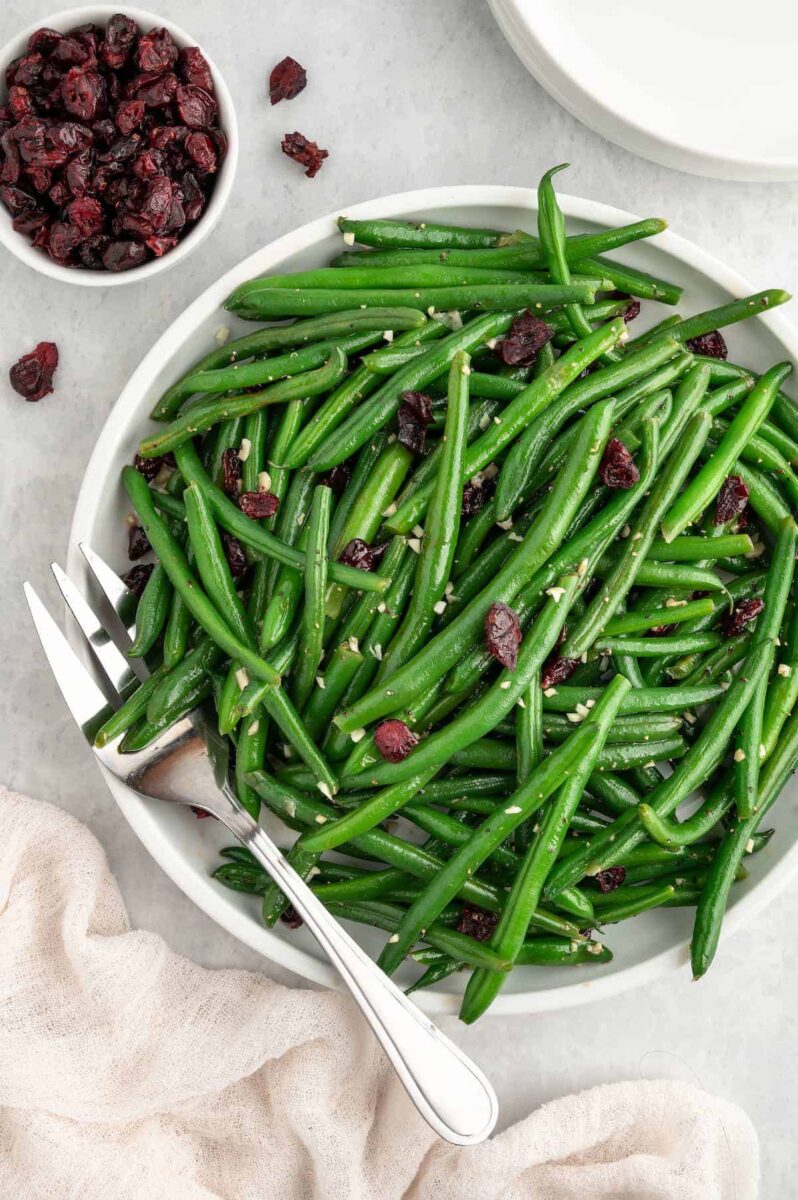 Ingredients
1

pound

green beans

or haricot verts (French green beans)

1/2

cup

dried, sweetened cranberry

2-3

cloves

garlic, crushed

1

tbsp

olive oil

1-2

tbsp

balsamic vinegar

1/4

tsp

salt and pepper, or to your liking
Instructions
Rinse and drain the green beans. Trim the green bean ends.

Fill your saucepan with four quarts of water, cover, and bring to a boil over high heat.

While waiting, measure out the cranberries, garlic, olive oil, and salt. Also, fill a large bowl with ice water for submerging the beans after boiling.

When water is boiling, add the green beans and cook for 3-5 minutes over medium high heat. Drain well and immediately plunge the beans into a bowl of ice water. Let sit for a minute and then drain the beans again.

Add the beans, cranberries, garlic, olive oil, and balsamic vinegar together in a large bowl. Sprinkle with salt and pepper. Mix well.

This dish tastes delicious served either warm or cold. It's even better the next day. Enjoy!
Substitutions for Dried Cranberries – If you aren't able to have any sugar or you're just not a huge cranberry fan, here are other options to use in place of red berries in this recipe: small cherry tomatoes, pimentos, chopped pickled beets, tart cherries, red currants, pomegranate seeds, or raspberries.
Savory Spice Suggestions – If you want to add more pizazz to the plate, feel free to use crushed red pepper, cayenne pepper, cracked pepper, toasted sesame seeds, or parsley with fresh lemon juice. Feel free to add as much garlic as you wish, or none at all.
This recipe was republished from World of Vegan with permission. You can find the original recipe here.
More like this: