Pie season is officially upon us, and many of us are in full Thanksgiving dinner planning mode. While pumpkin pie is a popular and traditional Thanksgiving dessert, you may be looking for an alternative to make to make this year. Let us present to you: this easy egg-free sweet potato pie.
Sweet potato pie is similar to its pumpkin counterpart, but it's a slightly creamier alternative. This recipe is completely dairy-free, egg-free, and vegan.
What is sweet potato pie?
Sweet potato pie is a popular dessert in the US, and it's thought to have originated in the southern states. It's usually served during the holiday season, and is made from mashed sweet potatoes alongside a number of other ingredients, including spices. While many sweet potato pie recipes contain eggs and butter, they are also easy to make without animal products.
To make this recipe, you'll need plant-based milk (this one uses soy) and coconut cream to give it its creaminess. You'll also need to make sweet potato puree from scratch. Sweet potatoes can be readily found in many supermarkets around the world. They also happen to be in season, meaning now is the perfect time to make this recipe. Sweet potatoes are generally cheap and easy to find.
If you're welcoming guests this Thanksgiving and want to create a vegan dessert that's sure to impress, here's how to make this dairy-free and egg-free sweet potato pie.
Vegan sweet potato pie recipe
This sweet potato pie is egg-free, dairy-free, and completely plant-based – an ideal vegan Thanksgiving dessert idea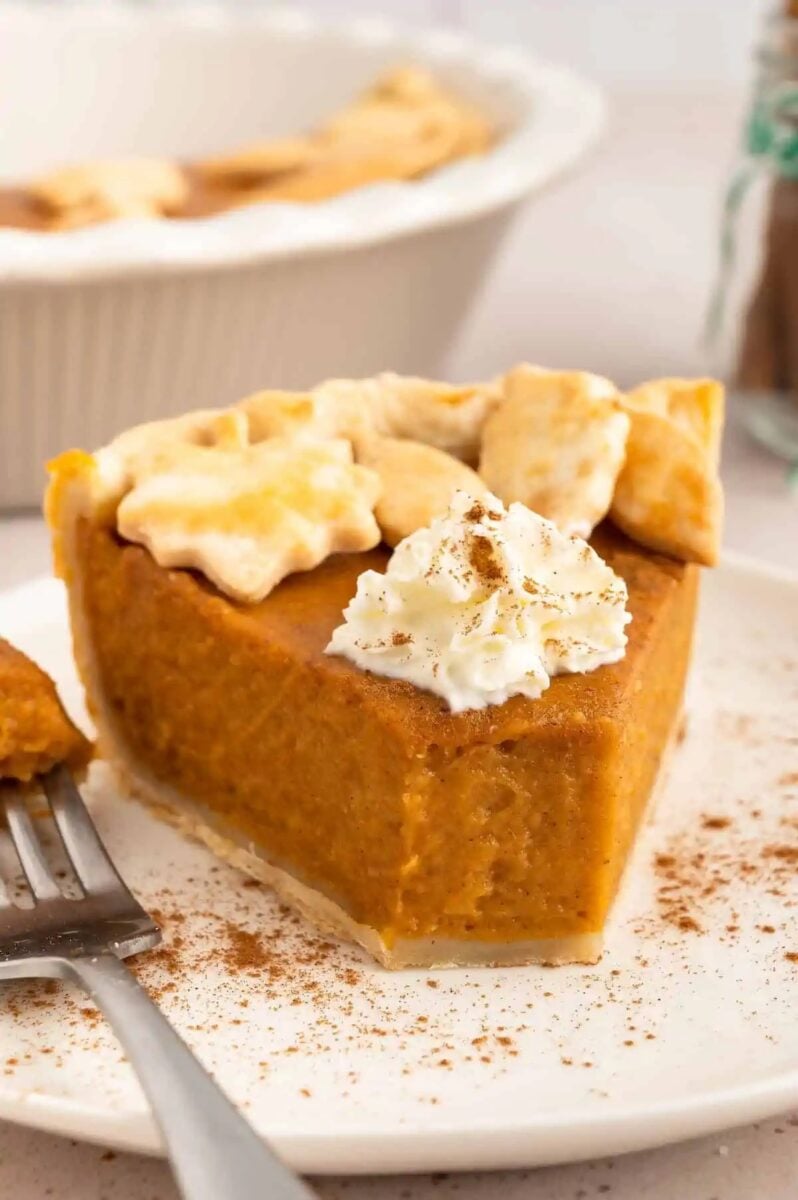 Ingredients
2

cups (475g)

sweet potato puree

the orange kind—boiled, skinned, and mashed

2/3

cup (145g)

canned coconut cream

shake well before opening and stir well before measuring. If you can't mix it then pour into a microwave safe bowl and heat it for a few seconds to melt the solid coconut cream so you can mix it with the liquid.

1/3

cup

unsweetened soy milk

1/2

cup (110g)

light brown sugar

packed

1/3

cup (70g)

granulated sugar

1/4

cup (40g)

cornstarch

2

tsp

pumpkin pie spice

1

tsp

vanilla extract

1/2

tsp

salt

1

prepared vegan pie crust

choose your favorite dairy-free store-bought crust or make your own from scratch

Vegan whipped cream or dairy-free ice cream (optional)
Instructions
To make the two cups of sweet potato puree, place a few whole sweet potatoes in large pot, cover with water, and bring to a boil. Boil 40-50 minutes until soft and the skin falls easily off. Remove skin and mash the sweet potato in a bowl with a potato masher until you have a smooth puree.

Preheat oven to 350 degrees F.

In a mixing bowl, add the sweet potato puree, coconut cream, soy milk, light brown sugar, granulated sugar, cornstarch, pumpkin pie spice, vanilla extract, and salt. Using an electric hand mixer (or a whisk), mix until mostly smooth. Tap the bowl on the table to remove any air bubbles.

Pour the sweet potato pie filling into a prepared crust (no need to par-bake, it works great in a raw crust too and saves time!) and smooth the surface. Place the pie on a baking sheet and put it in the preheated oven to bake for 75 minutes. Check at 40-minutes and if the edges are getting dark, tent with foil.

At 75 minutes, turn off the oven and open the oven door partially (a few inches or all the way) to allow the pie to cool for one hour. Once cool, place in the fridge to set for at least 4 hours (or overnight).

Serve with whipped cream, if desired. Store leftover pie in the refrigerator.
This recipe was republished with permission from World of Vegan. You can see the original here.
More like this: