For vegans, Christmas day has long been a fraught affair. Nobody wants to only eat Brussels sprouts because their relatives didn't know how to make a main without animals in it. Luckily, supermarkets have begun stepping up their vegan Christmas offerings in recent years. Here, we bring you the Tesco vegan Christmas food range for 2023 – get your Clubcard ready!
Find out all the vegan Christmas food you can buy at UK Supermarkets here
Tesco vegan Christmas food
Jump to section:
Tesco's 2023 range of vegan Christmas food includes traditional British fare as well as dishes with an Asian or European twist. With mains, sides, desserts, party food, and snacks, over a hundred Christmas vegan products will be available at Tesco this December.
"Christmas is a time for friends and family to come together and celebrate, but this can often meanmany different dietary requirements around one table," Tesco Director of Product Development, Breige Donaghy, said in a statement. "At Tesco we have one mission – to help the entire nation have a joyful festive season. And so we have been busy developing a range of delicious new products across our Plant Chef and Free From ranges and beyond, to ensure everyone can celebrate."
Vegan Christmas mains
Tesco has five meat-free options available this year under its own Plant Chef brand that will make a great center piece for any table. Other offerings come from the Tesco Finest range and Wicked Kitchen.
Tesco Plant Chef No-Turkey Crown with Herb Stuffing / Wicked Kitchen No-Turkey Roast Crown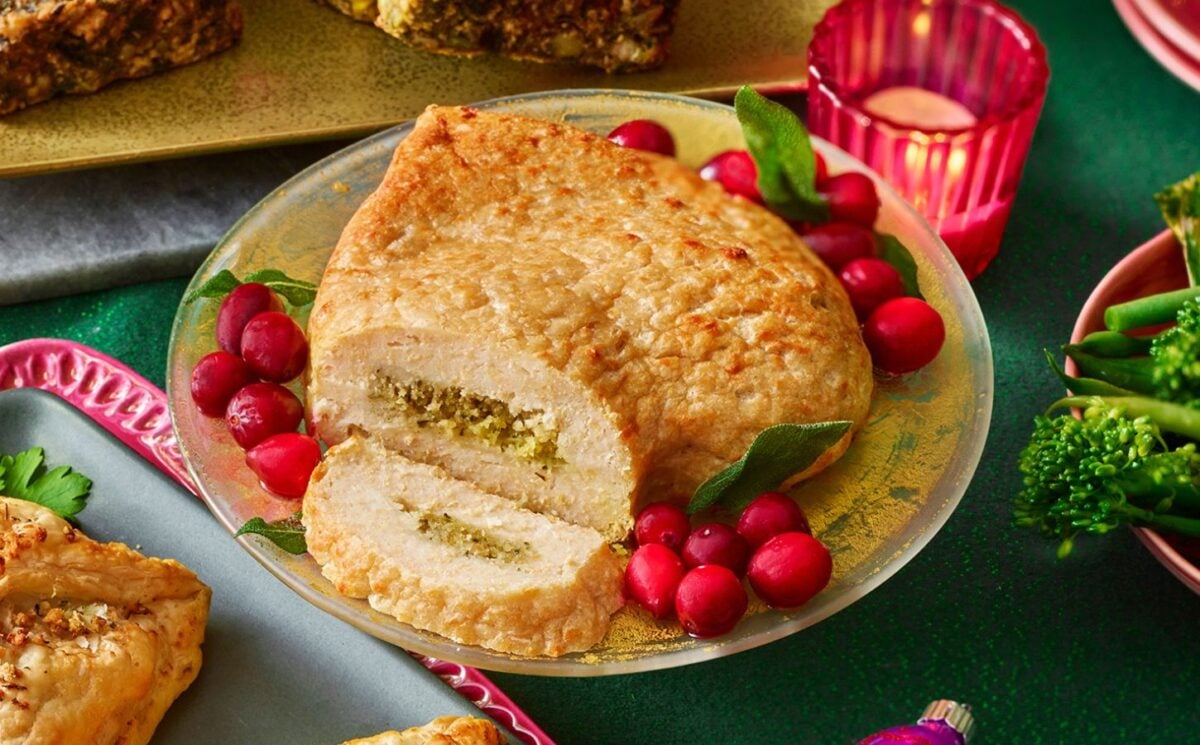 For some people, a Christmas meal isn't complete without turkey. But there's no reason it needs to come from an animal. These two plant-based versions of turkey crown (breast meat) provide all the juiciness and stuffing without the slaughter. Both cost £5 and will feed up to four people.
The Plant Chef is made with broad bean and pea protein. Wicked Kitchen's version, made with pea and wheat protein, is stuffed with sage and onion and comes with a garlic melt on top. Both will cook in just 50 minutes from frozen in the oven.
Tesco Finest Stuffed Half Butternut Squash
Looking for a main that doesn't mimic meat? Filled with apple, beetroot, and green lentils and topped with a seedy, herby crumb mixture, this squash is a good alternative. Though at £11, it is one of Tesco's pricier plant-based options.
Tesco Plant Chef Seasonal Seeded Roasts with Port Gravy
A different take on the classic nut roast costing only £3.50. These roasts are made from pumpkin and sunflower seeds, with kale, lentils, chestnuts, and mushrooms. There are two in a box and come with a rich port gravy – a perfect option for an easy Christmas meal for two.
Tesco Plant Chef Roasted Vegetable Parcels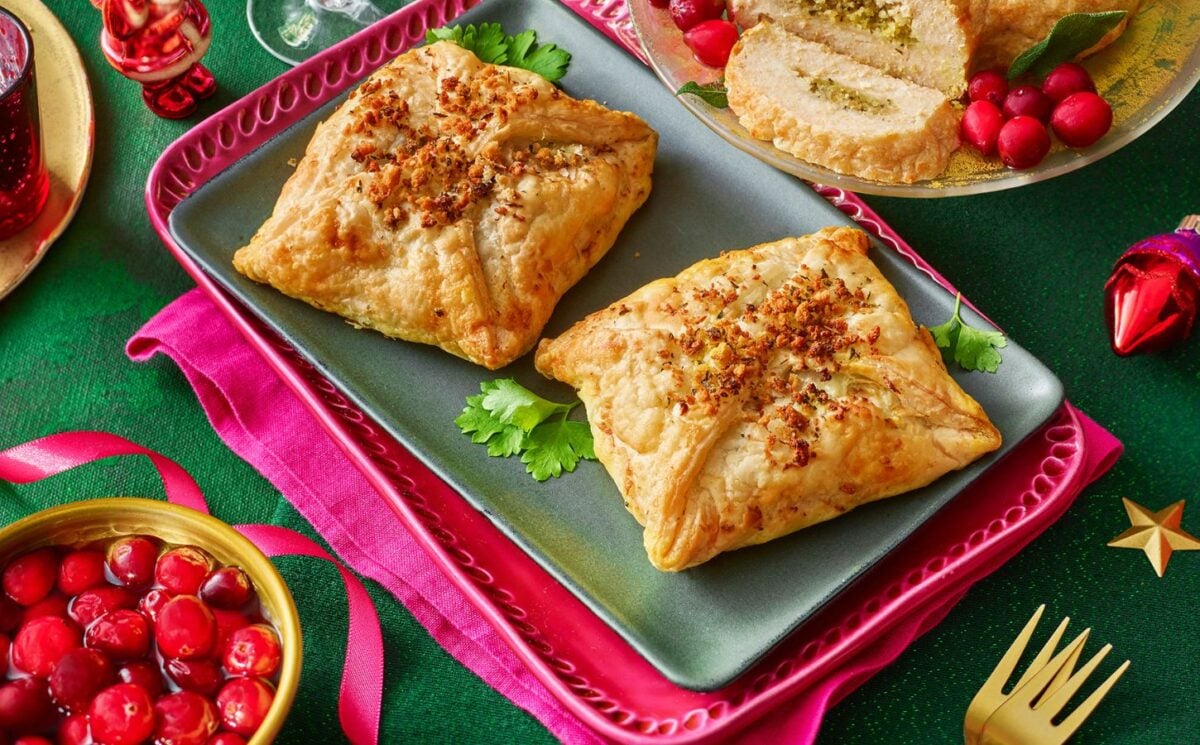 A flaky pastry is right at home at a Christmas dinner. These puff pastry parcels contain the festive flavors of roasted parsnip, carrot, and kale, along with a horseradish crumb. A pack of two is £4.50.
Tesco Plant Chef Butternut Wellington
A wellington is an popular choice for main at a big family Christmas. This one is made with roasted butternut squash, pea protein, and mushroom and herb stuffing. Wrapped in a latticed puff pastry, it'll make an attractive center piece for the table too, and costs only £5.
Tesco Plant Chef Mushroom & Chestnut Festive Wreath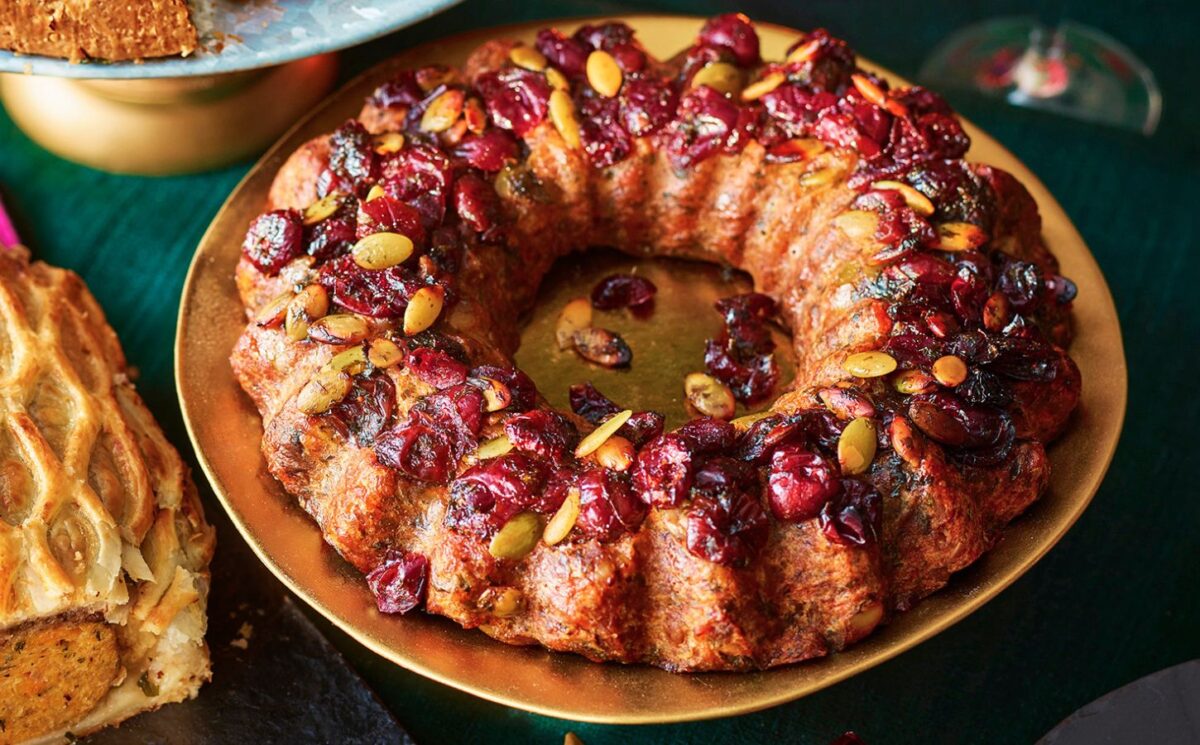 For a really striking main, there's this plant-packed wreath is a good option. It's made with mushrooms, butternut squash, chestnuts, lentils, caramelised red onion, and brown rice seasoned. Seasoned with herbs and spices, it's topped with pumpkin seeds and cranberries for some extra Christmas flavor.
The Festive Wreath serves six people and costs £6.
Vegan sides
To make the Christmas preparation a little easier, Tesco will be selling a selection of seasonal British vegetables in a 3.2 kilo bundle for £9. Maris Piper potatoes, carrots, Brussels sprouts, red cabbage, and parsnips will come already peeled and ready to cook using your preferred method.
Vegan Christmas Party Food
Having a Christmas party? Tesco's new range of festive plant-based party food draws inspiration from far and wide.
Tesco Finest 10 Kimchi Vegetable Crystal Rolls
These crispy pastry rolls take inspiration from Korean cooking. Filled with vegetables and gochujang, a pack of 10 is £4.
Tesco Plant Chef 6 Mini Katsu Inspired Bao Buns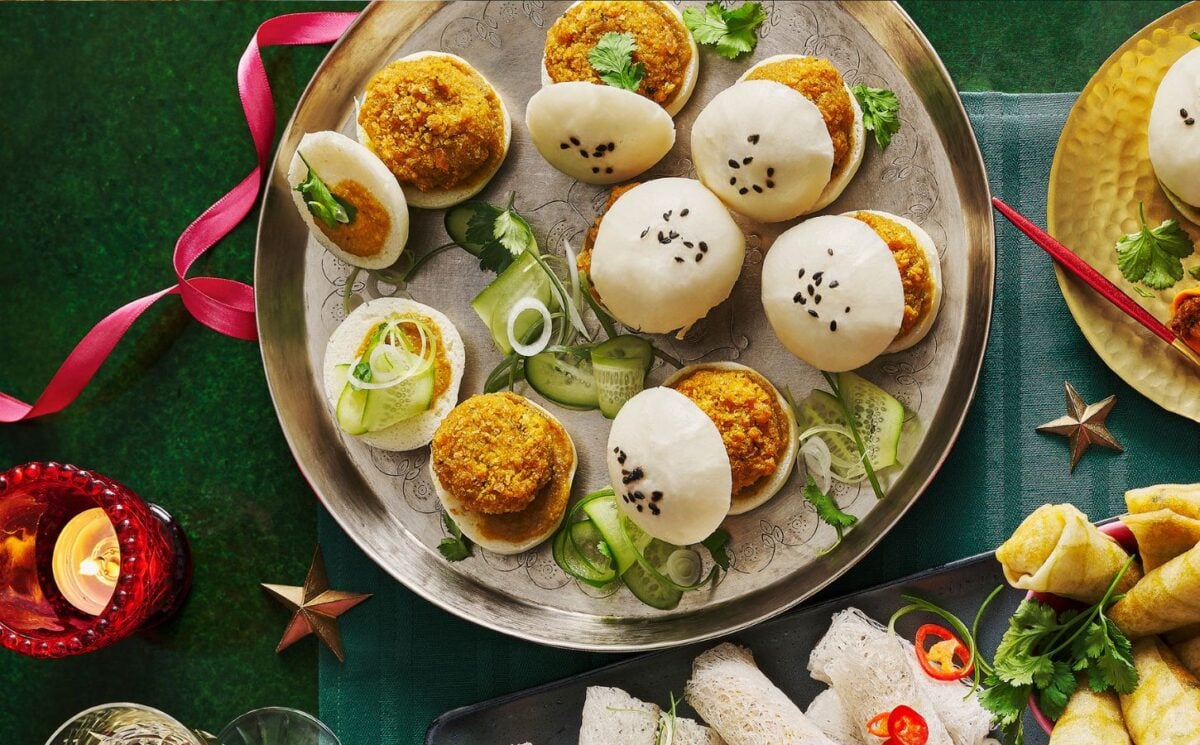 Taking cues from Japan this time, these katsu bao buns are a delicious mix of flavor and texture. Inside the fluffy buns are soya protein and tofu burgers in a crispy coating. Costing £4, they are topped with sesame seeds and a rich katsu sauce.
Tesco Plant Chef 6 Battered Bangers with Chip Shop Style Curry Sauce
These seasoned pea protein sausages comes in a crisp batter for £3. They come with a tasty curry dipping sauce.
Tesco Plant Chef 10 Mini Mediterranean Inspired Vegetable Lattices
Peppers and tomatoes will bring a taste of the Mediterranean in these bite-sized latticed pastries. Only £2 for 10.
Tesco Plant Chef 10 Laksa Inspired Aromatic Cones
These £3 pastry cones are inspired by the flavors of Southeast Asia. Fragrant lemongrass and coconut accompany the vegetables wrapped in crunchy pastry.
Tesco Plant Chef 9 Savoury Roll Selection
These pastry rolls are stuffed with a variety of fillings, from seasoned apple to chestnut and cranberry to apricot, sage, and onion. A box costs £2.50.
Tesco Plant Chef 10 Paella Inspired Arancini Bites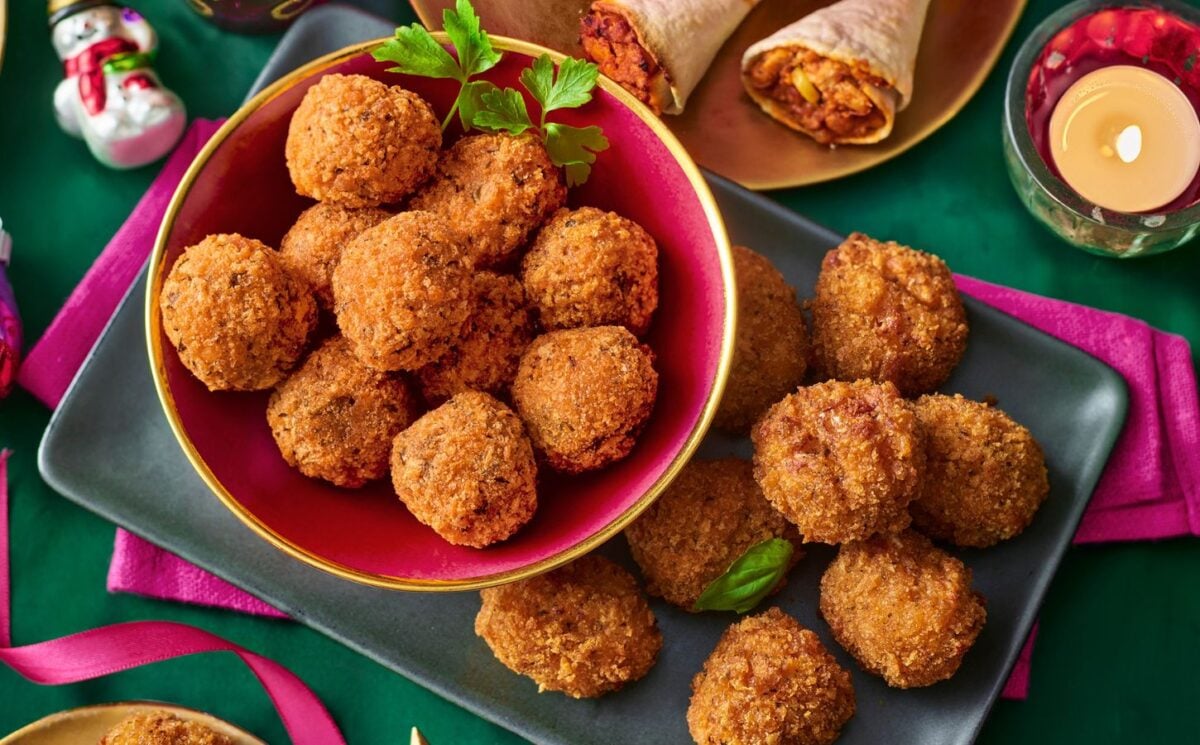 Bringing together Spanish and Italian flavors. These £3 deep fried mini rice balls are filled with seasoned jackfruit and vegetables to warm up your party.
Vegan Christmas desserts
No Christmas dinner would be complete without dessert, even when you're already too full to eat it. This year Tesco has several vegan options on offer to cap off the main meal.
Tesco Finest Stem Ginger Tiffin Cracker
This Belgian dark chocolate tiffin contains ginger biscuit pieces and sweetened stem ginger for warming festive flavor. The gluten free Christmas cracker-shaped dessert is dusted with a bronze lustre to make it even more eye-catching. It costs £9 and will serve up to 12 people.
Tesco Finest Free From Honeycomb Bauble
Another show-stopping chocolate tiffin dessert with gluten free shortbread pieces and honeycomb pieces. Dusted with a bronze lustre, the Honeycomb Bauble is topped with honeycomb pieces and costs £10.
Tesco Free From Christmas Pudding
Matured for six months, this traditional pudding is free from wheat, milk, and eggs, making it suitable for everyone. The rich pudding, packed with vine fruits and flavored with cider and citrus peel, serves four and costs £4.
Wicked Kitchen Spiced Rum Christmas Pudding
Wicked Kitchen's take on Christmas pudding contains vine fruits, glace cherries, and crunchy almonds. Spiced with cinnamon and ginger, it also has a boozy dash of rum. The portions are small, serving one person each, and cost £2.
Mince pies
Tesco has mince pie offerings from both its Free From and Plant Chef brands. The Free Form pies come as a regular-sized four-pack or a pack of nine mini ones. There are also iced ones available. The Plant Chef version comes in a pack of six and are a staple in this writer's household at Christmas time.
Tesco vegan festive drinks
A little tipple on Christmas day is a lovely thing – as long as you can be sure it's vegan. Tesco has several alcoholic and non-alcoholic drinks that are made without the use of animal products.
Tesco stocks more than a hundred vegan wines, including several in its Tesco Finest range such as Tesco Finest Pinot Grigio and Pinot Grigio Blush.
If bubbles are more your Christmas vibe, then Kylie Minogue's Prseco Rose is both vegan and comes available with a set of flutes. For a non-alcoholic alternative, try the Nozeco Rose by Les Grands Chais de France.
Several festive liqueurs are also safe for vegans, including Tesco Coffee Liqueur and Amaretto Liqueur.
In the soft drink category, Belvoir and Fever Tree cordials and sparkling drinks are vegan, as are J2O Mocktail cans for something a little more celebratory.
Tesco Christmas treats
Searching for a vegan advent calendar? Tesco stocks Nomo's Free From & Vegan Chocolate Drops Advent Calendar. Other festive treats suitable for vegans include Tesco Free From Chocolate Christmas Tree biscuits and Tesco Finest Free From Chocolate Orange Cookies.
When can I order Tesco Christmas food?
Some of the vegan Christmas range is already available to buy online or in store. Others, including several of the mains and party foods will become available in November and December. Ordering by December 14 will ensure you get your Christmas food on time.
More like this: