From novelty bao buns that look like little Christmas puddings to a no turkey crown with stuffing and a plant-based bacon lattice, Sainsbury's Christmas 2023 food range has a number of vegan options. These include party food, mains, sides and desserts. Some of the products were sold in store and online last year, but there are a few new additions. Parts of the festive range are already available, with further products released in November and December.
While the British supermarket brand is usually quite quiet on its releases and its plant-based range, we've previously seen snippets of new products. Like its vegan patisserie cakes. Earlier this year, it announced that its vegan product sales were up nine percent from the previous year during Veganuary. The supermarket's Taste the Difference and Plant Pioneers range are the two main stars for this festive period. Here's everything you'll find in store and online in the range. 
Find out all the vegan Christmas food you can buy at UK Supermarkets here
Jump to section:
Sainsbury's Christmas party food
Taste the Difference Baos of Holly
New for this year. Hand-crafted bao buns filled with a mix of wood ear mushrooms, water chestnuts, carrots, and spring onion. With Ginger and garlic for extra taste. They're then finished with a novelty holly decoration on the bun to look like little Christmas puddings. Launching in mid-November, in time for Christmas parties.
Cost: £6
Taste the Difference Korean Style Cauliflower Popcorn
Designed to be easy finger food. Bite-size cauliflower popcorn nuggets, with a Korean-inspired seasoning.
Cost: £5.25
Sainsbury's vegan mains
​​Taste the Difference Three Nut Roast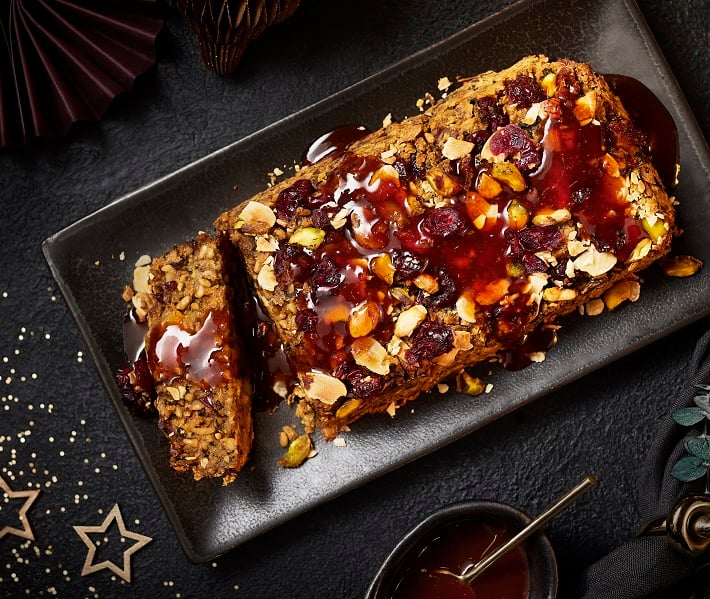 Returning as a popular main dish from last year's range. Blitzed up pistachios, almonds, and cashews make the base for its three nut roast. Mixed with mushroom, spinach, dried cranberries, and butternut squash. It's served with a spiced orange and cranberry glaze on top.
Cost: £7
Taste the Difference Lattice topped Vacon rashers No Turkey Crown
Mushroom and soya protein forms the crown, with a vegan 'turkey' flavor. It's then hand-finished with a vegan bacon lattice.
Cost: £7.25
Taste the Difference No Beef Wellington
A new one for this year. A mushroom and pea protein forms the base of this beef-like alternative wellington. It's then mixed with spinach and topped in a mushroom and port wine duxelle. Finished hand-wrapped in a crisp puff pastry.
Cost: £6.75
Taste the Difference Maple Parsnip, Chestnut & Sage Wreath
Another new dish for this year. Sainsbury's wreath includes maple roasted parsnips, chestnuts, and a coconut oil alternative to cheese. It's then wrapped in puff pastry and topped with sage and onion breadcrumbs.
Cost: £7.25
Taste the Difference No Turkey Stuffed Crown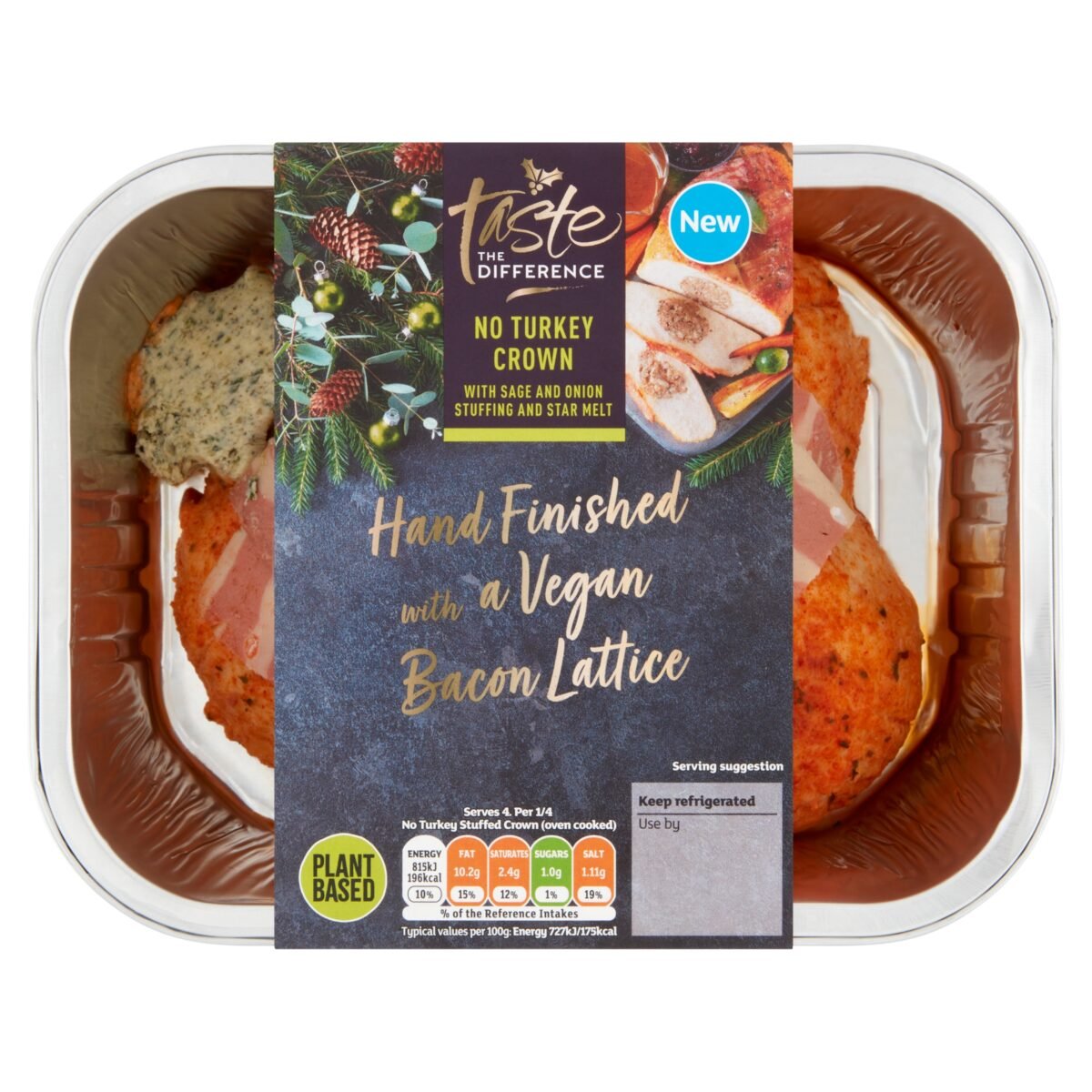 A turkey-flavored mushroom and soya protein-based crown. In the center, there's a sage and onion stuffing to add in extra moisture as it cooks. Comes with a sage and onion melt for basting on top, too. This will give extra flavor and moisture.
Cost: £7.25
Sainsbury's vegan sides
Plant Pioneers Shroompups In Blankets
A pack of 10 seasoned mushroom sausages. The 'shroompups' are then wrapped in vegan bacon rashers made from wheat gluten and coconut milk.
Cost: £3.50
Plant Pioneers Sage & Onion Stuffing Balls
Mushroom and onion stuffing balls. Seasoned with cracked black pepper and sage.
Cost: £3.50
Sainsbury's vegan desserts
Taste the Difference Chocolate Cookie Torte
A new dessert to the range this year. A dark chocolate and cookie biscuit crumb base. It's then layered with coconut and cocoa butter, chocolate sauce, dark chocolate shavings, and a sweet cocoa powder glaze.
Cost: £10
Taste the Difference Free From Ginger & Chocolate Tiffin
Already available in stores from the Free From section. Five gluten free, milk free and egg free tiffin squares of Belgian dark chocolate and sweetened stem ginger pieces. Topped with another layer of bittersweet Belgian dark chocolate.
Cost: £3
Taste the Difference Free From Salted Caramel Chocs
Also returning in the Free From section (and available now). Vegan chocolates flavored with a salted caramel center. The chocolate is made using a combination of cocoa and cocoa butter to create a more creamy texture. While sea salt is added to the caramel to balance out the sweet.
Cost: £4
Taste the Difference Free From Mini Mince Pies
A box of nine vegan and gluten-free mini mince pies. Turkish sultanas, orange peel, and Bramley apple are combined with a bit of French brandy for the filling. Encased in a biscuit-like pastry.
Cost: £3.25
by Sainsbury's Free From Mince Pies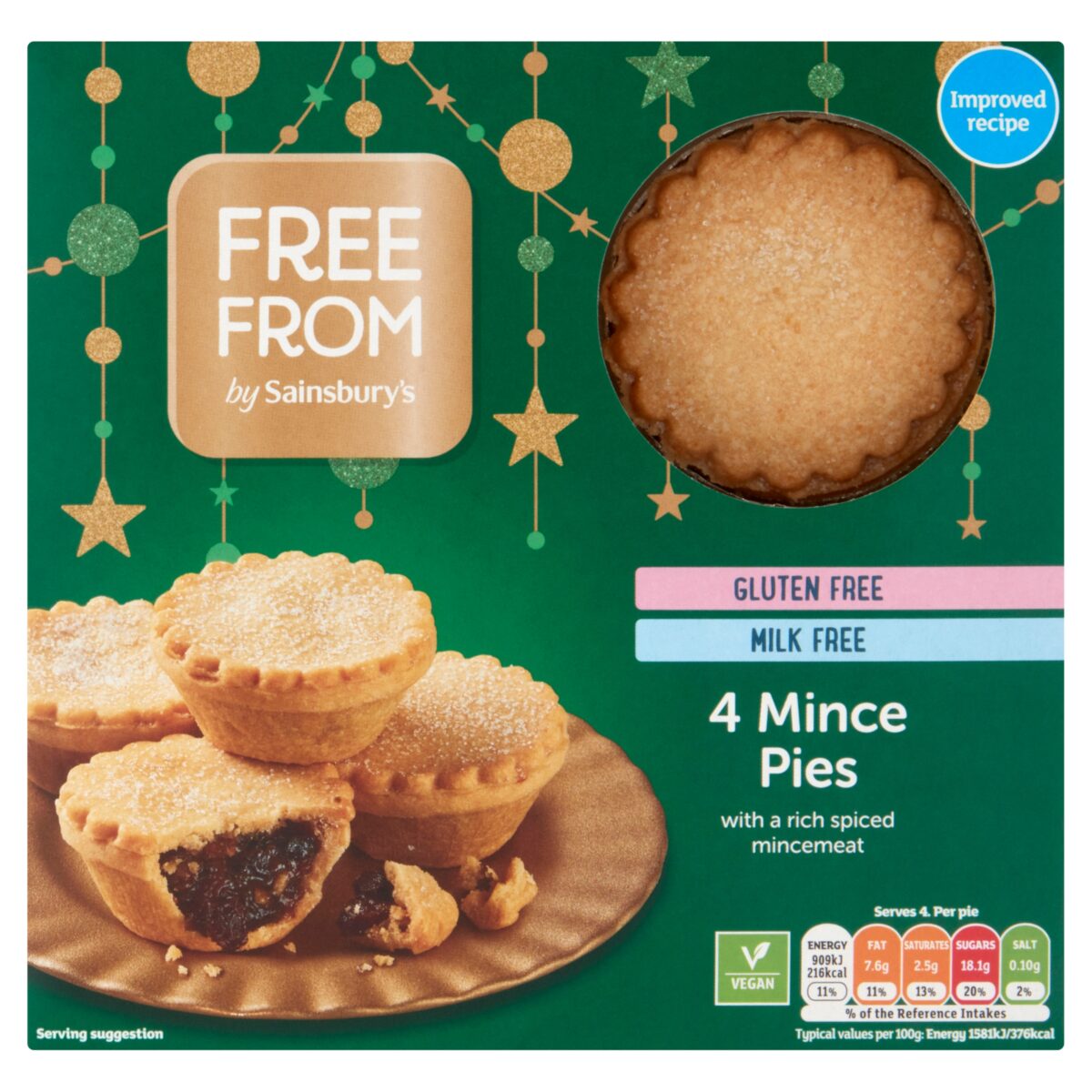 A pack of four Free From mince pieces, already available in store. A spiced mincemeat filling including cinnamon, apple puree, orange peel, and sultanas. Encased in gluten-free pastry.
Cost: £2
by Sainsbury's Free From Iced Mince Pies
Already available, this pack of four mince pies includes the same spiced mincemeat filling and gluten-free pastry as above, only topped with a layer of fondant icing.
Cost: £2.50
by Sainsbury's Free From Christmas Pudding
A traditional style Christmas pudding with sultanas, raisins, rum, and cider. It's available in stores in the Free From section in two sizes (100g and 400g).
Cost: £1.50/£4
When can I order Sainsbury's Christmas food?
Already available in store and online:
Taste the Difference Free From Ginger & Chocolate Tiffin
Taste the Difference Free From Salted Caramel Chocs
Taste the Difference Free From Mini Mince Pies
by Sainsbury's Free From Mince Pies
by Sainsbury's Free From Iced Mince Pies
by Sainsbury's Free From Christmas Pudding
Available from Wednesday, November 15:
Taste the Difference Baos of Holly
Taste the Difference Korean Style Cauliflower Popcorn
Taste the Difference No Beef Wellington
Available from Wednesday, December 6:
Taste the Difference Three Nut Roast
Taste the Difference Lattice topped Vacon rashers No Turkey Crown
Taste the Difference Maple Parsnip, Chestnut & Sage Wreath
Taste the Difference No Turkey Stuffed Crown
Plant Pioneers Shroompups In Blankets
Plant Pioneers Sage & Onion Stuffing Balls
Available from Wednesday, December 20:
Taste the Difference Chocolate Cookie Torte
More like this: