If you're planning a meat-free and vegan Sunday roast this weekend, you may be looking for some new and exciting recipes that are an upgrade on the traditional nut roast. This German-style pot roast could be just what you're after.
Pot roasts are traditionally made by slow cooking meat, usually beef, alongside vegetables and seasoning. Cooking a tough cut in moist heat is intended to tenderize it and infuse it with rich flavors.
While the idea of a vegan pot roast would have been unheard of a few years ago, there are now a wide variety of recipes featuring a wide range of different ingredients. The below recipe, which comes from Romy London, shows you how to make your own seitan from scratch.
What is seitan?
Seitan is a type of vegan meat substitute made from wheat gluten. It's been used as a protein source in countries like China and Japan for decade, and it's now widely used in many kitchens and restaurants around the world.
It's particularly popular for its high protein content. A typical serving (28g) contains 21g of protein. It's also low in fat, and contains selenium, iron, and calcium.
It's possible to find seitan in a wide variety of supermarkets, health food shops, and grocery stores around the world, but it's simple to make yourself at home. If you've never made seitan before, this recipe will show you how.
Seitan post roast recipe
Pot roast used to be a regular guest on the dinner table when I was growing up. I vividly remember my mum preparing the roast in the morning and it sizzling away in the oven for a couple of hours before it was served with potatoes and veg. This vegan version of a German-style pot roast is loaded with umami flavor and gives home-cooked comfort food a whole new meaning. It has a soft and succulent texture and is slow roasted in the oven, giving it the ultimate depth of satisfying flavors. To prepare this recipe ahead of time, stop after the flour washing process and rest your dough ball in a colander in the fridge. You can hold it there for up to 3 days before incorporating the seasoning and roasting this bad boy.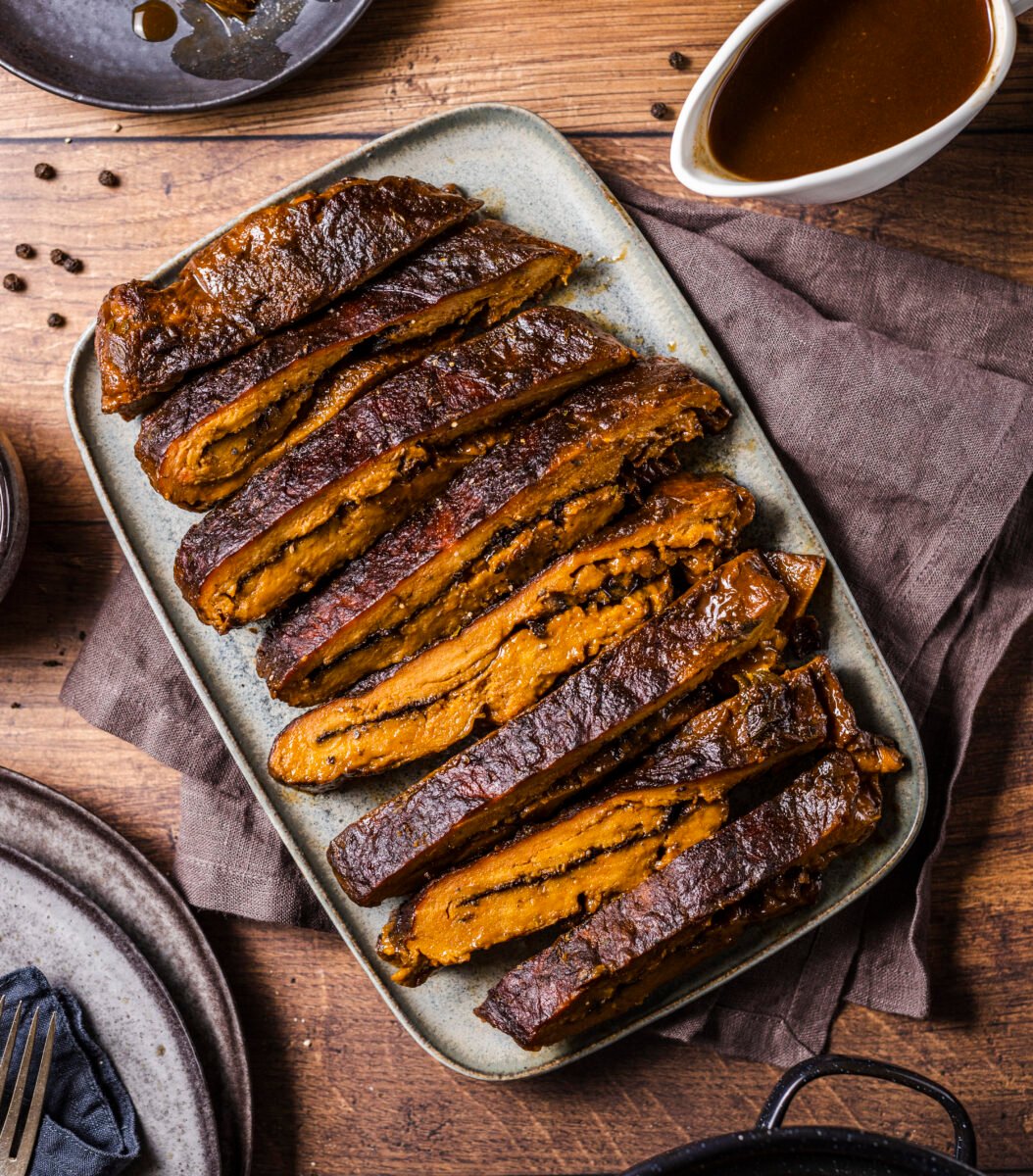 Ingredients
For the seitan
8

cups (1.1kg)

strong white bread flour (minimum 12% protein)

24

oz (720ml)

water

3

tbsp (45ml)

vegetable oil

2

tbsp (40g)

tomato paste

1

tbsp (15ml)

balsamic vinegar

2

tbsp (30ml)

tamari

1/4

cup (60ml)

vegan red wine
For the seitan seasoning
2

tbsp (10g)

nutritional yeast

2

tbsp (30g)

chickpea flour (gram flour)

1

tsp

dried sage

1

tsp

onion powder

1/2

tsp

garlic powder

1/4

tsp

red food coloring gel (optional)
For the roasting stock mix
1/2

cup (125ml)

coffee

2

cups (473ml)

vegan red wine

2

tbsp (30ml)

balsamic vinegar

2

tbsp (32g)

tomato paste

1

tbsp (15ml)

Dijon mustard

3

tbsp (45ml)

tamari

1

tbsp (15ml)

maple syrup

2-3

tbsp (10-15g)

mixed fresh herbs, such as thyme, sage, or rosemary

2-3

cups (473-710ml)

vegetable stock

25

oz (709g)

mixed vegetables (I like to use carrots, potato, red onion, celery, and mushrooms)

2

bay leaves

1

tbsp (8g)

cornstarch

2

tbsp (30ml)

water
Instructions
Divide the flour and water, mixing half of each in two separate mixing bowls. This makes the seitan easier to handle throughout the process. If you own a humongous mixing bowl, feel free to mix it all at once.

Knead the two dough balls on a lightly floured surface until smooth. Set them aside to rest for 30 minutes. During this time the gluten will develop

Completely submerge each dough ball in water in its bowl and allow it to soak for at least 30 minutes, then knead and squish each dough ball between your hands under the water to wash it. This will release the starches from the flour, which are soluble in the water

Do the first wash for 5 minutes; during this time the water will become white and slightly thicken. Drain the water, refill with fresh water and wash for 2 minutes. Drain again, refill and wash once more for 1 minute. The dough should become soft, stringy and spongy; it will feel like it is almost falling apart and the water will be much clearer than during the first wash, but not quite clear. We want to remove a decent amount of starch—but not all of it—to get the right texture for this recipe. It takes a little bit of experimenting and also the use of the right flour to get this right to your preference.

Once both dough balls have been washed, add them both together to a colander and squish them together gently. Rinse with water for 20 seconds, then set it aside to drain and rest in the colander.

In this process, the loose, soft gluten dough will come back together and thicken; this will determine the texture in the final pot roast. Ideally, allow the dough to rest overnight for best results. If you're in a rush, give it at least 1 hour. If you are making this recipe in advance, you can prepare the dough up to 3 days in advance, cover it, place the colander in a bowl and set it in the fridge.

Next, it's time to season the seitan! Combine the nutritional yeast, chickpea flour, dried sage, onion powder and garlic powder in a small bowl. Remove the gluten dough from the colande rand knead it on a wet kitchen surface. Sprinkle the seasoning mix onto the gluten while you're kneading it to distribute it throughout the dough. Alternatively, you can use a stand mixer with a dough hook to knead the dough and incorporate the spices. If you want your seitan to have a vibrant and meat-like red coloring, you can incorporate red food coloring gel in this process and knead it into the dough until well combined. Be sure to wear gloves!

Sear the seitan to give it a delicious crust: Heat the vegetable oil in a large, nonstick skillet over high heat and place the seitan inside. Fry on each side for 2 minutes, then reduce the heat to low. Add the tomato paste, balsamic vinegar, tamari and red wine to the pan and allow the seitan to simmer for 10 minutes. This process will incorporate any remaining liquid into the seitan and also help firm up the shape, making it ready for the roasting process.

Preheat your oven to 340°F (171°C)

To a large casserole dish with a lid, add the roasting stock mixture: coffee, red wine, balsamic vinegar, tomato paste, mustard, tamari, maple syrup, fresh herbs, vegetable stock, mixed vegetables and bay leaves. Place the seitan in the roasting stock, gently pressing it down so it's just about covered in the liquid. Cover the casserole dish with the lid

Transfer it to the preheated oven and roast for 2 hours. Remove the lid and roast for 1 hour uncovered.

To serve, remove the seitan roast from the stock and slice into 1-inch (2.5-cm) pieces. Strain the stock to remove the large veg pieces and heat the remaining liquid in a saucepan. Mix the cornstarch with 2 tablespoons (30 ml) of water to create a slurry. Stir it into the stock to thicken it and turn it into a delicious gravy to serve alongside. Remove it from the heat after roughly 2 to3 minutes, or once it gets to your desired consistency. Enjoy with some delicious roast potatoes and Yorkies!
This recipe was Reprinted with permission from The Ultimate Guide to Vegan Roasts by Romy London.
More like this: