Pumpkin pie is traditionally eaten during the holiday season – but have you ever thought of making a pumpkin pie cheesecake for a new take on the beloved dessert? This dairy-free and vegan recipe is sure to impress your Thanksgiving guests.
Vegans can sometimes struggle to find desserts. Popular recipes tend to be heavy on animal products, and plant-based options are often tricky to find at restaurants and in supermarkets. A traditional pumpkin pie cheesecake recipe would usually contain dairy and eggs, but this version – which comes from Romy London – is made with all-vegan ingredients.
It uses plant milk and soaked cashews to give it its creaminess, and it's also free from refined sugar. Whether you're throwing a Thanksgiving dinner, or just fancy baking something a bit different this weekend, here's how to make it.
Vegan pumpkin pie cheesecake recipe
This pumpkin pie cheesecake is completely free from animal products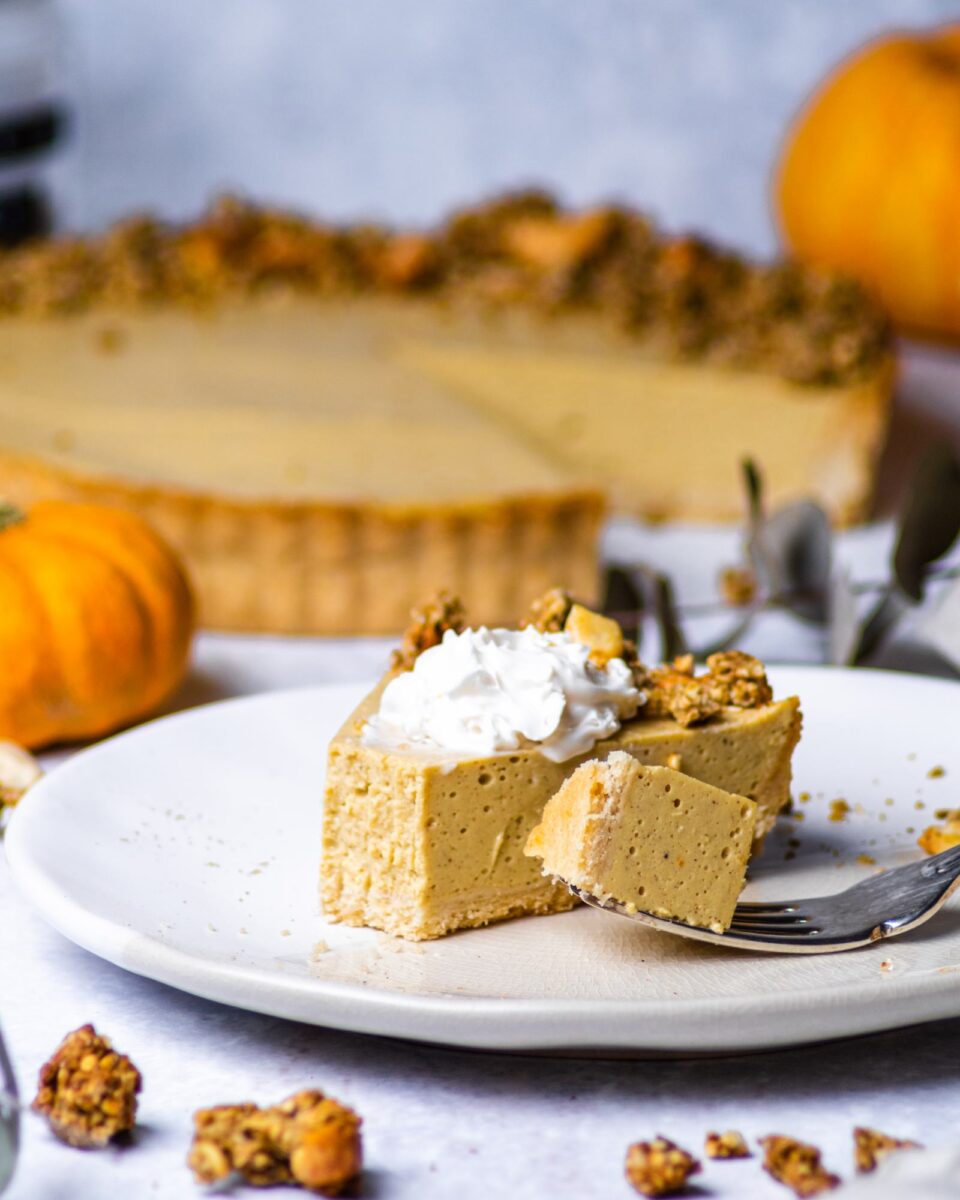 Ingredients
200

g

plain flour

60

ml

water or plant milk

1

tsp

coconut sugar

1/4

tsp

salt

115

g

vegetable shortening (I used Trex)
For the cheesecake filling:
100

g

cashews, soaked for at least 4-6 hours or boiled in water for at least 20 minutes

300

g

pumpkin puree (homemade or store-bought)

85

g

maple syrup

1

tsp

cinnamon

1/4

tsp

nutmeg

1/2

tsp

ginger powder

1/4

tsp

nutmeg

1/2

tsp

ginger powder

1/4

tsp

salt

1/4

tsp

cardamom powder

1/8

tsp

ground cloves

1/2

tsp

lemon zest

150

ml

plant milk

1

tsp

Agar Agar powder
Instructions
To create the pie crust combine all ingredients in a Magimix with dough insert. Alternatively you can mix the ingredients by hand using a hand pastry blender until the dough forms a firm ball.  Cover the dough in cling film or parchment and place it in the fridge for 15-20 minutes.

In the meantime prepare your cheesecake filling by boiling 100g cashews in a little water for 15-20 minutes or until soft. You can also soak the cashews for 4-6 hours beforehand, but if you're short in time the boiling method works just perfectly fine.

Remove the dough from the fridge, it should be nice and firm. Without holding it in your hands for too long, place it in between 2 sheets of non-stick baking parchment. Using a rolling pin, roll out the pastry dough to around 0.5 cm thickness.

Carefully place the pastry sheet into a greased pie tin, cutting off any excess dough – you can use this for your pastry decoration and get creative!

Pierce the dough about 4-5 times with a fork, then place a parchment sheet on the top to cover it. Fill in your baking beans (you can also use dried legumes or rice!) and bake on 180C for 15-20 minutes.

For the cheesecake filling, combine all ingredients in a blender – leaving the 150ml plant milk and Agar Agar aside.

Remove your pastry crust from the oven once golden, removing the baking beans and parchment. Set aside until your cheesecake filling is ready.

In a small saucepan, bring the 150ml plant milk and Agar Agar powder to a light bubble whilst continuously whisking.

The next steps have to happen quickly: Take the Agar mix off the heat and pour it straight into the blender with your cheesecake mix. Blend instantly until fully mixed, then pour into your pie crust immediately.

Smooth out the top of your cheesecake and place in the fridge for at least 30 minutes before decorating and serving.
This pumpkin pie cheesecake recipe was republished with permission from Romy London. You can find the original recipe here.
More like this:
This Millionaire's Shortbread Recipe Is Completely Dairy-Free
These Apple Pie Overnight Oats Are About To Become Your Favorite Breakfast
This Pumpkin Baked Oatmeal Is A Warming October Breakfast Idea