It's now officially October, meaning the evenings are getting darker, the temperature getting colder, and many of us are seeking warming and comforting dinner ideas. If you're looking for some classic vegan fall recipes to make this month, this lentil and mushroom wellington could be just what you're after.
Originating in Britain, beef wellington is a popular dish consisting of meat wrapped in flaky pastry. There are a growing number of recipes offering a vegan take on the food, however, and mushrooms and lentils are popular alternatives to use. You can either enjoy it for a midweek dinner or make it as a centerpiece for a plant-based Sunday roast. If you opt for the latter, you can pair it with some vegan roast potatoes, Yorkshire puddings, and pigs in blankets.
This particular recipe comes from plant-based chef Romy London. Both mushrooms and lentils are popular meat alternatives, and she chose the former for their savory taste and meaty texture.
Why lentils?
Lentils have long been used in place of meat, notable beef and mince, in vegan and vegetarian cooking. As well as being generally cheap and readily available in many stores and supermarkets, lentils are popular for their nutritional profile.
According to Healthline, the legumes are made up of 25 percent protein. A typical cup of lentils will contain around 17.9 grams of protein. They are also rich in fiber, a carbohydrate that many US diets are lacking in. Adequate intake of fiber aids digestion, and it also may reduce the risk of heart disease. Lentils are also a source of iron, zinc, magnesium, potassium, and b vitamins.
Lentil and mushroom wellington recipe
A Wellington was one of the first vegan roasts I ever made, and to this day it's one of my favorite ways to serve up a delicious roast meal. Traditionally, a Wellington is made with beef that is wrapped in a flaky puff pastry and then baked. For vegan Wellingtons, there are several delicious fillings, but this mushroom and lentil combination is a personal go-to of mine. The mushrooms add a savory taste and meat-like texture. This Wellington is easy to make with a few simple techniques, and it's definitely a stunner on any festive table spread. To make thisWellington gluten-free, use a gluten-free puff pastry.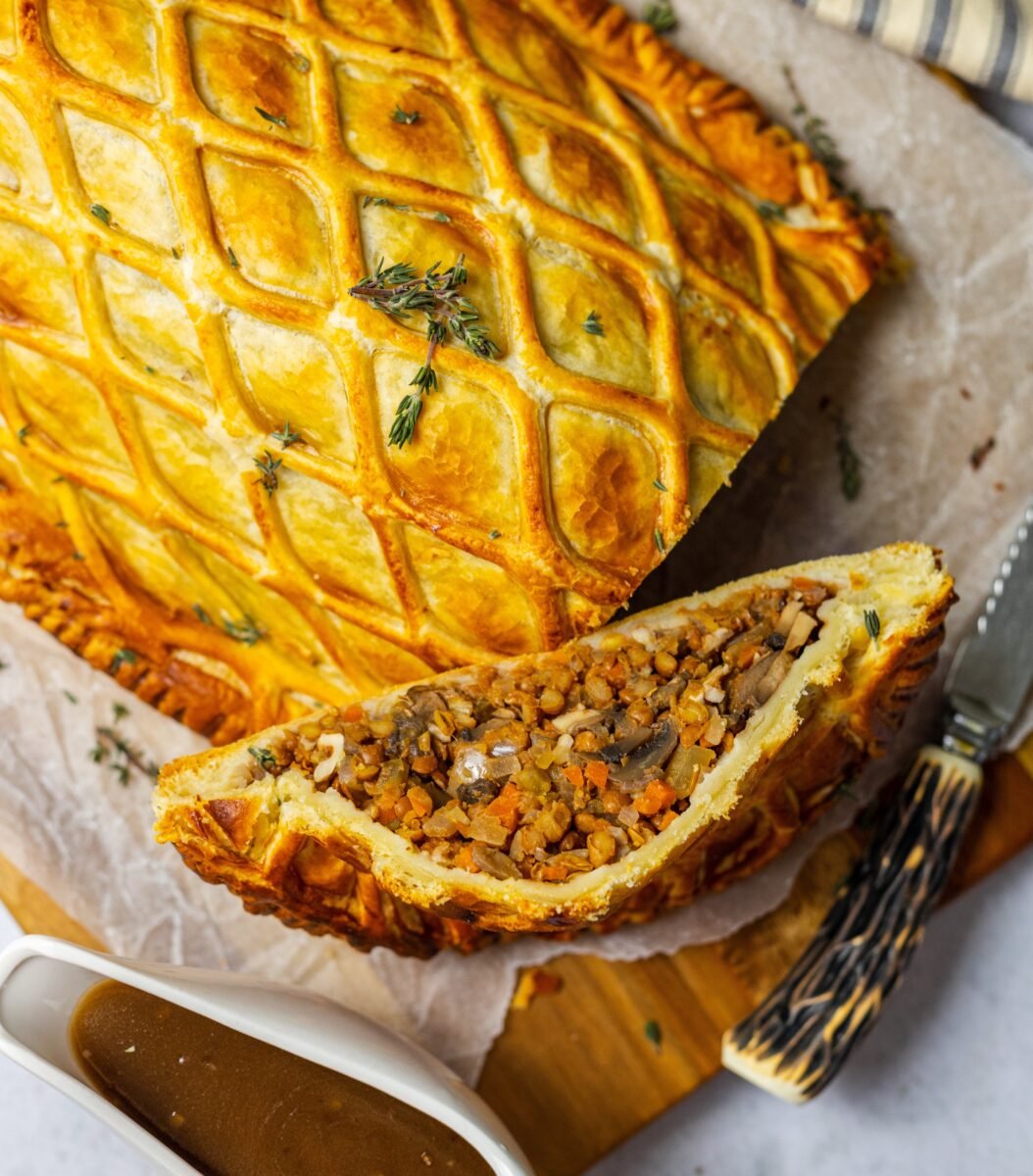 Ingredients
3

cups

washed and sliced brown mushrooms

Pinch of sea salt

2

tbsp (28g)

vegan butter

1

cup (160g)

finely diced yellow onion

2/3

cup (67g)

finely diced celery

1

cup (128g)

finely diced carrot

2

tsp (10g)

crushed garlic

1/2

cup (125ml)

vegan white wine

2

cups (396g)

canned green lentils

1/2

cup (57g)

roughly chopped walnuts

2

sheets

vegan puff pastry

1

tbsp (15ml)

tamari

1

tbsp (15ml)

plant milk
Instructions
Place your mushrooms in a large, dry skillet over medium-high heat and stir frequently for 2 to 3 minutes, then sprinkle in the salt. Your mushrooms will release their water, become soft and shrink. Cook for 5 to 10 minutes, or until the majority of the liquid has evaporated from the pan. Set it aside.

In a separate skillet, heat the vegan butter and add the onion, celery and carrot. Sauté them for 5 to 7 minutes, or until soft. Add the garlic and cook for 2 to 3 minutes, then deglaze the pan with the white wine. Wait 2 minutes, then add the sautéed mushrooms to the warm skillet and remove it from the heat.

Mash 1 cup (198 g) of the green lentils with the back of a fork; keep the other cup of lentils in tact. Stir the lentils into the pan, then add the walnuts and allow the mixture to cool for at least 1 hour.

In the meantime, bring your puff pastry sheets to room temperature, so they can soften and become easier to unroll.

Once cooled down, spoon the mixture onto the middle of an unrolled puff pastry sheet in a log shape—or any desired shape you wish to create! Ensure the mixture is tightly packed within the pastry sheet.

Sprinkle a little water or plant milk on the pastry edges around the log, then gently place a second puff pastry sheet on top and press the edges against the bottom sheet to seal. Use a sharp knife to remove any excess pastry. Crimp the edges between your fingers or use a fork to seal them.

Use any leftover scraps of puff pastry to decorate your Wellington. You can score it or cut out little puff pastry shapes; dab them with a little plant milk to add them onto your log.

Rest the Wellington in your fridge or freezer for a minimum of 1 hour, then preheat your oven to 375°F (190°C) and place a rack in the middle. Line a baking sheet with parchment paper.

For the vegan egg wash, combine the tamari and plant milk in a small bowl. Brush it onto your Wellington. Roast the Wellington for 25 to 30 minutes, or until it is beautifully golden on the outside.
Reprinted with permission from The Ultimate Guide to Vegan Roasts by Romy London. If you liked this, check out more of her recipes below: