In the UK, shoppers are spoilt for choice this year when it comes to planning a fully vegan Christmas. Whether you're looking for vegan pigs in blankets, vegan mince pies, or vegan wines, M&S (Marks and Spencer) is one of many UK supermarkets offering an extensive range of Christmas food to cater to all plant-based consumers. 
Find out all the vegan Christmas food you can buy at UK Supermarkets here
M&S vegan Christmas food
In 2023, M&S has a wide range of vegan Christmas food. As well as its Christmas mains, sides, desserts, canapes and drinks, M&S is offering vegan Christmas gifts and a festive plant-based sandwich. Here are all the vegan options at M&S this Christmas, from a classic No Turkey Joint to Percy Pig Christmas sweets.
Jump to section:
Vegan Christmas Mains
For your vegan Christmas centerpiece, M&S has three options designed to steal the show.
Plant Kitchen No Turkey Joint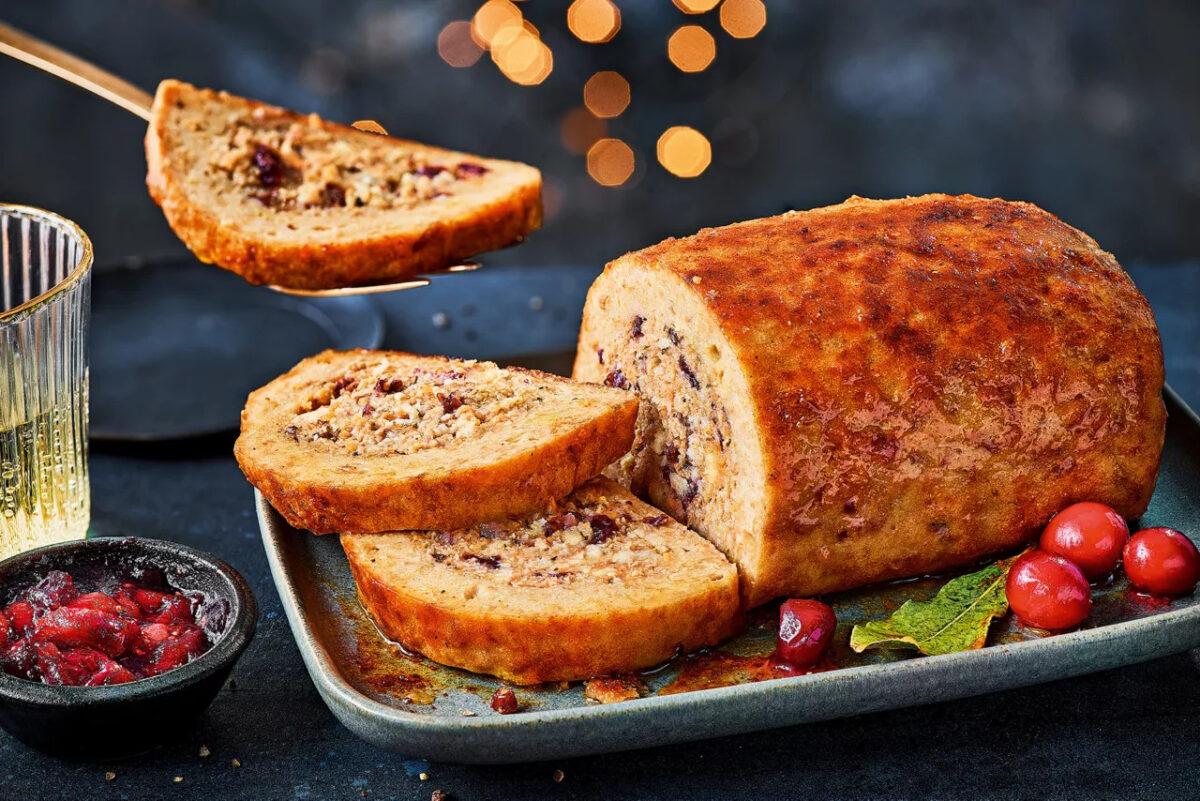 This festive pea protein joint is filled with a cranberry, onion, and chestnut stuffing and has a crispy breadcrumb topping. A turkey centerpiece without the suffering.
Cost: £10
Plant Kitchen Roast Butternut Squash & Spinach Pie
This plant-based pie is a vegan Christmas main for those who would rather have a non-'meaty' option. Shortcrust pastry filled with butternut squash, carrot and spinach and topped with filo pastry.
Cost: £8
Plant Kitchen Butternut, Almond & Pecan Nut Roast
Nut roast is a Christmas classic for vegans. M&S is offering a twist with this butternut, almond, and pecan version. Roasted butternut squash, mixed nuts, bulgur wheat, cannellini beans, cranberries and a red wine and thyme gravy.
Cost: £7.25
Vegan Christmas sides
What's the main without its accompaniments? From pigs in blankets to classic Christmas veggies, here are all the M&S vegan Christmas sides 2023.
Plant Kitchen Mushroom Parfait with a Port Glaze
Looking to add a little luxury to your Christmas plate? This vegan parfait is made with a blend of mushrooms and topped with a sweet apple and port glaze. Serves five.
Cost: £6
Plant Kitchen 12 Vegan Pigs in Blankets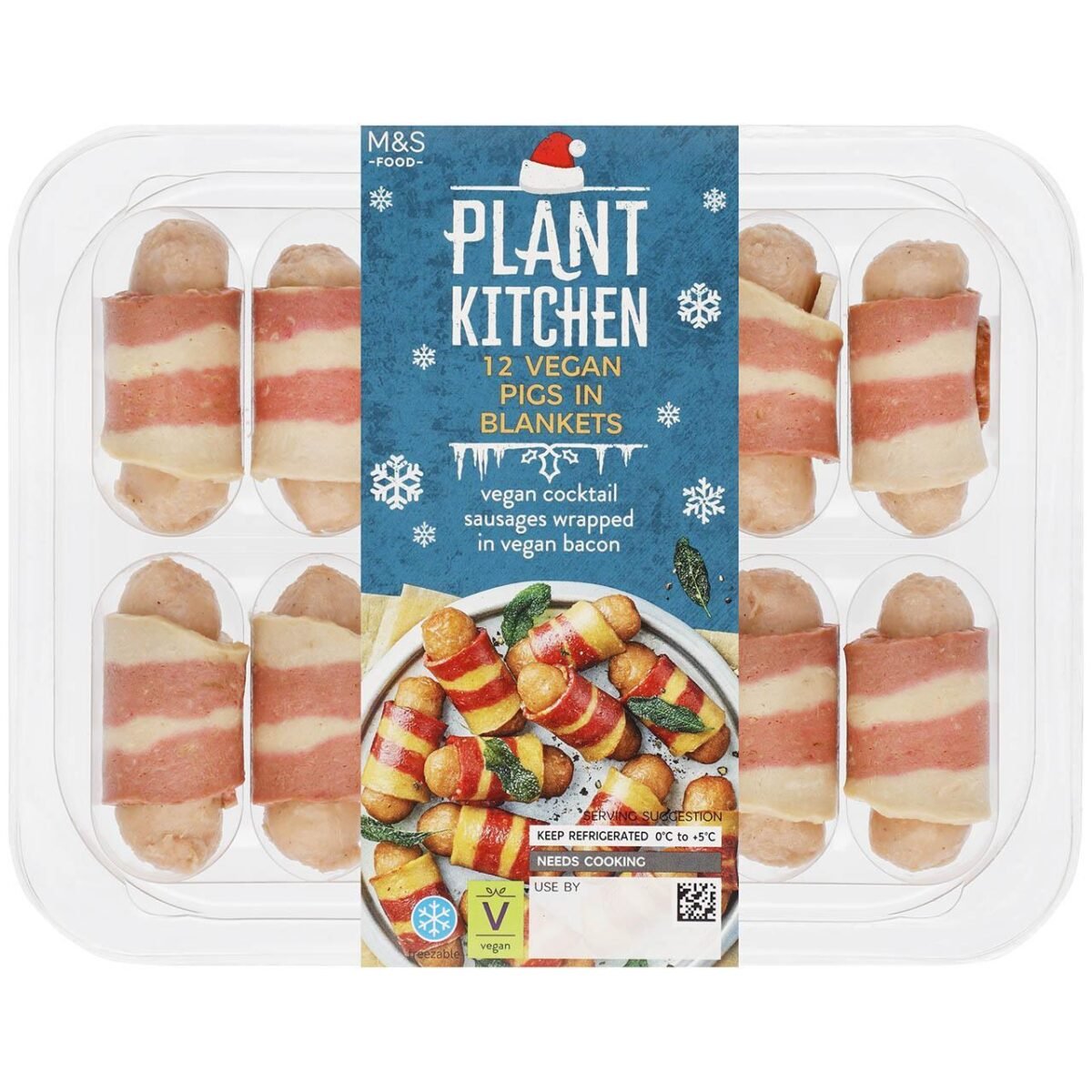 A Christmas staple without the slaughter! Plant Kitchen's Vegan Pigs in Blankets feature 12 vegan cocktail sausages wrapped in vegan bacon.
Cost: £5.50
Plant Kitchen Vegan Vegetable Selection
A full selection of sides for a vegan Christmas dinner. Triple-cooked roast potatoes, red cabbage, a cauliflower and leek bake, as well as a garnish selection. Serves four.
Cost: £26
Plant Kitchen Vegan Gravy
Don't forget the gravy. Made with vegetable stock and onions, this vegan gravy is made for pouring over a nut roast.
Cost: £3
Vegan Christmas desserts
Is dessert your main event? The M&S Vegan Christmas Food range features four fully plant-based puddings.
Vegan Chocolate Torte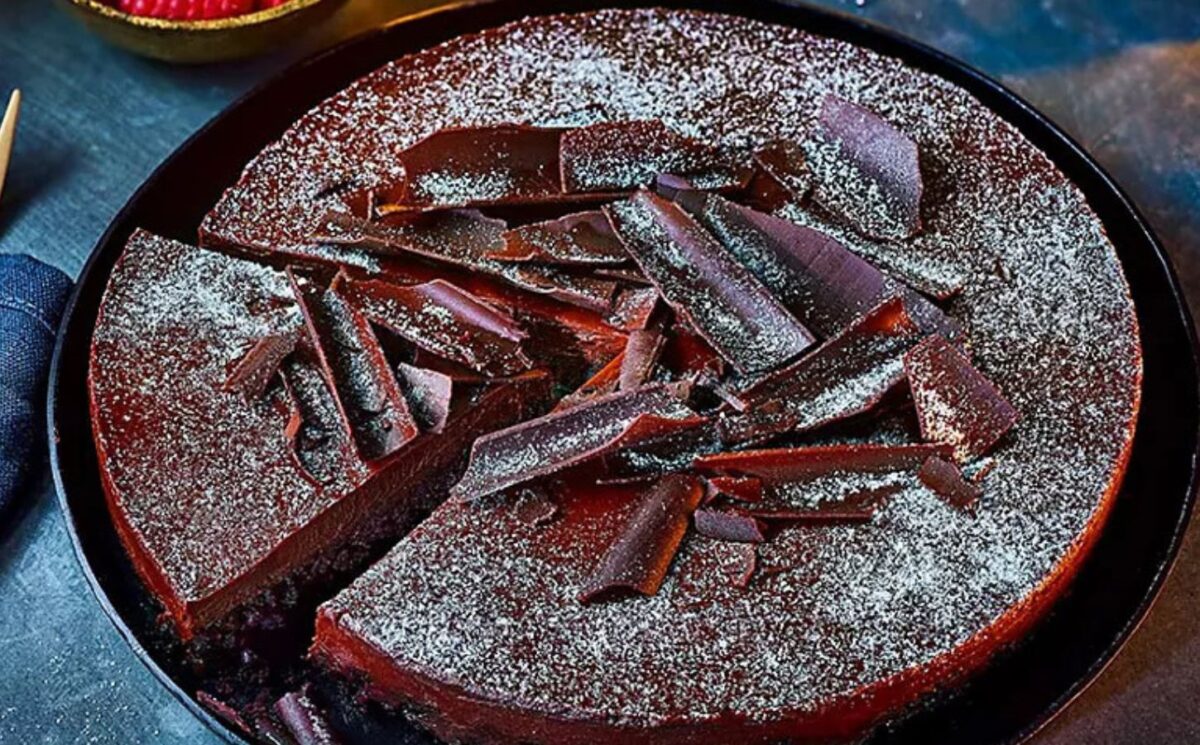 New for Christmas 2023, the M&S Vegan Chocolate Torte combines a crunchy biscuit base with a smooth dark Belgian chocolate ganache. It comes hand decorated with shards of dark chocolate. Serves six.
Cost: £15
M&S Made Without Christmas Pudding 6 Month Matured
For a traditional dessert, try this M&S Vegan Christmas Pudding with spices and vine fruits, cider, rum and sherry.
Cost: £4.50
Plant Kitchen Mince Pies
Christmas wouldn't be Christmas without mince pies. Shortcrust pastry filled with classic mincemeat. Sweet and fruity… and made without dairy or eggs.
Cost: £3.00
Plant Kitchen No Cheeseboard Selection
Want to finish your Christmas meal with a festive cheeseboard? This vegan platter of mature, smoked, mixed cranberry and crumbly French style cheeses serves four.
Cost: £6.50
M&S Christmas party food: what canapes are vegan?
M&S is not only offering food for the big day. Here is a range of M&S vegan Christmas food to get the party started…
Collection Snowmen Steamed Bao Buns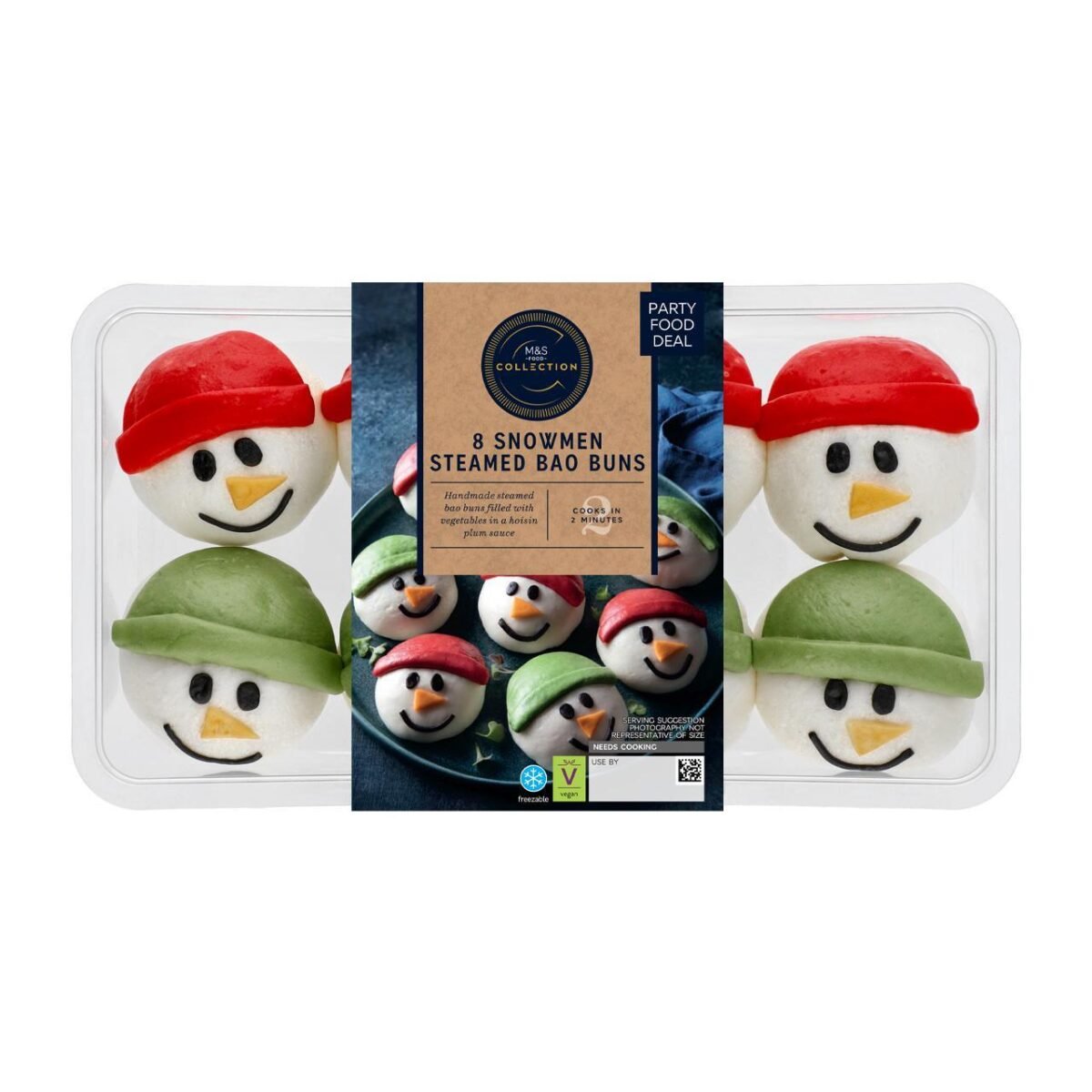 Bao buns are a deliciously light and fluffy snack. These handmade steamed bao buns are filled with vegetables in a hoisin sauce. They are also dressed up as snowmen to put a festive twist on the classic.
Cost: £7
Vegan 12 Chicken Kyivs
Chicken kyivs without the cruelty. These soy-based bites are made for nibbling at a Christmas get-together. With a garlic filling and coated in golden breadcrumbs, vegans and meat eaters alike can enjoy this festive finger food.
Cost: £5.50
Plant Kitchen 12 Crispy Oriental Selection Pack
A vegan selection pack for a Christmas party. Contains four wheat parcels filled with soy protein and mushrooms, four wheat pancake parcels filled with vegetables and four wheat pancakes filled with soy, hoisin sauce, and vegetables.
Cost: £5.50
Plant Kitchen Vegan Pigs in Duvets Selection Pack
The M&S "Pigs in Duvets" Selection Pack comes with six mushroom and soy sausages and six soy chorizo sausages. All wrapped in pastry, this is finger food to get in the festive spirit.
Cost: £5.50
M&S vegan festive drinks
The good news for festive drinkers is that M&S own-label wines are now fully vegan. You can get in the Christmas mood without checking labels.
M&S branded beers, spirits, cocktails and liqueurs are almost entirely vegan too, giving you plenty of choice when raising a festive glass.
M&S Vegan Prosecco
Toast the festive season with this award-winning vegan prosecco for £8.50 a bottle. A dry sparkling wine with flavors of lemon, pear, apple, and floral hints.
Cost: £51 for a case of six
M&S Collection St. Gall Champagne 1er Cru Rosé
Looking for something extra special? This Champagne has a coral hue, persistent mousse, as well as hints of brioche, cherry and wild strawberries.
Cost: £180 for a case of six
Beaujolais Villages
With its flavors of raspberries, spice and violets, this unoaked red costs £10 a bottle and can be served lightly chilled.
Cost: £60 for a case of six
Gavi
Flavors of pear, fennel, and stone fruit accompany this floral white wine. It also comes from growers committed to sustainable viticulture practices.
Cost: £54 for a case of six
Greenwich Winter Spiced Porter
Seven different malts and British hops go into this traditional London porter. Cinnamon and allspice give the warming ale its aroma.
Cost: £30 for a case of 12
Vegan Non-Alcoholic Drinks
M&S Frizzantea Brut
This lightly sparkling Darjeeling tea has been fermented over several weeks to deliver a complex flavor of peach and blackcurrant. Celebrate the season but skip the hangover.
Cost: £8.50 per bottle
M&S Low-Alcohol Buck's Fizz
If you want all the fizz without the fuss, try this 0.5 percent volume Buck's Fizz. A sparkling blend of dealcoholised white wine and orange juice to sip on Christmas morning.
Cost: £3.20 per bottle
M&S Christmas sandwiches 2023
Since launching its first vegan sandwich in 2017, the M&S Vegan Christmas sandwich reveal has grown ever more popular. The Christmas sandwich range will be in store from November 1.
HO HO Pest-HO
The M&S vegan Christmas sandwich 2023 is a pesto and vegetable sandwich with a Santa-themed name. Contains roasted butternut squash, pickled red cabbage slaw, rocket pesto and tahini mayo between two slices of malted brown bread.
Cost: £3.65
M&S Christmas Gifts
As well as the M&S Christmas food range, the retailer has developed products suitable as a vegan Christmas gift.
Vegan Gift Bag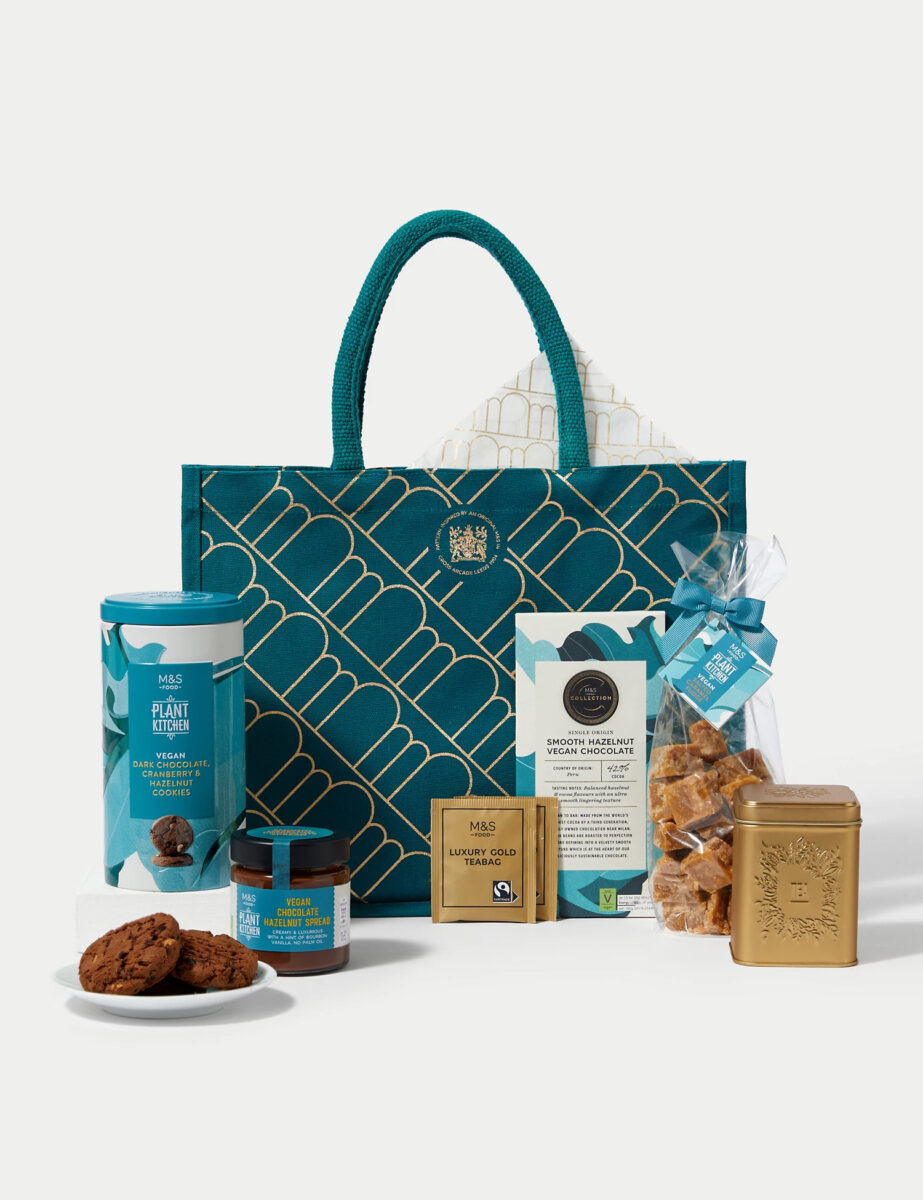 Packed with items from the M&S Plant Kitchen range, this Vegan Gift Bag is one for chocolate lovers. Treats include salted caramel fudge, single origin smooth hazelnut chocolate, double chocolate chip cookies, and a hazelnut spread.
Cost: £35
6 Plant Kitchen Chocolate Brownies
Cooked traditionally in trays to create the caramelized crust, these vegan brownies are made in small batches and gooey on the inside.
Cost: £18
M&S Percy Pig Christmas Fruit Flavour Gums
The iconic Percy Pig sweets went vegan in 2022. Add these gelatin-free festive gums to a Christmas stocking – or snack on them all month.
Cost: £1.90
When can I order M&S Christmas food?
Shoppers will be able to access the Christmas Food To Order site online at M&S from September 26 until December 11. Final orders for M&S Christmas online gifts must be made by December 22.
When can I buy M&S Christmas food in store?
Most of the M&S vegan Christmas range is available now in store.
Sandwich lovers will be able to get their hands on the HO HO Pest-HO sandwich from November 1.
More like this: