If you're on the hunt for some new vegan dinner ideas to add to your weekly rotation, this creamy cauliflower bake is dairy-free, plant-based, and perfect for the fall season.
Cauliflower often gets a bad rep, but it's a hugely versatile food that can be used in a wide variety of recipes. Perhaps the most common is cauliflower cheese (which is simple to veganize), but a growing number of cauliflower recipes are often far more imaginative. This particular recipe, which is the brainchild of plant-based chef Romy London, combines cauliflower with a creamy buttery sauce, which is completely free from animal products.
Health benefits of cauliflower
As well as being versatile (and hugely tasty if cooked in the right way), cauliflower is known to feature a number of health benefits. It contains vitamins and minerals, including vitamin C, vitamin K, vitamin B6, manganese, and potassium. It's also a source of fiber, an essential carbohydrate that helps digestive and overall health.
Cauliflowers are generally widely available at supermarkets, and they should be easy to find at your next weekly shop. They are in season in fall, meaning now is the perfect time to experiment with cooking them.
How to make a vegan creamy cauliflower bake
Forget cauliflower cheese—this creamy cauliflower bake is where it's at! The buttery sauce is full of nutritional yeast, miso paste and lemon juice to give it a hearty flavor. Cashews, potato, carrot and oats create a wonderfully thick and creamy texture. It's heavenly, especially topped with caramelized onions and some almond flakes for a perfect crunch! If you're gluten-free, make sure to use gluten-free oats in this recipe.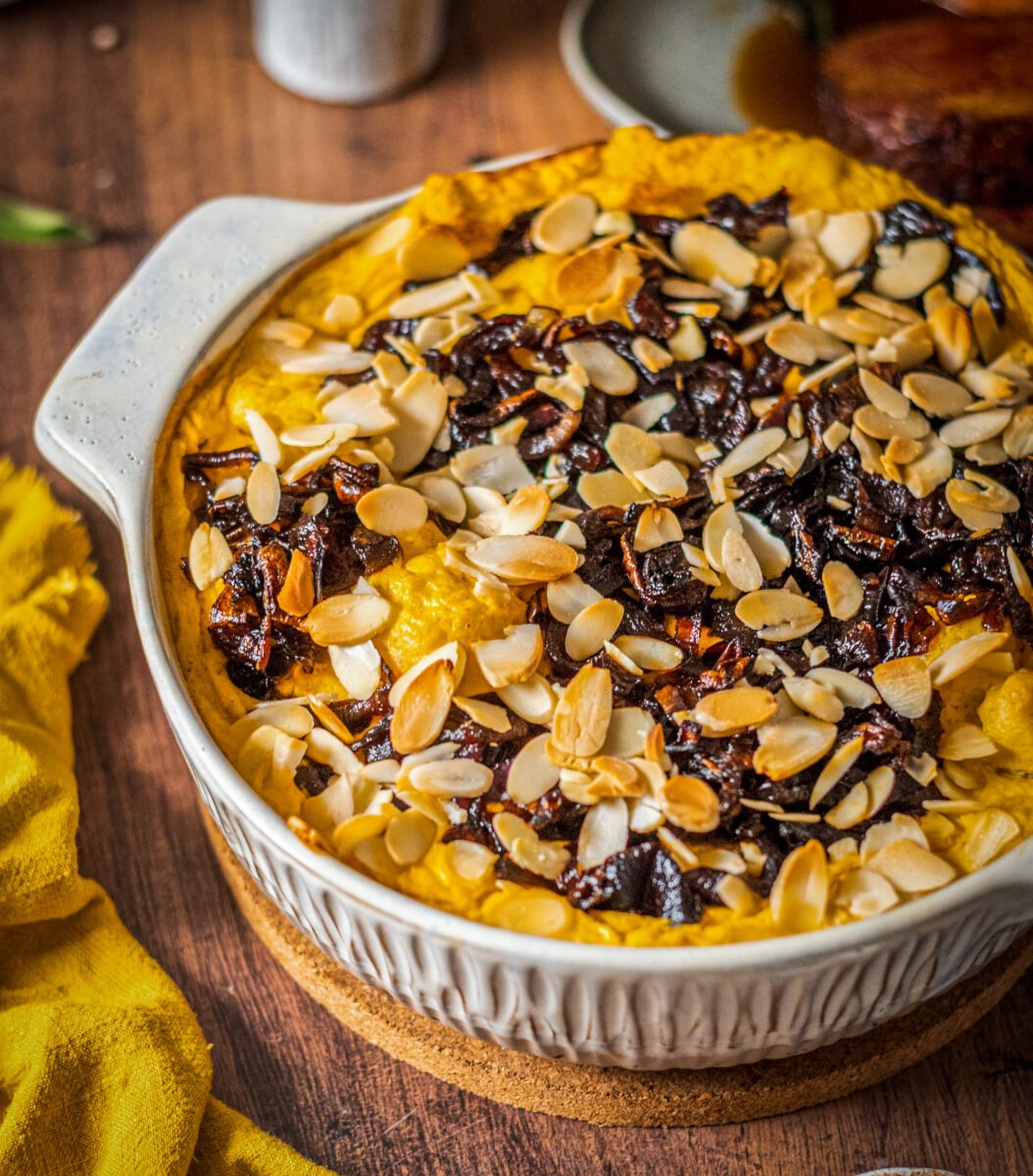 Ingredients
1/4

cup (30g)

cashews

1

head

cauliflower, cut into florets

1/3

cup

roughly chopped white potato

1/2

cup

roughly chopped carrot

1

tbsp

white miso paste

2

cups

plant milk

2

tbsp

rolled oats

1/2

tsp

sea salt

1/4

tsp

black pepper

1/4

tsp

sweet paprika

3

tbsp

nutritional yeast

1

tbsp

fresh lemon juice

2

tbsp

melted virgin coconut oil

2

tbsp

olive oil

2

finely sliced red onions

1

tbsp

light brown sugar, packed

1/4

cup

almond flakes
Instructions
Place your cashews in a small heatproof bowl and cover them with boiling water. Set them aside to soak for 20 minutes, then drain.

In the meantime, steam your cauliflower, potato and carrot separately over a saucepan filled with steaming water, until softened. Set the cauliflower florets aside.

Place the potato and carrot in a blender or food processor. Add the white miso paste, plant milk, oats, salt, black pepper, paprika, nutritional yeast, lemon juice, coconut oil, and the drained cashews. Blend on high for 3 to 4 minutes, until you get a smooth sauce.

Combine the cauliflower and sauce in a bowl. Transfer the mixture to a greased, ovenproof dish, then preheat your oven to 390°F (200°C).

Heat the olive oil in a large, nonstick skillet over medium heat. Fry the red onions for 3 to 5minutes, until translucent. Add the brown sugar and cook for 8 to 10 minutes, stirring frequently, until the onions caramelize.

Top the cauliflower bake with the caramelized onions and almond flakes. Place the ovenproof dish into the oven and bake for 8 to 10 minutes, or until the top turns golden. Serve hot alongside roast potatoes and your favorite roast.
Reprinted with permission from The Ultimate Guide to Vegan Roasts by Romy London. If you liked this recipe, check out more from Romy London below: