If you follow a plant-based diet and thought steak nights were a thing of the past, you'll be relieved to know that the vegan steak market has catapulted in recent years. Meat-free steaks are now available in supermarkets and stores across the world, but what do you serve them with? Brandy peppercorn sauce is a classic, and it's easy to make a dairy-free peppercorn sauce without any butter or cream.
Vegan steaks have been around in varying forms for a number of years, but they have only recently become mainstream. In October 2022, Beyond Meat announced the launch of a "revolutionary" product "designed to deliver the juicy, tender and delicious bite of sliced steak tips." The steak went on to become the first vegan meat product ever to be certified by the American Heart Association, an accolade that helps shoppers recognize "heart healthy foods." To be awarded, foods must meet certain nutritional criteria relating to trans fat, cholesterol, sodium, and more.
As well as Beyond, a number of other companies are stocking increasingly realistic steaks. A key example is Slovenian startup Juicy Marbles, which are thought to be the world's first vegan marbled steaks. These are available to buy in Waitrose stores. Israeli company Redefine Meat also creates 3D printed steaks, which are available in a number of restaurants in the UK.
If you've just bought a vegan steak and aren't sure how to serve it, here's how to cook a dairy-free – and completely vegan – peppercorn sauce. This recipe comes from plant-based blogger Romy London. You can visit her website and check out more of her recipes here. You can also buy her book, The Ultimate Guide to Vegan Roasts, here.
Vegan peppercorn sauce recipe
Brandy Peppercorn Sauce is a classic sauce to serve with steak, but did you know you can make it with completely plant-based ingredients? This sauce contains dairy-free butter and cream.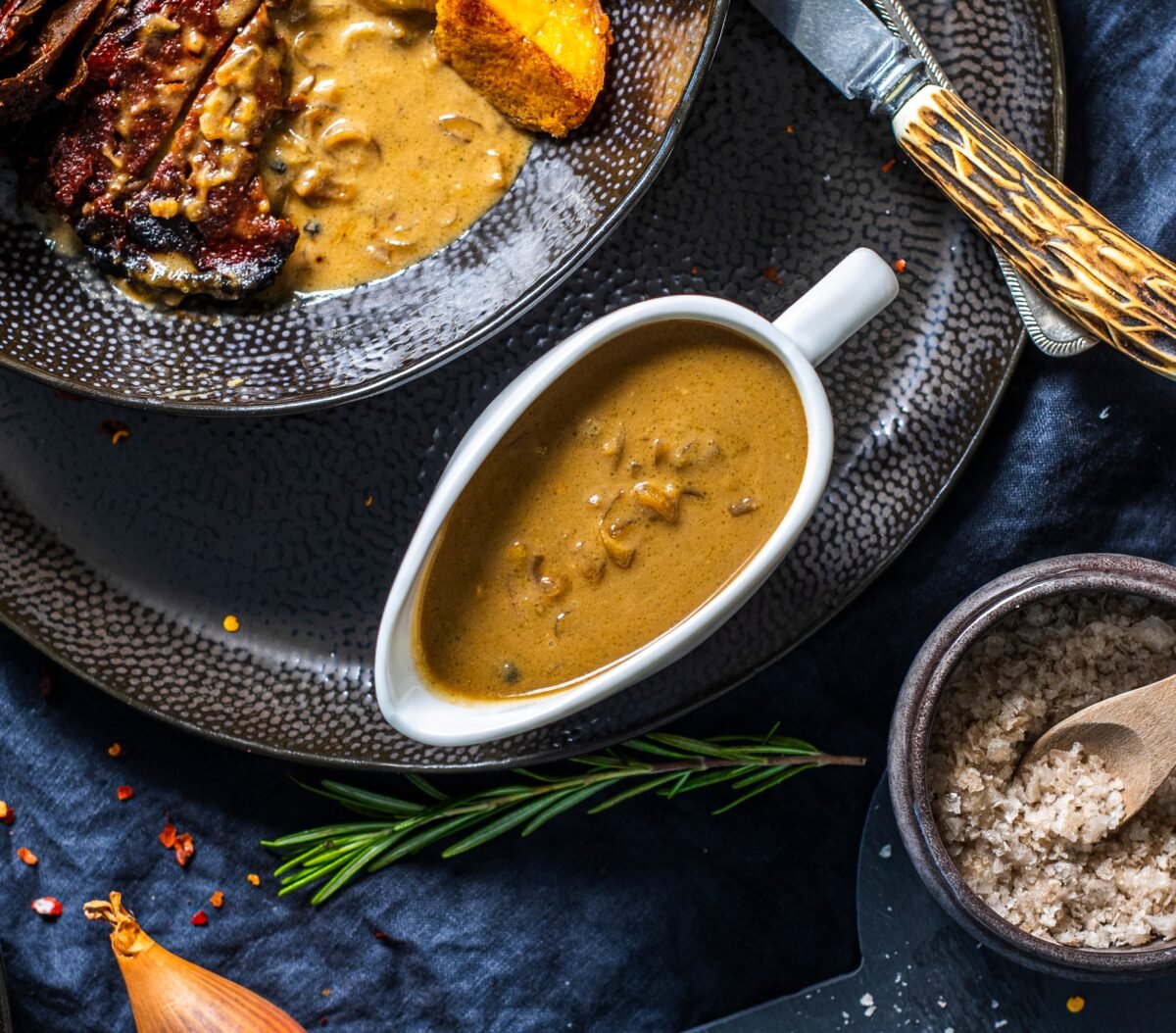 Ingredients
2

tbsp

vegan butter

2

shallots, finely diced

1/2

tsp

sea salt, plus more to taste

2

tsp

crushed garlic

1

tbsp

whole peppercorns

2

tbsp

vegan brandy

1

tbsp

tamari or coconut aminos

1

cup

dairy-free cream

1

cup

vegetable stock

1

tsp

mushroom powder

Ground black pepper, to taste

1

tbsp

cornstarch

2

tbsp

water
Instructions
Melt the vegan butter in a saucepan over medium heat. Add the shallots and sauté for 4 to 5 minutes, until translucent. Sprinkle in the salt after about 2 minutes

Add the garlic and sauté for 1 minute. Sprinkle in the whole peppercorns and allow them to sit in the hot oil for 3 to 4 minutes before adding the brandy

Let the brandy bubble away for a minute, then add the tamari. Simmer it all for 3 to 4 minutes, until you get a thick liquid in the saucepan

Pour in the dairy-free cream and vegetable stock, then stir in the mushroom powder (if using). Add a lid to the saucepan and bring the sauce to a simmer. Cook for 10 minutes over low heat, stirring frequently, then season to taste with salt and black pepper

Run the sauce through a fine-mesh sieve to remove the whole peppercorns and shallots. You can also leave them in the finished sauce. Make it the way you prefer! Mix the cornstarch with water to create a slurry, add it to the sauce and stir until the sauce thickens
Like this? Check out more recipes below: