Back in 1940, two brothers named Richard and Maurice McDonald founded what would later become the most well-known restaurant chain in the world. McDonald's operates 40,000 locations in more than 100 countries, and has probably the most recognizable logo of any other company. The fast food franchise was built on meat, but in recent years is adapting its menu more and more to suit vegan and plant-based eaters. But does the chain offer meat-free burgers? And are the fries and hash browns vegan? Let's find out.
A few years ago, the idea of ordering a vegan burger in McDonald's would have seemed laughable. Its menu has traditionally been heavy on pig, cow, chicken, and fish meat, and plant-based diners were destined to be stuck with a bag of carrot sticks. In 2023, however, the vegan menu is ever-expanding.
The McDonald's menu varies according to where you are in the world, and knowing what meals are vegan can be a challenge. With that in mind, here's everything you need to know about eating plant-based at McDonald's.
Please note: you should always check with your server before ordering any meal. While many menu items are made from plant-based ingredients, cross-contamination may occur. Some restaurants may also use the same grill for meat and vegan products.
McDonald's UK vegan menu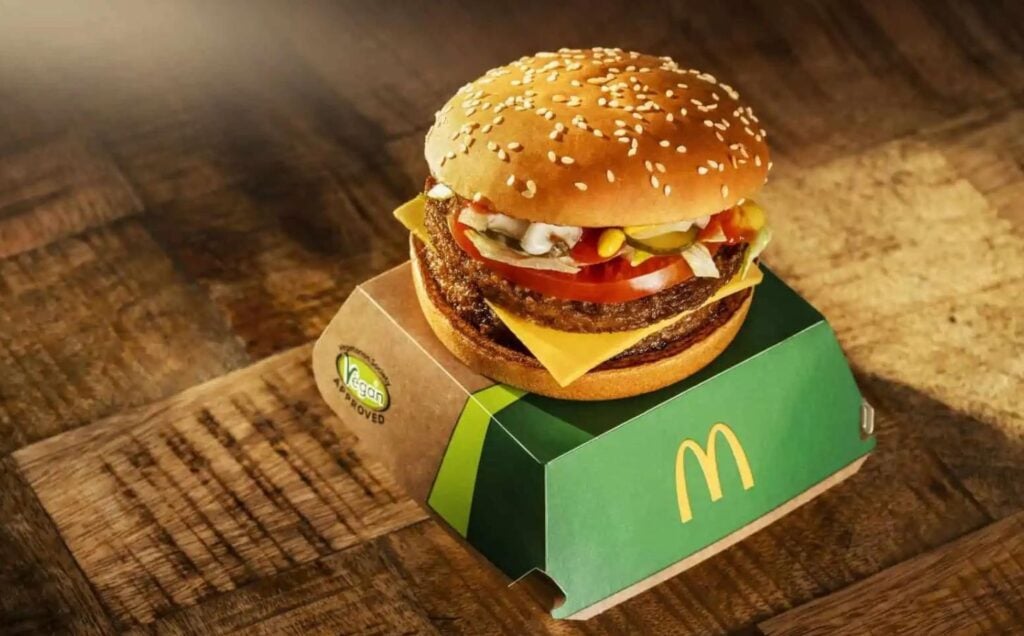 Vegans in the UK have a relatively high number of products to choose from. The most obvious choice is the vegan McPlant, a burger containing a Beyond Meat patty alongside vegan sandwich sauce, mustard, ketchup, pickles, onion, lettuce, tomato, as well as dairy-free cheese.
The McPlant was first introduced in Britain in January 2022 following a successful trial at a few restaurants in Coventry in September 2021. The burger has proved popular, and it's available to buy on its own or as part of a meal.
If the McPlant isn't your thing, you can also choose from the following:
Vegetable Deluxe Burger – This features Red pesto veggie goujons alongside sandwich sauce and shredded lettuce
The Spicy Veggie One – This wrap features spicy relish, lettuce, red onion, and tomato in a toasted tortilla wrap
Veggie Dippers – These feature a blend of red pepper and sundried tomato pesto
Other vegan options include the Melon Fruit Bag, Cucumber Sticks, Hash Brown, and Fries.
McDonald's UK vegan drinks
There are a number of vegan drinks available at McDonald's. These include Tropicana Orange Juice, bottles of water, Coca Cola Zero, Coca Cola, Diet Coke, Fanta Orange, Irn Bru (only available at select restaurants), Oasis, Robinsons Fruit Juice, and Sprite Zero.
McDonald's USA vegan menu
If you're in the US, the plant-based menu isn't quite as extensive. It is possible, however, to find some vegan foods.
A limited number branches in the US have introduced the McPlant. This isn't vegan, as it contains mayo and cheddar cheese. While you could ask for yours without these, you may want to check that it isn't cooked on the same grill as egg and meat.
Vegan options include the Fruit and Maple Oatmeal (if you order without cream), as well as the Apple Slices and Apple Pie.
McDonald's US vegan drinks
Visitors to McDonald's in the USA can choose from Coca Cola, Coca Cola Zero, Diet Coke, Fanta Orange, Dr Pepper, Hi-C Orange Lavaburst, Frozen Fanta and Coca Cola slushies, Honest Kids Appley Ever After Organic Juice Drink, Minute Maid Premium Orange Juice, Sweet Tea, Lemonade, and Unsweetened Iced Tea. The fruit smoothies are not vegan, as they contain yogurt.
McDonald's Germany vegan menu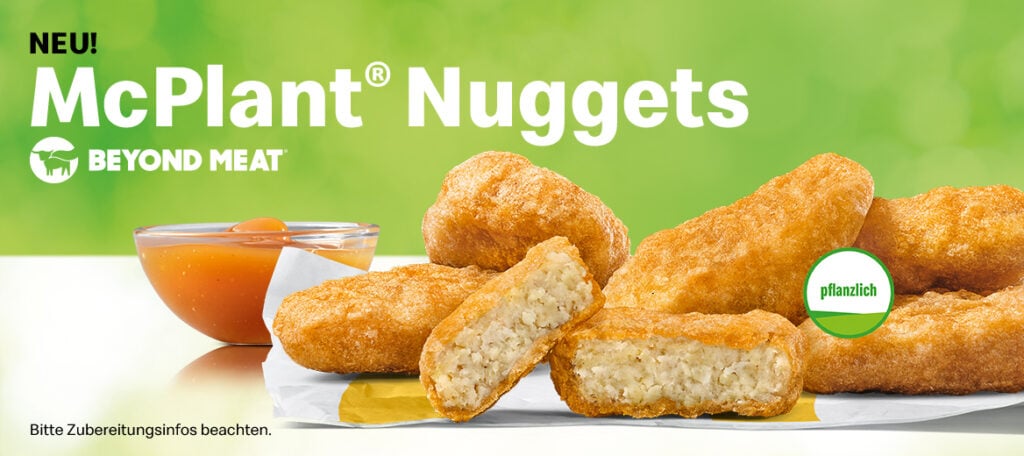 McDonald's Germany has a variety of options for plant-based consumers. Meat-free eating is hugely popular in the European country. A report earlier this year found that 10 percent of the population eat a vegetarian diet. It's also thought that 3.8 percent abstain from animal products completely.
McDonald's Germany is the only country in the world to offer a vegan McFlurry. The franchise introduced the dairy-free ice cream in May 2022, with the release of a plant-based KitKat version.
"Vegan and vegetarian meals have not been a niche trend for a long time – and we as a brand also want to and will continue to develop here," Susan Schramm, marketing director at McDonald's in Germany, said at the time. "Becoming better also means breaking new ground – for our company and our planet."
The franchise also offers a McPlant burger, as well as plant-based McNuggets, but neither of these are listed as vegan – or even vegetarian. This is because of unsuitable sauces used during their preparation. They are also cooked on the same grill as animal products.
McDonald's Germany vegan drinks
As well as the usual soft drinks, McDonald's Germany also offers Fresh Mint Tea and Green Tea Regular. It also features Red Bull on the menu, though some vegans choose to avoid this company due to its animal testing links.
McDonald's Australia vegan menu
The McDonald's Australia website states that none of its menu items are certified as vegan. "While some ingredients may not contain animal ingredients, we cannot guarantee that there will be no cross-contamination of ingredients during transportation, storage or preparation in our kitchens.
For many vegans, cross-contamination won't be an issue, however, and there are some plant-based items you can enjoy. These include the Hash Brown, Fries, Apple Slices, Side Salad, Garden Salad, and Loaded Fries (With Guacamole and Salsa).
McDonald's Australia vegan drinks
All the usual soft drinks are available, as well as Pop Tops Apple Juice and Pop Tops Water.
McDonald's Canada vegan menu
McDonald's does offer a burger called the P.LT. (Plant, Lettuce, Tomato) made with Beyond Meat, but this contains cheddar cheese. It's also cooked on the same grill as meat and eggs.
Canadian vegans can eat the Fries, Apple Pie, Hash Browns, Apple Slices, Fruit and Maple Oatmeal (with no cream), Side Salad (order it with Balsamic Vinaigrette).
McDonald's Canada vegan drinks
The Lemon Fruit Splash, Strawberry Passionfruit Fruit Splash, and Peach Mango Fruit Splash all appear to be vegan, as well as the Fruitopia Orange Groove, Fruitopia Strawberry Passion Awareness, Barq's Root Bear, Nesta Iced Tea, and usual soft drinks.
Are the fries vegan?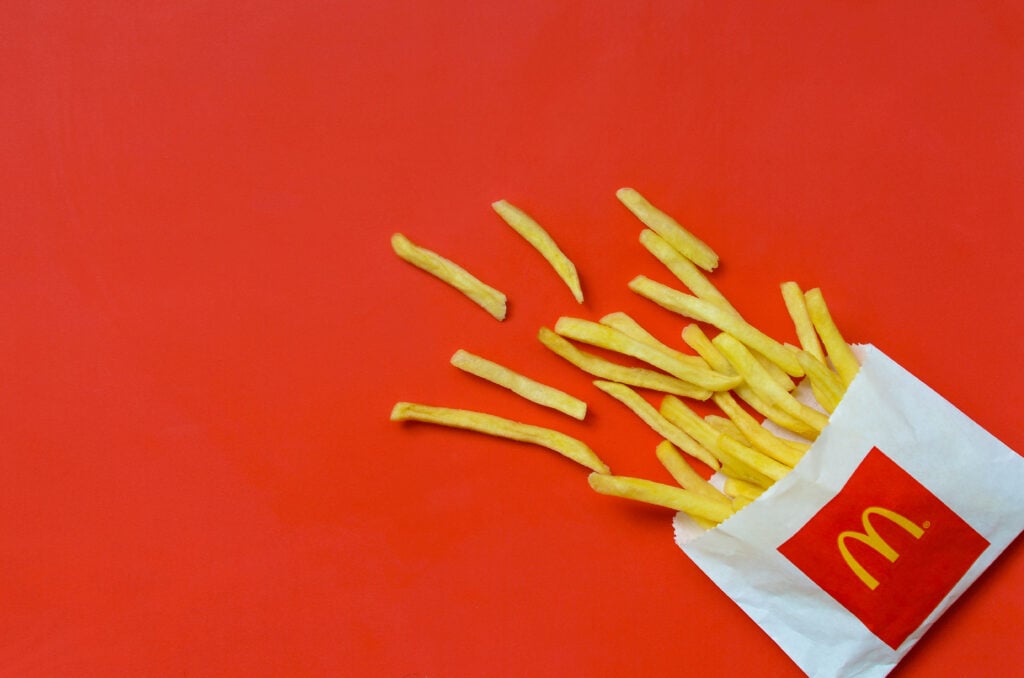 The answer to this is complicated, and that's because it entirely depends what country you're in. While some areas offer completely vegan fries on their McDonald's menus, others incorporate hidden animal products.
In the UK, the fries are indeed suitable for a plant-based diet. "The fries are not coated in any fats or substances from an animal," McDonald's writes on its website. "Once at the restaurant, our fries are simply cooked in dedicated frying vats in a non-hydrogenated blend of sunflower and rapeseed oil which is 100 percent suitable for vegans."
It's a similar situation in other European countries, as well as Canada and Australia, where the fries are also vegan-friendly.
In the US, however, it's a very different story. This is because they contain a "natural beef flavoring," which features milk as an ingredient.
"When our suppliers partially fry our cut potatoes, they use an oil blend that contains beef flavoring," the McDonald's website states. "This ensures the great-tasting and recognizable flavor we all love from our World Famous Fries. The fries are cooked in our kitchens, seasoned with salt, and served hot to you."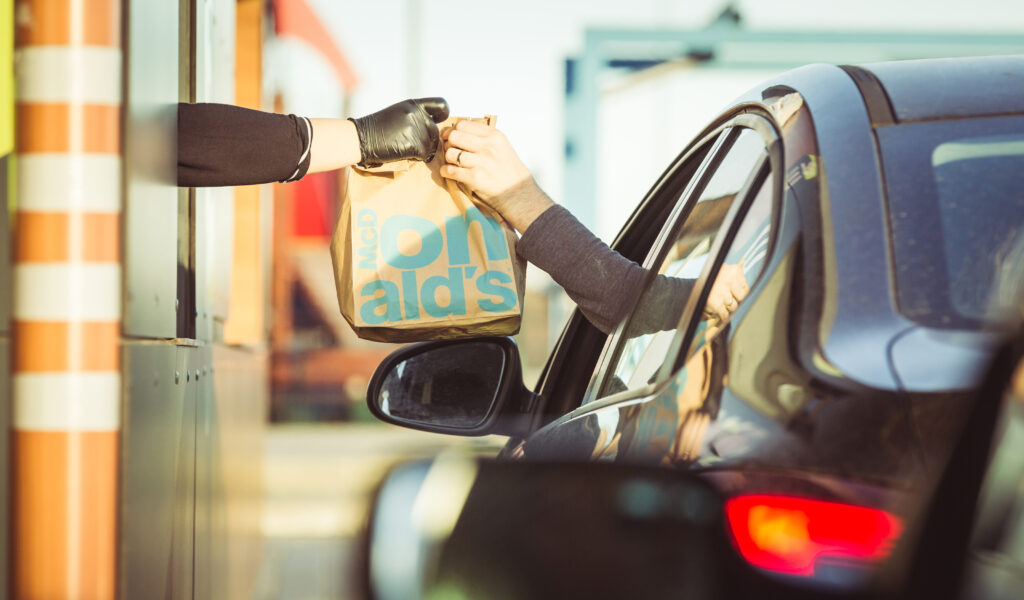 This news may come as a shock to many in the US, as fries would at first seem like an entirely plant-based side. In April 2023, a TikTok user named Jordan posted a video on the revelation, which subsequently went viral.
"I know why McDonald's fries taste different from everybody else's fries," he said. "And I'm gonna tell you guys.
After explaining about the beef flavoring, he added: "That's why their fries taste so good but also so different from everybody else's."
Are the hash browns vegan?
Again, this depends on where you are in the world. In the UK, Canada, and Australia, the breakfast favorite is plant-based. In the US, these have the same beef flavoring as the chips, meaning they contain dairy.
More like this: