When you hear the name Nando's, you probably wouldn't associate it with a delicious array of vegan burgers, wraps, and sides. But it's been catering to meat-free diners with increasingly popular plant-based options in recent years.
Nando's is a South African-based chain of restaurants that specializes in Peri Peri Portuguese-style chicken. It was founded in Johannesburg in the late 1980s, and there are now around 1,200 outlets in 30 countries.
Perhaps surprisingly, Nando's has been catering to vegans for quite some time. It has a dedicated plant-based section on its website, and regularly adds new animal-free options to its menu.
Whether you're in the UK or US, here's everything you need to know about eating vegan at Nando's
Please note that you should always check with your server before ordering to ensure that the product is plant-based or vegan-friendly. The menu is subject to change, and some products may be cooked on the same grill as meat. There is also risk of cross-contamination at Nando's, meaning plant-based products may be unsuitable for allergy sufferers.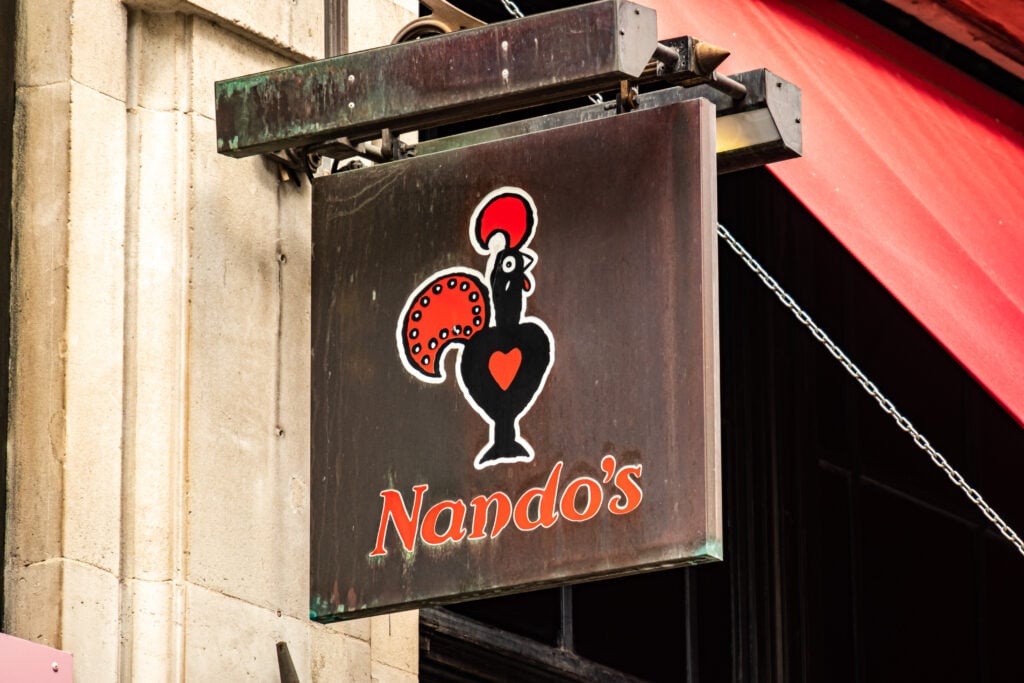 Nando's vegan starters
UK
In the UK, the chain offers three starters that are suitable for plant-based diners. The Houmous with PERi PERi Drizzle is served with warm pitta bread, and has been a staple on the menu for a long time. You can also choose the Sweet Potato Wedges with Garlic PERinaise. The hugely popular Spicy Mixed Olives are also vegan.
USA
The vegan starters in the US are the Spicy Mixed Olives and the Hummus with PERi PERi Drizzle.
Nando's vegan mains
UK
The UK offers three mains for plant-based eaters. The Spiced Chickpea Burger is its newest addition, and it's also available in wrap and pitta form.
You can also choose the Great Imitator Wrap, which features plant-based chicken made from pea protein. While this is cooked to a plant-based recipe, Nando's states that it cannot guarantee its baste is made with shellac-free lemons. This means that some vegans may avoid this option.
If you want to keep your meal on the lighter side, the Rainbow Bowl features warmed spiced grains, long stem broccoli, hummus, rainbow slaw, and pickled golden carrot.
Nando's UK states that it "does its best" to cook veggie and meat items separately, but it cannot guarantee this.
USA
The patty in the Veggie Burger at the US Nando's doesn't appear to contain animal ingredients, but you should always make sure to order it without egg-based PERinaise or other animal ingredients.
Are Nando's sauces suitable for vegans?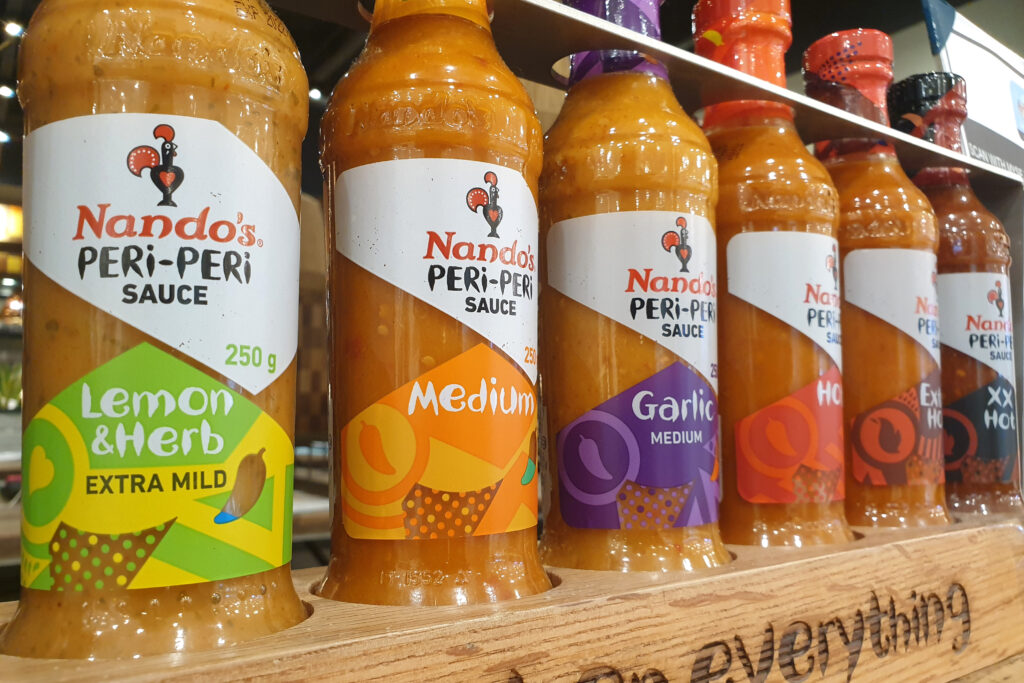 Regular visitors to Nando's will know that its sauces are an integral part of any meal. Vegan diners will therefore be happy to know that the vast majority are vegan-friendly.
Sauces not suitable for vegans include its egg-based PERinaise. The chain has added a plant-based version of this, however, named Vegan PERinaise.
In the US, the ranch and Caesar dressings are also not vegan-friendly.
Nando's PERi PERi sauces that are suitable for vegans include:
Lemon & Herb
Mango and Lime
Medium
Garlic
Hot
Extra Hot
Extra Extra Hot
Vegan PERinaise
Sweet Chilli Jam
Ketchup
What Nando's sides are suitable for vegans? Are the chips plant-based?
UK
Plant-based eaters may be relieved to know that the chips and PERi PERi chips are indeed vegan-friendly. There is sometimes confusion over fries at restaurants, given that many choose to cook them in the same oil as meat. Nando's, however, uses a plant-based oil.
Other vegan sides in the UK include Garlic Bread, Spicy Rice, Rainbow Slaw, Long Stem Broccoli, and Mixed Leaf Salad.
USA
Vegan sides in the US include Charred Sweet Potato, Corn on the Cob (with no butter), Portuguese Rice, Portuguese Roll, Mixed Leaf Side Salad, and PERi Chips.
Add-ons suitable for vegans include the hummus, grilled pineapple, veggie burger patty,
Are there any vegan desserts at Nando's?
Currently, in the UK, the only dessert available is the Mango Gelado. There are no vegan desserts at Nando's in the US.
What soft drinks are vegan-friendly at Nando's?
UK
Fans of Nando's will know that the bottomless soft drinks are an integral part of the dining experience. Vegans can enjoy all the unlimited drink options, including:
Coke Zero
Diet Coke
Fanta Zero
Sprite Zero
Other non-bottomless plant-based drinks include the RUBRO iced teas (peach, berry, and lemon flavors). Vegans can also drink the Karma Drinks Gingerella.
USA
All of the soft drinks served at Nando's in the US appear to be vegan-friendly.
Drinks suitable for plant-based eaters include:
Blood Orange Mango Lemonade
Cold Brew
Lavender Lemonade
Oat Milk Latte
Pineapple Lemonade
Strawberry Lemonade
What alcoholic drinks are vegan at Nando's?
UK
In the UK, at the time of writing, all the beers and ciders are vegan-friendly. These include Sagres, Sxollie, Freedom Pils, Five Points XPA, and Black's Kinsale Pale Ale.
The vegan wines include Creative Block 2 (South Africa), Creative Block 5 (South Africa), Cara Viva Medium Dry (Portugal), and Cara Viva Summer Fruit (Portugal).
USA
According to its menu, all the alcoholic drinks served at Nando's are vegan-friendly. You should always check before you buy, however, as this may be subject to change.
Drinks include Original Sangria, Corona Extra, Super Bock, and Spiked Strawberry Lemonade.
See also: the lowdown on eating vegan at KFC, Five Guys, and Burger King.