Cheese brand Cathedral City is expanding its vegan cheese range with two new dairy-free products: a mature cheddar-style block and spread.
The plant-based cheeses, named "Our Plant Based Extra Mature Block" and "Our Plant Based Cheddar Flavour Spread," are now available in 210 Sainsbury's stores in the UK. Cathedral City already has four other offerings in its 'Our Plant Based' range: the Block, Grated and Sandwich Slice versions, as well as a Spring Onion & Cracked Black Pepper Alternative to Soft Cheese.
Cathedral City is the UK's biggest cheese brand, and is owned by Saputo Dairy. Saputo also owns vegan cheese and butter brands Vitalite and Sheese.
"Cathedral City is known for having multiple great tasting strengths," said Neil Stewart, Head of Marketing for Cathedral City at Saputo Dairy UK. "Our Plant Based is now no different with the introduction of an Extra Mature variety."
He added: "We are keen to continuously innovate in the plant-based cheese category, which is why we have used our knowledge and expertise and applied them to a spreadable cheese alternative."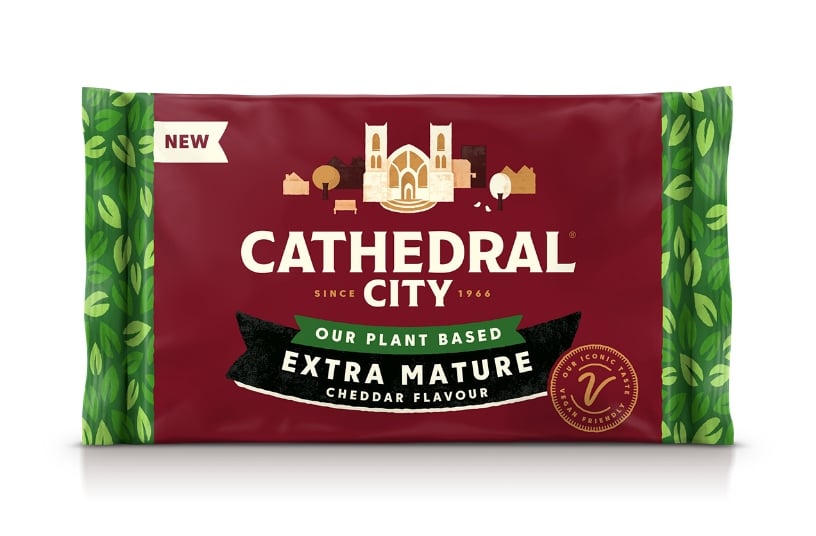 Growing plant-based cheese options
Cathedral City launched its plant-based range in September 2022, but already has the second highest volume plant-based cheese market share. It says that it has effectively brought 68,000 new consumers to plant-based cheese per month, contributing 44 percent of the plant-based category's shopper growth.
Many other dairy brands have launched vegan cheese products in the past several years. Babybel released its original vegan version in 2022, followed by a "White Cheddar Variety" in April this year.
In 2022, The Laughing Cow launched a vegan version of its triangles and a vegan cream cheese from Philadelphia hit the shelves. This year, Philadelphia added three more flavors to its plant-based range.
Global market
Globally, demand for dairy-free alternatives is booming. The vegan cheese market hit USD $2.43 billion in 2021; it's expected compound annual growth rate up to 2030 is 12.5 percent. Vegan mozzarella is the most popular style, accounting for 30 percent of the revenue share in 2021. Cashews are the preferred main ingredient for plant-based cheeses, holding 35 percent of the revenue share in 2021.
Growing concerns about the environmental and ethical impacts of consuming animal products are pushing more people to embrace dairy-free alternatives. Additionally, it's thought that around 70 percent of the global human population has some degree of lactose intolerance.
Cathedral City vegan cheese ingredients
Cathedral City's new Extra Mature block is made mainly from dried rice syrup, coconut oil, potato starch. The spread is made from mostly the same ingredients plus soya protein concentrate. Both are fortified with calcium.
Coconut oil is a common ingredient in other vegan cheeses, as it helps them to mimic the texture and meltiness of animal-derived cheese. Nut cheeses are most often made from cashew nuts, popular for their creamy texture, and content of protein, iron, and zinc. Read more about the ingredients and nutritional content of vegan cheeses here.
More like this: