Roast dinners are wildly popular in the UK, and there's no reason why people on plant-based diets should miss out. If you're looking for vegan roast dinner ideas and recipes, look no further than this roasted aubergine steak.
While Sunday roasts traditionally rely on meats like beef, pork, and chicken, vegan alternatives are booming in popularity. There are a wide range of ways to enjoy a vegan roast, whether you prefer to make the centerpiece a meat alternative or an imaginatively-cooked vegetable. The following recipe features the latter.
Aubergine (also known as eggplant) is a versatile vegetable, used in stews, pasta sauces, soups, and sandwiches all over the world. For vegans, vegetarians, and flexitarians, it's also often used in place of meat. This is because it has a thick, meaty texture if cooked in the right way, and it also has an excellent ability to absorb flavors.
This recipe, which comes from plant-based chef Romy London, shows you a unique method for roasting eggplants, creating a meaty and flavorful addition to any vegan roast dinner. It pairs perfectly with a vegan peppercorn sauce, roast potatoes, and Yorkshire puddings.
Roasted aubergine steak recipe
You've probably never eaten eggplant in this way, but once you've tried it, you won't want to eat it any other way! We first char the eggplant skin to remove it. Then we rub the steaks in a flavorful rub and press them in a hot pan to release the moisture and condense the eggplant, creating a wonderfully meaty texture that easily takes on flavors. This is perfect for a roast-y datenight as it serves two. It's also easy to scale up if you're looking to serve a bigger crowd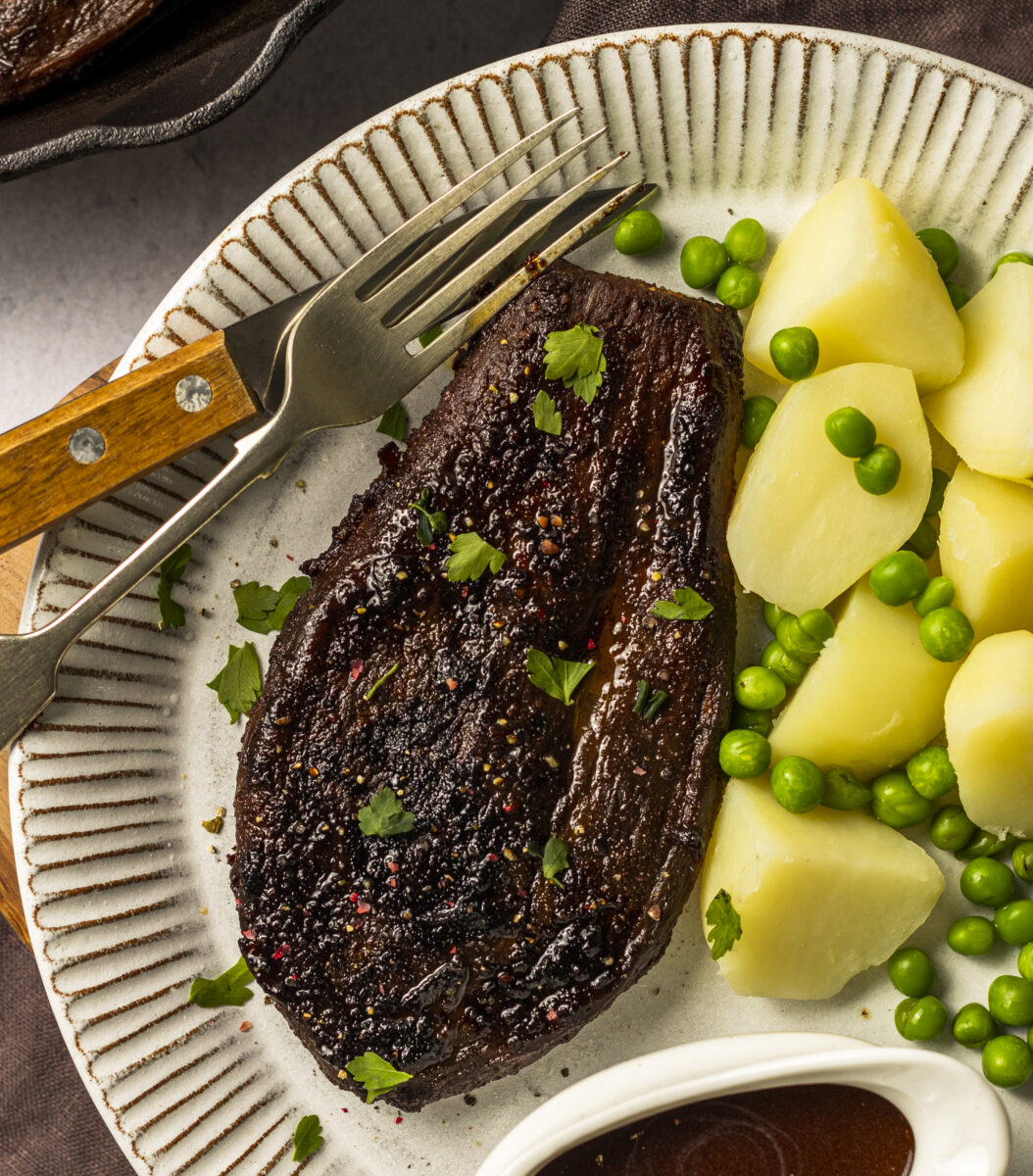 Ingredients
For the eggplant
2

eggplants (roughly 10.6 oz [300g] each

5

tbsp

olive oil, divided

1

cup

vegan red wine

1

tbsp

tamari
For the rub
1

tsp

whole fennel seeds

1

tbsp

light brown sugar, packed

1/2

tsp

smoked paprika

1/2

tsp

onion powder

1/2

tsp

smoked salt

1/2

tsp

dried oregano

1/4

tsp

garlic powder

1/4

tsp

cayenne pepper
Instructions
Wash your eggplants and cut off the stems, then char both whole eggplants over an open flame. I like to place them onto our gas stove and char them, carefully turning with barbecue tongs, until they are evenly blackened and softened all the way around. The skin should begin to peel off in places. It should take about 5 to 10 minutes for each eggplant.

Transfer the charred eggplants to an airtight container while still hot. Let them sit with the lid closed for at least 10 minutes. The eggplants will "sweat" and soften further. Remove the lid and peel off the skins.

Brandy Peppercorn Sauce (page 140)Wash your eggplants and cut off the stems, then char both whole eggplants over an open flame. I like to place them onto our gas stove and char them, carefully turning with barbecue tongs, until they are evenly blackened and softened all the way around. The skin should begin to peel off in places. It should take about 5 to 10 minutes for each eggplant. Transfer the charred eggplants to an airtight container while still hot. Let them sit with the lid closed for at least 10 minutes. The eggplants will "sweat" and soften further. Remove the lid and peel off the skins. If you don't have a gas stove, you can roast the eggplants in the oven under the broiler. Heat your oven on the broiler setting to about 390°F (200°C) for 5 minutes. Place the eggplants on an oven proof dish on the top rack of your oven for 10 to 20 minutes, flipping them regularly to evenly char the eggplant skin all around. When done, carefully peel off the skin—but be careful:I t's hot

Preheat your oven to 390°F (200°C)

Place the fennel seeds in a hot, dry pan and toast them over medium heat for 3 to 4 minutes, or until fragrant. Transfer them to a spice grinder and process until finely ground—or crush them with a pestle and mortar. Mix the ground fennel seeds with the brown sugar, paprika, onion powder, smoked salt, oregano, garlic powder and cayenne pepper. Rub the mixture onto your eggplants and place them back in an ovenproof dish.

If you're preparing this dish ahead of time, you can place your rubbed eggplants in an airtight container and store them in the fridge overnight.

Drizzle the eggplants with 2 tablespoons (30 ml) of olive oil. Pour the red wine into the dish and roast the eggplants in the oven for 20 minutes.

When the eggplant is done roasting, remove it from the oven. Heat the remaining oil in a medium cast-iron pan over medium heat and add the eggplants. Place a second cast-iron pan on top and gently press down onto your eggplants for 3 to 4 minutes, until they start to sizzle and release their water. Once you get your eggplants to about 1⁄2 inch (1 cm) thick, remove the top pan and drizzle any leftover liquid from your baking dish over the eggplants.

Cook for 10 to 15 minutes, until the liquid reduces, carefully flipping the eggplants every 2 to 3minutes. Brush the eggplants with the tamari on both sides, then remove from the heat. Serve with your favorite roast dinner vegetables
This recipe comes from Romy London. You can check out her website here, and find more of her recipes below: