Many plant-based eaters will know that mushrooms are a hugely versatile ingredient, used in pastas, stir-fries, risottos, and curries around the world. Some people may not be aware that mushrooms can also be made into meat alternatives: used to make steaks, meatballs, and scallops. This recipe shows you how to easily make dairy-free garlic butter mushrooms scallops – with just five ingredients.
Scallops are a type of marine mollusk belonging to the Pectinidae family. They are shellfish, and are commonly eaten in a number of countries in the world. For plant-based eaters, however, mushrooms can provide an excellent plant-based alternative to scallops.
The below recipe, which comes from Romy London, features instructions not only on making vegan scallops, but also how to create your own dairy-free garlic butter.
Garlic butter mushroom scallops recipe
These mushroom scallops are panfried, which brings out their umani flavor and smooth texture. This recipe has only five ingredients, and uses king oyster mushrooms, which have thick stems that are ideal for slicing. Serve alongside parsnip mash and a delicious teriyaki seitan steak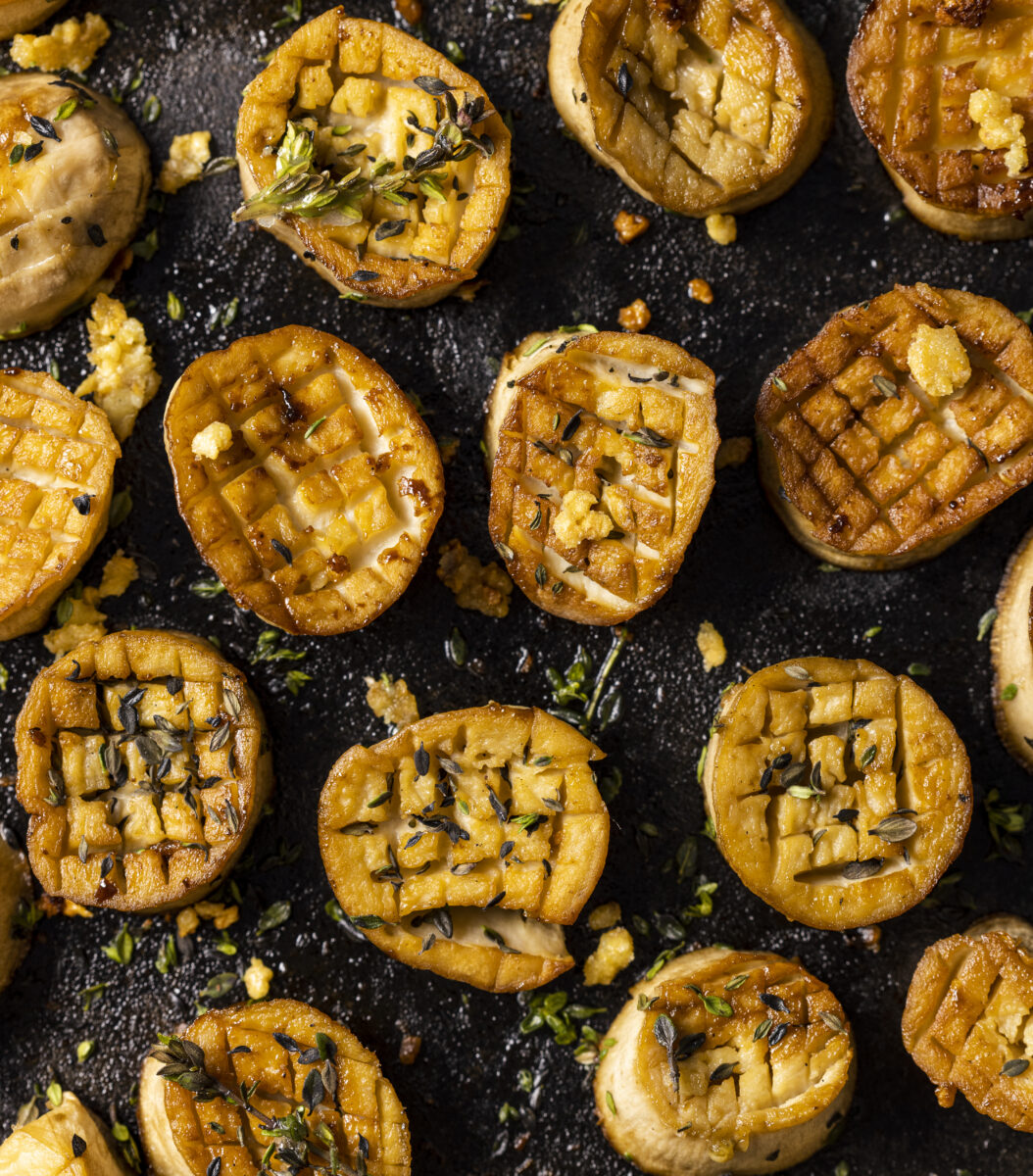 Ingredients
For the scallops
14

oz

king oyster mushrooms

4

tbsp

vegan butter

4

tsp

crushed garlic

pinch

of sea salt

2

tsp

fresh thyme
Instructions
Slice the king oyster mushrooms into 1⁄2-to 1-inch (1-to 2.5-cm) pieces. Use a small sharp knife to cut a crisscross pattern into the surfaces of the slices, about 0.04 to 0.08 inch (1 to 2 mm)deep

Melt the vegan butter in a large, nonstick pan over medium heat. Add the garlic and a pinch of salt. Set the mushroom slices into the pan flat and fry for 3 for 4 minutes, until the bottoms become golden. Flip and repeat on the second side

When the second side is just about done, sprinkle in your fresh thyme, and cook for 1 minute. Remove from the heat and serve immediately. Spoon the melted garlic butter and thyme over the mushroom scallops when serving

Serve alongside parsnip mash and a delicious teriyaki seitan steak
This recipe comes from Romy London. You can visit her website and check out more of her plant-based recipes here. She recently released a vegan cookbook, The Ultimate Guide to Vegan Roasts, which you can buy here.
If you liked these scallops, check out more vegan dinner recipes below: