Beyond Meat has announced that its award-winning vegan steak product will soon be available in the UK.
The Beyond Steak launched in the US in October 2022 to huge acclaim. It became the first plant-based meat alternative ever to be certified by the American Heart Association, and it's now sold at more than 14,000 locations in the country.
It made its UK debut at the Casual Dining Show in London at the end of last month, winning Gold in the coveted Casual Dining Innovation Challenge 2023. Judges said that the steak pieces were a "sustainable gamechanger," and they also praised its nutritional benefits. The Beyond Steak, which is made from wheat gluten and faba beans, offers 21g of protein per serving, is low in saturated fat, and contains zero cholesterol. From this month, it will be sold to chefs and restaurants in Britain. The company hasn't confirmed if it will be sold at supermarkets.
"We're delighted to be introducing the delicious Beyond Steak to the UK," said Steve Parsons, UK & I Foodservice Manager at Beyond Meat, in a statement. "Beyond Steak has already convinced the expert innovation jury at the Casual Dining Show 2023, receiving the Gold Award for creating a product which delivers the taste and texture of sliced steak in a way that is better for you and the planet."
The UK embraces vegan steak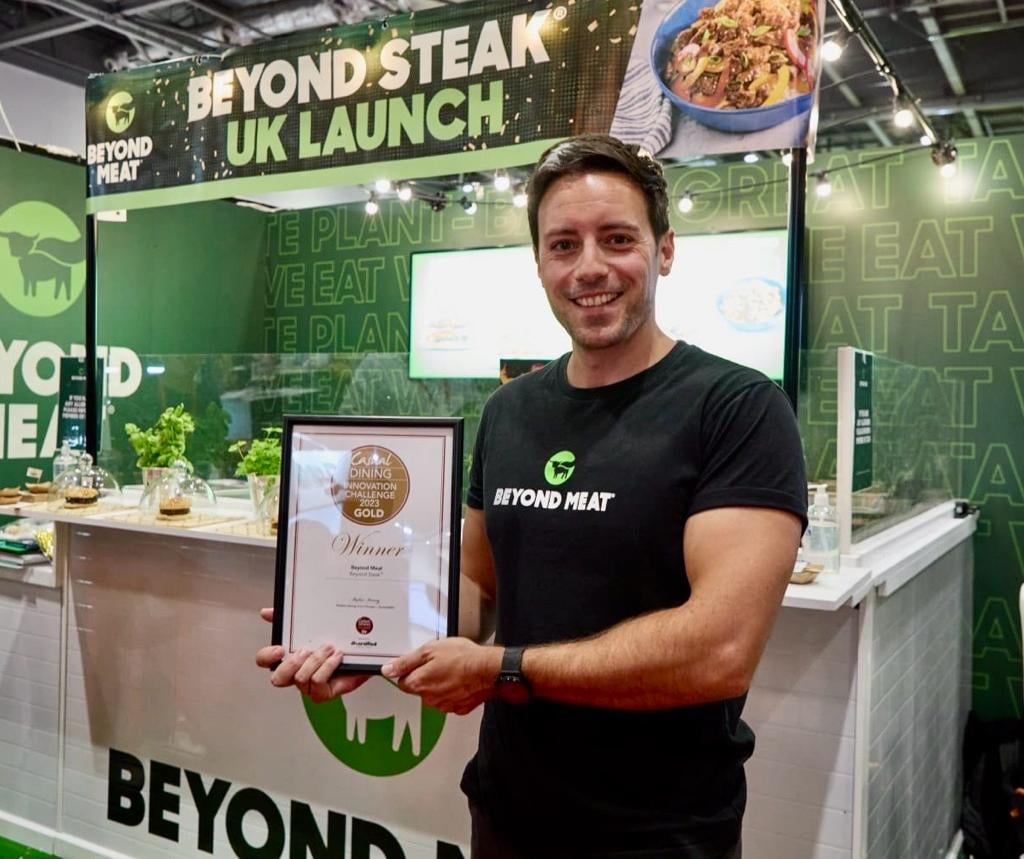 A few years ago, the idea of ordering a vegan steak at a restaurant would have been almost unheard of, but there is now skyrocketing demand for such products.
Earlier this year, it was reported that the vegan steak market is set to surpass USD $1 billion by 2033, almost doubling in 10 years (the current value is around $598.6 million). The UK was identified as embracing plant-based steaks faster than any other country. It was found to spend $52 million a year on the products, with forecasters predicting this spend will more than double to $126 million by 2033. 
In the UK, a number of restaurants are already stocking vegan steaks, including the world's first 3D printed version from Israeli company Redefine Meat. UK customers can also buy a number of brands from supermarkets, with Slovenian start-up Juicy Marbles selling its world-first marbled version in Waitrose. 
More like this: