Beyond Meat has announced that its vegan steak product is now available to buy at 14,000 locations across the US. 
Beyond Steak is a plant-based version of a traditional cow meat steak. After launching in October 2022, it reportedly became the number one best-selling new plant-based meat product in retail. Due to its huge popularity, Beyond has now rolled it out to stockists including Whole Foods Market, Wegmans, Publix, Meijer, and Stater Bros. It was already available at Walmart, Kroger, Target, Albertsons, Ahold, and Sprouts Farmers Market.
The product was designed to mimic the taste and texture of real meat. It won the People Food Awards 2023 for having the "the texture, chew, and flavor" of a cow-based steak. Beyond Steak was named on Time magazine's 200 best inventions of 2022. 
Health benefits of Beyond Steak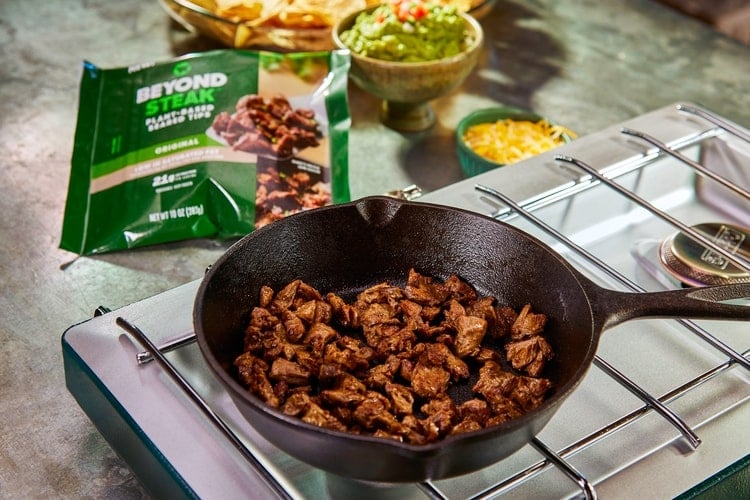 The steak has 21g of protein, and just 1g of saturated fat. Soon after launching, it became seemingly the first vegan meat ever to be certified by the Heart-Check Program from the American Heart Association (AHA). The AHA introduced its Heart-Check Food Certification Program to help shoppers find "heart-healthy foods." To be considered for certification, foods must be low in saturated fat, trans fat, cholesterol, sodium, and contain naturally occurring beneficial nutrients.
"With this recognition, Beyond Steak becomes part of a group of certified and trusted foods that everyone can enjoy with the confidence that they are making a great decision for their health," said Beyond Meat CEO Ethan Brown at the time.
Beyond Steak has also been recognized by Good Housekeeping Institute's (GHI) Nutrition Lab, which is a globally recognized mark of quality.
"Through our evaluation, it was clear that Beyond Steak is a groundbreaking innovation with its balanced flavor profile, tender texture and, most importantly, very impressive nutrition facts," GHI's registered dietitian and nutrition director Stefani Sassos said in a statement at the time.
The rise of Beyond Meat
Beyond Meat was founded in 2009 in response to rising interest for meat-free food products. Since then, the company has launched a range of vegan food items – such as mince, sausages, and burgers.
The company is based in the US, but its products are available to buy in a variety of areas across the world – including Europe, Canada, Mexico, the United Arab Emirates, and Australia.