Beyond Steak has become the first plant-based meat product to be recognized by the Good Housekeeping Institute's (GHI) Nutrition Lab.
GHI approval is a sought after but hard-to-come-by honor. Foods are rigorously tested against a rubric that assesses their nutritional benefits, taste, simplicity, convenience, and transparency. If products reach certain standards they receive an "Approved Emblem," which is globally recognized as a mark of quality.
Beyond Steak is one of the most recent commercial launches from Beyond Meat. It was thoroughly audited and found deserving of the prestigious GHI accolade.
"Through our evaluation, it was clear that Beyond Steak is a groundbreaking innovation with its balanced flavor profile, tender texture and, most importantly, very impressive nutrition facts," Good Housekeeping Institute's registered dietitian and nutrition director Stefani Sassos said in a statement.
"Made free from GMOs, Beyond Steak is also cholesterol-free and low in saturated fat but still high in protein. Consumers don't have to compromise on taste, nutrition, or sustainability."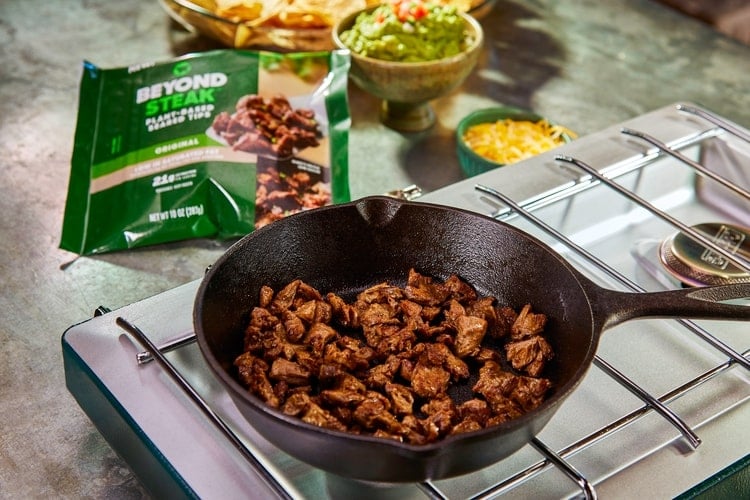 How Beyond Steak impressed nutritionists
The GHI nutritionists only recommend products that adhere to nutrition criteria outlined in guidance from bodies like the USDA and Dietary Guidelines for Americans. Moreover, they seek to showcase food innovations that make it easy to adopt healthier consumption habits. 
Beyond Steak fits the stringent GHI criteria by serving up 21 grams of protein, 170 calories, and no cholesterol in each 88-gram serving. Additionally, the steak contains one gram of saturated fat per portion.
These data points demonstrated that Beyond Steak was a healthy choice. Beyond Meat, therefore, can now use the emblem on its steak product packaging and in promotional materials. 
"Beyond Steak is a perfect example of our brand promise to continuously innovate toward a North Star that not only delivers on delicious taste but also provides clear nutritional benefits relative to animal-based meat," Kate Dugan, vice president of brand innovation at Beyond Meat said in a statement.
"To have this product aligned with such a prestigious emblem reinforces the health impact of Beyond Steak, which was achieved without sacrificing on taste or sustainability."
An easy switch for beef
Beef is considered the most climate-impacting food due to the intensive farming practices used to produce it. Per kilogram of meat, around 70.6 kilos of greenhouse gas emissions are released into the atmosphere, contributing to global warming.
Experts continue to call for a worldwide switch to plant-based diets as a method for drastically cutting harmful emissions. However, the latest IPCC report stands accused of "burying" such recommendations, following pressure from the meat sector.
Beef lobbyists, in particular, are thought to have called for the science to be squashed.