Waitrose has launched an ultra-realistic vegan steak from Slovenian start-up Juicy Marbles.
The upmarket supermarket will stock the steaks on the same shelves as meat. They cost £10 for two, and are also available in a Valentine's Day meal deal. 
As part of the deal, customers can get two steaks, a starter, side, dessert, and bottle of wine, all for £20. The vegan starter option is a layered mushroom parfait. PlantLiving dauphinoise potatoes are available for the side, and churros for dessert. The Yalumba Galway vintage barossa shiraz is also plant-based.
The steaks will be available in 217 Waitrose stores until February 14, 2023. While they are currently on a limited run, Waitrose confirmed to Plant Based News that it is hoping to bring them back in April on a permanent basis.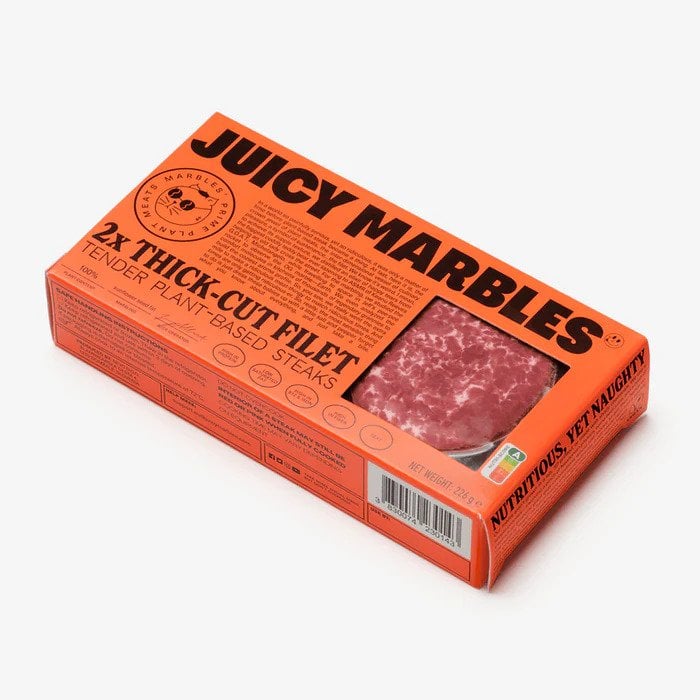 How are Juicy Marbles steaks made?
The products are thought to be the world's first vegan marbled steaks. They feature nuggets of hardened sunflower oil, which mimic fat marbling. Meanwhile, beetroot powder gives the plant-based meat a reddish color.
Juicy Marbles, which launched in 2021, has said that its steaks are "rich in micro and macronutrients, making them easy to include in a wholesome, diverse diet."
While many realistic steaks are made with 3D printing technology, Juicy Marbles uses a grinder called Meat-O-Matic 9000. This layers the plant protein fibers on top of each other, mimicking muscle fibers on animal steaks.
"The first time I tried it I was sold," said Martyn Lee, head chef at Waitrose. "The texture of the Juicy Marbles steak is like nothing I have ever seen before from other plant based alternatives.
"The thing that is really exciting about this product is when cooking you see the raw protein turn into a caramelized and juicy steak that looks like the real thing. Whether you are incorporating a holistic approach to your meals or not, you are absolutely going to want to try this."