VFC has announced that it's close to securing fellow vegan brand Meatless Farm, helping it out of administration. 
The news comes just days after Meatless Farm, which is based in Leeds, UK, announced that it was making most of its staff redundant. As reported by The Grocer, VFC said that there was a "golden opportunity" to merge the two businesses. They said doing so would ensure "continued growth and sparking innovation in the plant-based food category."
Read everything you need to know about Meatless Farm's bankruptcy fears here
"The Meatless Farm brand boasts high consumer recognition, a dynamic range of products, robust R&D capabilities, and a mission that dovetails perfectly with that of VFC," VFC CEO Dave Sparrow reportedly said in a letter to customers and suppliers.
"We firmly believe that this development will yield considerable benefits for our valued customers, suppliers, and consumers. Please rest assured that our collective leadership and all team members are wholly committed to maintaining business as usual."
The rise of VFC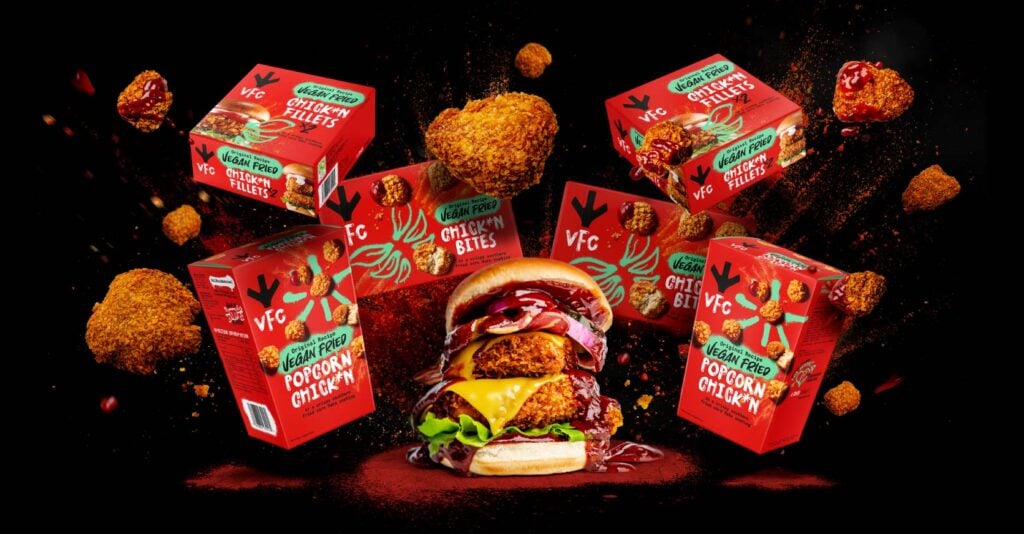 VFC was founded by Veganuary founder Matthew Glover and chef Adam Lyons in 2020. The name is an acronym for "vegan fried chick*n," a play on the popular fast food restaurant.
The brand is a hugely popular vegan meat substitute, available at mainstream supermarkets including Asda, Morrisons, Sainsbury's, and Waitrose. VFC recently launched in 600 pubs across the UK, and it counts Gemma Collins as an ambassador.
Additionally, the company recently received a £6 million investment to boost its UK and international expansion, and seems to be going from strength to strength.
Speaking about Meatless Farm's situation, Glover told Plant Based News: "Those claiming the plant-based food movement has peaked are mistaken. We're only just getting started."
What happened to Meatless Farm?
In a letter to investors earlier this month, Meatless Farm opened up about being forced to stop trading and lay off staff.
"I'm devastated and heartbroken over the situation," said the company's founder Morten Toft Bech. "We were doing well and nobody expected this irrational outcome after six years of many ups and downs but always forward motion (until now).
"But various of our biggest investors (and new potential investors) decided not to invest further so there was little the Board or management could do despite our high growth rates, award winning products, and strong brand," Toft Bech continued. "The market for raising capital is very tight at the moment and we could not find new capital in time."
Meatless Farm was founded in 2016. During its time trading, it raised around $48 million from investors. The company specializes in vegan mince, meatballs, and other alternatives.
Looking for more content like this? You might like: