A few years ago, the idea of a vegan being able to eat a meal or burger at KFC – in the UK, USA, or anywhere else – would have seemed laughable. Despite a growing number of plant-based diners, many takeaway chains have maintained a meat-heavy menu with limited vegetarian (let alone vegan) food options.
Anyone who's followed a plant-based diet for any length of time will likely have sad memories of ordering a fruit bag at fast food chains, while hastily Googling if their chips are vegan-friendly.
Thankfully, though, times have changed. A recent study suggests quick service eateries were the most likely of all restaurants to offer vegan options to customers. KFC – along with competitors including McDonald's, Burger King, and Pizza Hut – has been increasingly embracing the ever-growing vegan and flexitarian market in recent years, and increasing their meat-free menus accordingly.
Here's everything you need to know about how to eat vegan at KFC.
How to eat vegan at KFC in the UK
Vegan mains
KFC's plant-based journey in the UK started in January 2020 with the launch of its "Imposter Burger." The burger saw huge success in its one-month trial run. This prompted it to be made a permanent menu fixture with a new name: the "KFC Vegan Burger."
At present, the burger is the only vegan-friendly main option available at KFC.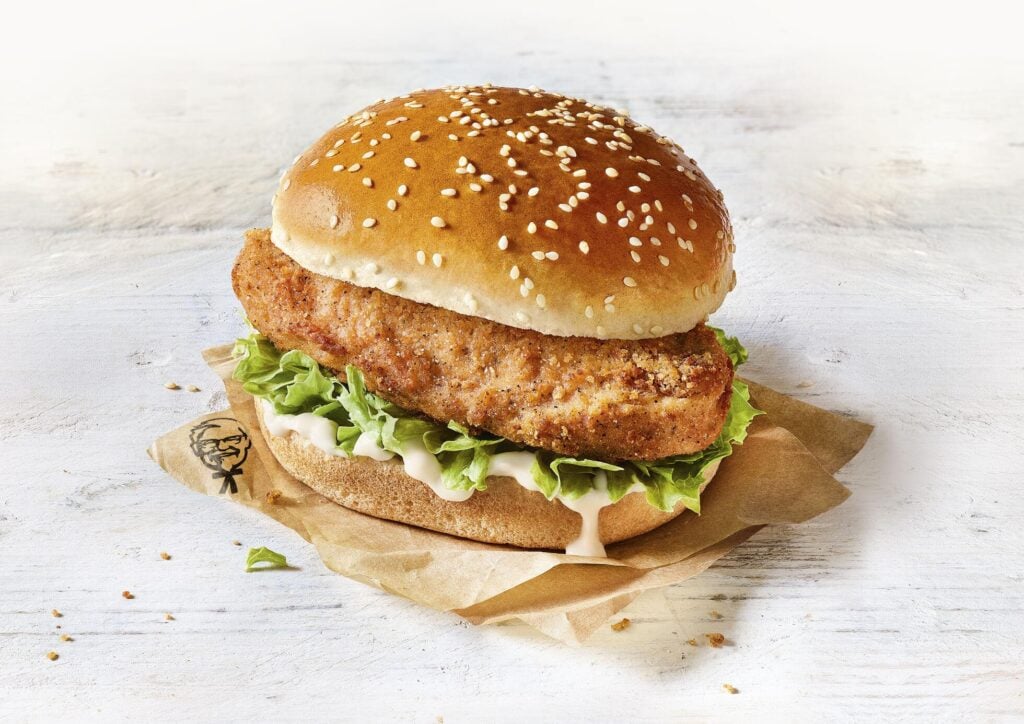 What's the KFC vegan burger made from?
The plant-based burger uses Quorn (made from Mycoprotein) as its meat replacement. The meat alternative comes coated in KFC's famous secret blend of 11 herbs and spices. The burger also comes served with vegan mayo and iceberg lettuce.
Is the vegan burger cooked in the same oil as meat?
A number of fast food chains opt to cook their plant-based burgers on the same grill as meat. This means they are often deemed by many to be unsuitable for vegans. This isn't the case for the KFC vegan burger in the UK, however, which is cooked in vegetable oil and separately from animal products.
Speaking about its policy on cooking vegan food options, KFC said in a statement: "Our Team Members are trained to use separate utensils and storage units to make sure vegetarian and vegan ingredients don't
come into contact with meat products. We've also trained our teams on how to cook and prepare the Original Recipe Vegan Burger to reduce the risk of cross contamination."
What KFC sides are suitable for vegans?
Currently, only the BBQ beans and corn on the cob are vegan-friendly.
Are KFC chips vegan?
In the UK, KFC's fries are cooked in the same oil as the Popcorn Chicken. As such, many do not consider the chain's chips to be vegan-friendly.
Which KFC sauces are suitable for vegans?
Condiments suitable for vegans include Real Tomato Sauce Dip, Kentucky Smoky BBQ Sauce Dip, Original Hot Sauce Dip, and Heinz Tomato Ketchup Sachet.
What KFC drinks are suitable for vegans?
The following drinks are suitable for a plant-based diet in the UK: Pepsi, Pepsi Max, Pepsi Max Cherry, 7Up Free, Robinson's Apple & Blackcurrant, Tango Orange Sugar Free, Bottle of Water, Robinson's Fruit Shoot, Lipton Peach Iced Tea, Tropicana Orange Juice, Espresso, Black Americano, and Black Tea.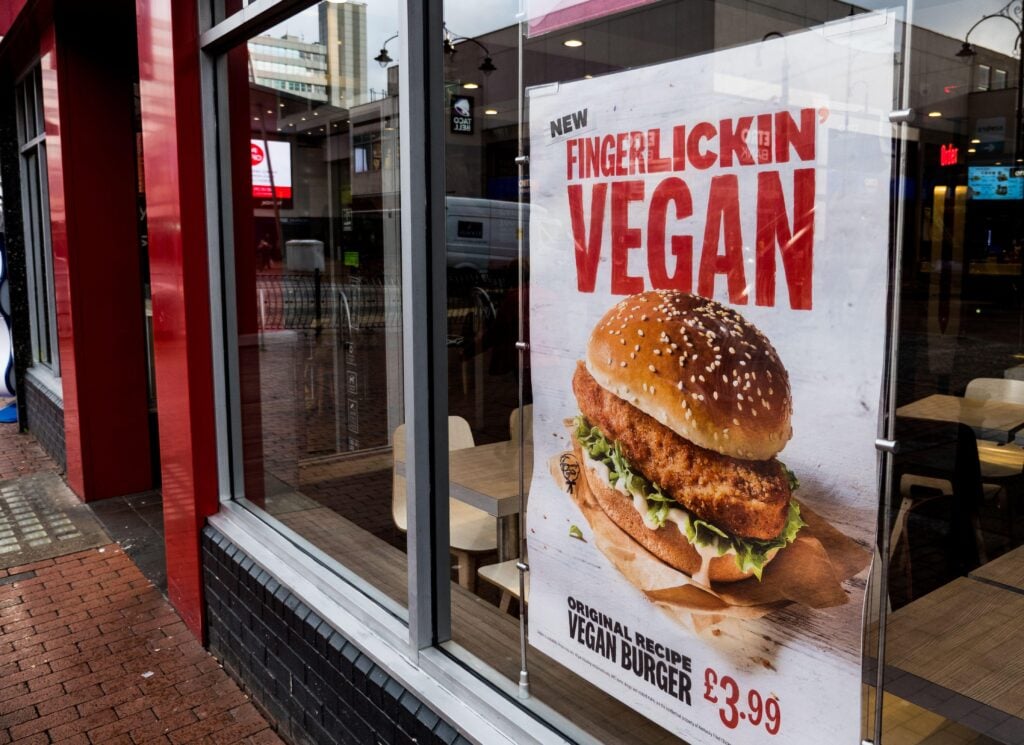 KFC vegan menu in the USA
In news that may come as a disappointment to vegans in the US, the plant-based KFC menu is currently pretty limited.
KFC did launch Beyond Meat vegan fried chicken in 2019, but this option has since been discontinued. In terms of sides, the sweet kernel corn and secret recipe fries are vegan-friendly. Suitable drinks include Capri Sun Fruit Punch, Pepsi, Mountain Dew, Dr. Pepper, Sierra Mist, Lipton Brisk Teas, SoBe Lifewater, Tropicana lemonade, fruit punch, and Twister.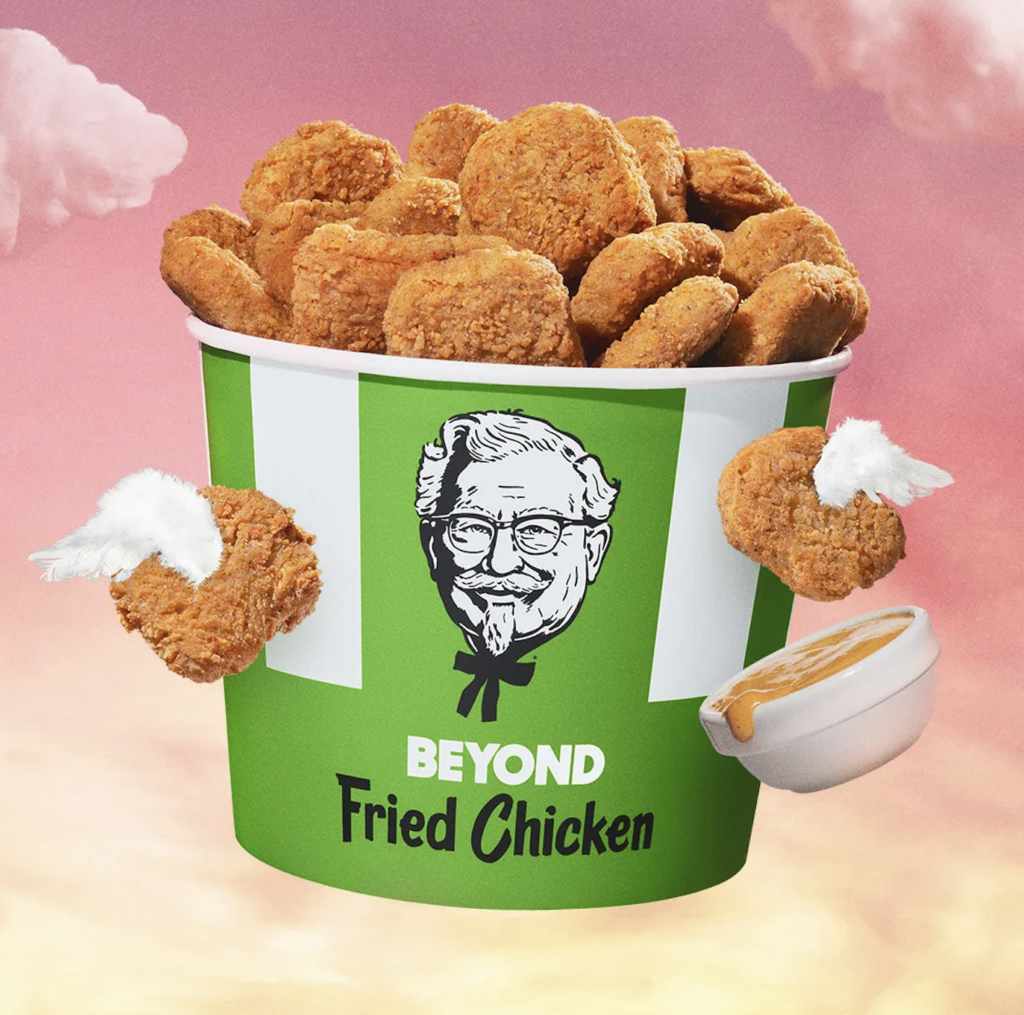 KFC Canada vegan menu
The Canadian branch of KFC offers a plant-based fried chicken sandwich, which is made using Lightlife meat-free filets. However, it does warn that it "may be" cooked in the same oil as chicken. Vegans may wish to double check at their local KFC branch if this is the case.
Other plant-based menu items include coleslaw, Original Recipe Corn, and mayo, as well as plum sauce. All of these are said to contain no animal-derived ingredients.
The rise of plant-based fast food
Vegan fast food has seen a staggering rise in popularity in recent years. The market was valued at $17 billion in 2020, and it's projected to reach $40.25 billion by 2028.
Last year, a leading restaurateur predicted that the future of fast food would be vegan.
James Lewis, who runs two successful vegan restaurants, told the Guardian that chains like Burger King, McDonald's, and KFC were "setting the trends."
"There's no point starting a vegan chain because once McDonald's figures out how to make a good vegan burger, they will think: 'What's the point in the cost of keeping all these animals when we can make it just as good and grow it in the ground?'" he added.