Vegan meat from Meatless Farm has officially returned to supermarket shelves after being bought up by VFC. 
The UK-based company announced that it was going into administration and preparing for bankruptcy back in June. In a letter to investors, Meatless Farm founder Morten Toft Bech said that he was "devastated and heartbroken over the situation."
Soon after the news was announced, however, it was reported that VFC had acquired the brand. The popular plant-based chicken company said at the time there was a "golden opportunity" to merge the two businesses.
The return of Meatless Farm
Now, a number of Meatless Farm products are available to buy in Asda stores nationwide in the UK. These include the Mince, Chicken Breasts, and Quarter Pounder Burgers, as well as the Beef, Red Wine & Porcini Mushroom Girasole and No-Duja Ravioli. A new product, the Pork & Apple sausages, will also be stocked.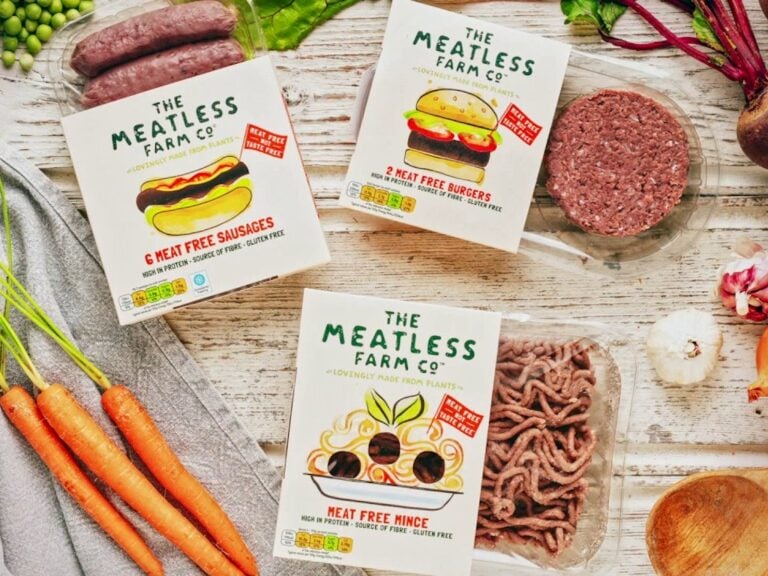 "Getting Meatless Farm back on shelf for our valued consumers is our number one priority and we have been working tirelessly with our partners and customers to make this happen," said Dave Sparrow, CEO of Meatless Farm, in a statement. "We're delighted that shoppers can now find the Meatless Farm core range in Asda, as well as first to market innovation from the brand."
The future of vegan meat
Meatless Farm has been one of a number plant-based brands to experience highly publicized financial issues this year. The mainstream media has been awash with headlines questioning the future of the vegan meat industry, with many arguing that meat analogues are a "fad."
This publicity intensified earlier this week after it was announced that Beyond Meat had seen another decline in sales. A report stated that these had fallen by a third, with the company predicting that sales would fall nine percent this year to the amount of $380 million.
Issues like the cost of living crisis, as well as consumers moving away from ultra-processed foods (UPFs), have been cited as possible reasons for its decline. Beyond Meat tends to be more expensive than animal meat, while UPFs have received a great deal of negative publicity in recent months. Whether the press is right to label the plant-based meat market as a "fad" because of these falls in sales, however, is debatable.
There are a large number of similar brands available on the market, meaning competition has intensified over the years. Supermarket own-brand ranges, as well as newer companies like La Vie and THIS, are rivaling the older ones. It appears that the meat analogues industry as a whole remains strong. The UK meat alternatives market was valued at USD $1 billion in 2023, and it's been predicted to grow at a CAGR rate of 10.85 percent from now until 2028.
More like this: