Gordon Ramsay has partnered with Canada-based vegan ramen company Borealis Foods.
The company is known for its Chef Woo and Ramen Express brands, both of which sell meat-free instant noodles across North America. Ramsay will join as a "strategic partner and advisor," which will see him offer culinary guidance, as well as general business advice. 
"With the current cost-of-living crisis on everyone's minds and rising food prices being a world-wide problem, now more than ever, households across America face the very real issue of food insecurity," Ramsay said in a statement. He added that he has some "big ideas" on creating nutritious options that are readily available and affordable. "I'm really looking forward to collaborating with the Borealis Foods team on their Chef Woo products in the coming months," he continued.
What is Borealis Foods?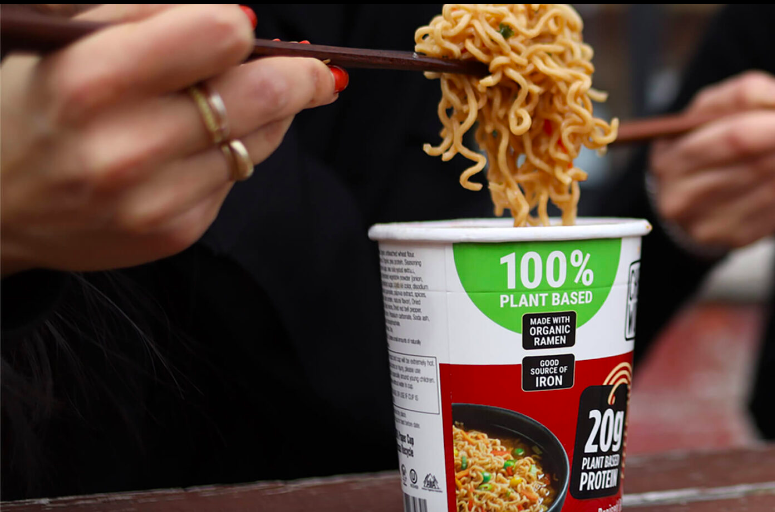 Founded in 2019, food-tech company Borealis Foods says it's on a mission to address global food insecurity. According to Borealis Foods, Chef Woo is the world's first plant-based noodle brand. It also offers 20 grams of protein per serving. 
The company specializes in foods that are Halal, Kosher, egg and dairy free, non-GMO, MSG free, as well as vegan. Its products are sold in 15,000 stores in the US, including Walmart and Costco.
"We've made great progress in our purpose to address the issue of nutritious food insecurity. We're looking to build on these efforts through our alliance with Gordon Ramsay," commented Borealis founder and CEO Reza Soltanzadeh. "It's obvious that Gordon shares our passion for ensuring healthy food choices for the many who deserve truly affordable, high-quality nutrition."
Gordon Ramsay embraces plant-based eating
Ramsay has in the past been a hugely controversial figure in the vegan and plant-based spaces. He has repeatedly mocked vegans, and tweeted in 2018 that he was a member of PETA, which he said stood for "People Eating Tasty Animals." Ramsay previously said he was "allergic" to vegetarians, and he sparked outrage last year after posting a video of himself selecting a lamb for slaughter.
Last summer, however, he admitted on his TV show US Masterchef: Back to Win that he was actually a fan of vegan food.
"It's a secret that's so big, I'm almost afraid to say it on national television," he said. "After all these years, I can finally admit, that I actually love vegan food."
In a later interview with People magazine, he said: "Thanks to the kids, I've realized it's OK to be vegan… SOMETIMES!"