Giving vegan food more "masculine" labels could help men eat more of it, a new study has claimed.
In an online experiment, participants rated whether certain meals were more suitable for men or women. The results showed that stereotypically masculine language helped participants rank the same dish as being more "suitable" for men.
Do "beast" burgers make vegan food more masculine?
To test whether food labeling could change perceptions of vegan food, researchers at the University of Würzburg wrote two descriptions of the same meal and asked participants to rank food on a sliding scale of suitability for men and women.
One group saw labels like "colorful," "delicious," and "wow-factor," while the other saw supposed 'masculine' terms, including "meaty," "filling," and "beast."
Those seeing more masculine language were more likely to rate vegan dishes as suitable for men.
Despite this finding, the researchers did not go on to see meaningful evidence that men found this 'manly' vegan food more appealing.
"We encourage further exploration of masculine framing to improve men's perception of vegan food," the researchers wrote in their conclusion.
Plant-based nudges for men
Changing the language around vegan food is part of nudge theory. The idea is that small interventions can encourage people to make healthier and more sustainable choices.
There are many reasons why men should eat plants rather than body parts. However, gender stereotypes still prevent some men from giving meat alternatives a go.
"Meat consumption is linked to gender stereotypes of masculinity, probably explaining men's lower willingness to adopt plant-based diets," the researchers wrote. "Meat is associated with strength and potency, which makes meat appear more suitable for men."
Does veganism have an image problem for men?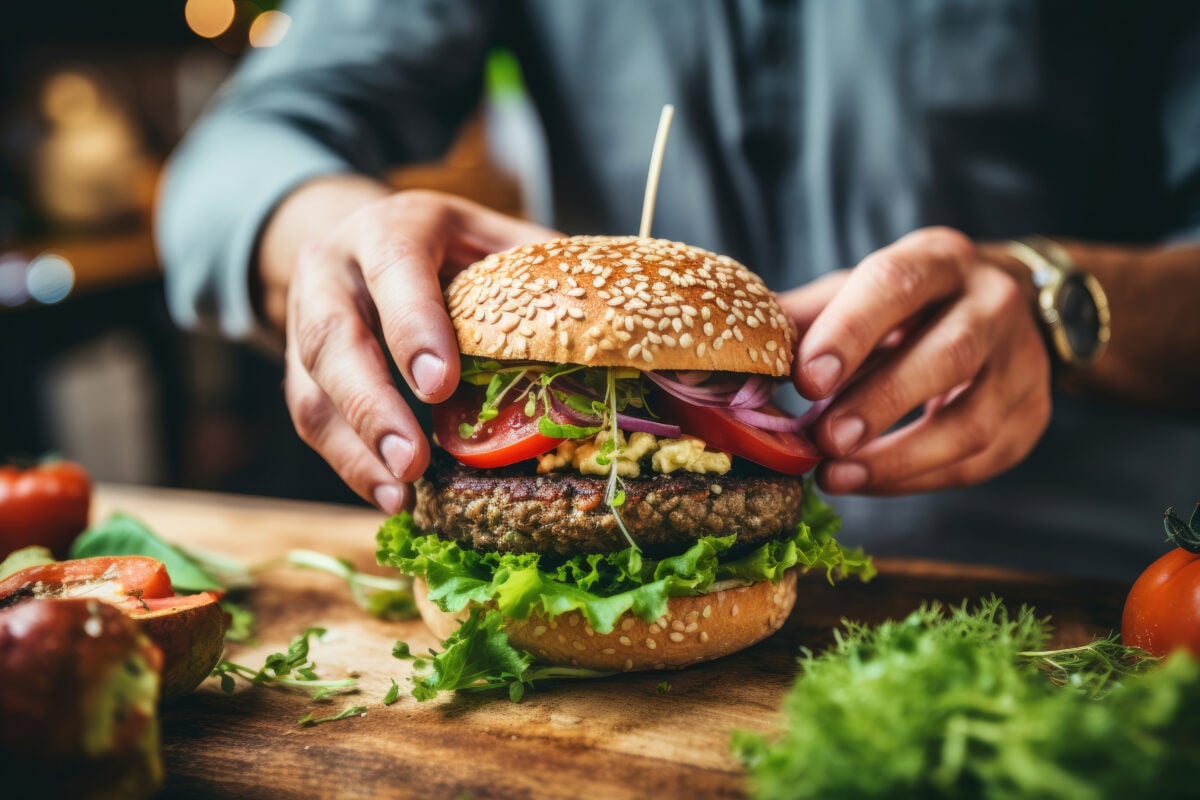 Consistent with previous studies, the researchers found that women rated veganism more positively than men.
An Australian study published earlier this year found that men see vegan food as less "manly" than meat.
Yet, the perception of veganism as 'feminine' has shifted in recent years. The success of high-profile vegan athletes has helped change many men's attitudes towards vegan protein.
Research has also highlighted important health benefits to eating a plant-based diet – for people of all genders. Notably, the risk of prostate cancer has been shown to be lower for vegan men.
Meanwhile, common myths around plant-based diets, for example that they reduce men's testosterone levels, have repeatedly been proven false.
All of these factors have helped increase men's willingness to try plant-based food. Indeed, a study found that, in 2023, more men than women were interested in taking the Veganuary pledge.
Vegan food is for everyone
Of course, "beast" burgers and "massive portion" carbonara will not appeal to all men.
The fact that the researchers did not observe an improvement in ratings for dishes with these labels shows that convincing men to eat vegan protein will involve more than caricaturing stereotypes of masculinity.
Even so, the research highlights the power of language to influence consumer opinions. Getting more men to try a plant-based meal could be a matter for marketers more than producers.
More like this: