A few years ago, enjoying a fast food meal as a vegan would have been a pretty impossible task. But the demand for meat-free food is growing, and there are now a huge number of mainstream chains offering a wide array of burgers, sides, drinks, and more. One of these is Shake Shack, which has been expanding its plant-based menu to cater to the ever-growing market. 
The American chain, which has branches in countries all over the world, has traditionally relied heavily on meat. All this changed in September 2020, however, when Shake Shack UK launched its first ever vegan patty. It has since added a number more vegan options, with other countries also following suit.
Here's everything you need to know about eating vegan at Shake Shack at the UK and US.
What's vegan at Shake Shack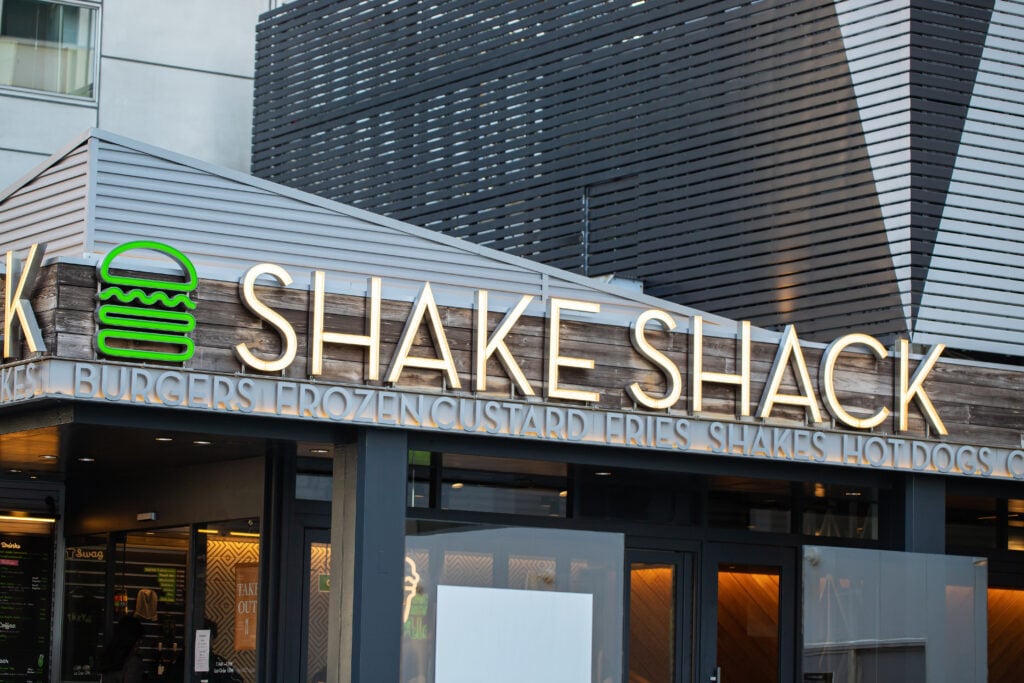 Vegan mains
At the time of writing, vegan UK Shake Shack fans can enjoy one burger at the chain, the Crispy Shallot Burger. The plant-based patty was made by chef Neil Rankin, and it comes complete with vegan cheddar, beer-marinated crispy shallots, lettuce, and Dijonnaise sauce.
In the US, there currently isn't a vegan burger on offer.
Vegan dips
It's worth noting that, unusually, the Shake Shack BBQ sauce is not suitable for vegans. It isn't clear what animal ingredient it contains. Other non-vegan sauces include the Honey Mustard and Mayonnaise. Vegans can eat tomato ketchup.
Are the Shake Shack chips vegan?
According to Shake Shack's allergen menu, the regular fries in the UK are indeed suitable for vegans. These come with kosher salt.
Shake Shack USA has stated that its fries are vegetarian, but it isn't clear if they are vegan-friendly. Plant Based News has reached out for clarification.
Are there any vegan milkshakes or ice creams?
The chain is particularly known for its range of milkshakes and ice creams. In the UK, it has yet to announce plant-based versions of these products – but we'll be sure to update this article if and when it does.
It's a different story in the US, however. In May 2023, it announced that it would be launching vegan versions of its signature chocolate shake and frozen custard at all 260 of the country's locations.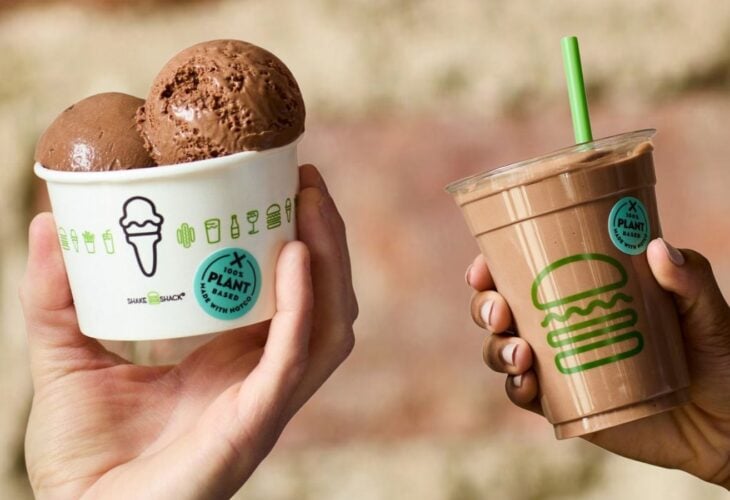 Shake Shack partnered with Chilean manufacturer NotCo, which makes animal-free meat and dairy using AI, to do this.
"Partnering up with Shake Shack used to be a dream of mine and one of the most ambitious milestones for NotCo," Matias Muchnick, NotCo's CEO and co-founder, said in a statement at the time.
Shake Shack vegan drinks
If you're after an alcoholic drink, Shake Shack UK customers can choose from:
Shackmesiter Ale
Estrella Galacia
Crate Seasonal Sour
Featured Cider
Shack White Wine
Shack Red Wine
Hard Shoulder (a cocktail featuring Monkey Shoulder whiskey),
Raspberry Limeade Gin (Raspberry Limeade with East London Dry Gin)
Raspberry Limeade London Cup (Raspberry Limeade with Sipsmiths London Cup)
The Fresh Lemonade is not listed as vegan, due to apparent presence of animal products in the lemon juice. However, Iced Tea and all other soft drinks (including Coke, Diet Coke, Sprite Zero, and Fanta Orange) all appear to be vegan-friendly. 
The US Shake Shack also has a range of suitable soft drinks like Pepsi, Pepsi Max, and Sprite (though it is worth noting that Diet Pepsi is not vegan). It is unclear whether the homemade soft drinks and alcoholic beverages are vegan.
More like this: