Plant-based food innovator NotCo has partnered with creative agency AKQA Bloom to create multimedia adverts that feature artificial intelligence (AI) imagery of elderly farmed animals.
The campaign aims to educate consumers about the shortened lifespans of animals reared for meat, compared to how long they would live in nature.
Billboards and print ads are already in place throughout the US, with social media posts offering global access to the striking imagery. NotCo will also distribute ads in other countries where it operates, including Argentina, Brazil, Canada, Mexico, and its home country of Chile.
In each AI-generated picture, a mature cow, chicken, or pig is shown on a black background. The accompanying text reveals how long the individual could live, if not slaughtered for human consumption. The images challenge people to view older non-human animals as normal, rather than unusual due to our meat-centric food system.
"This campaign reminds us that AI can help humans have a better relationship with animals and nature," Jean Zamprogno and Fernando Pellizzaro, the founders of AKQA Bloom, said in a statement. "We believe that seeing an old farm animal shouldn't be a surprise, and AI can be the accelerator for a plant-based revolution in the food industry."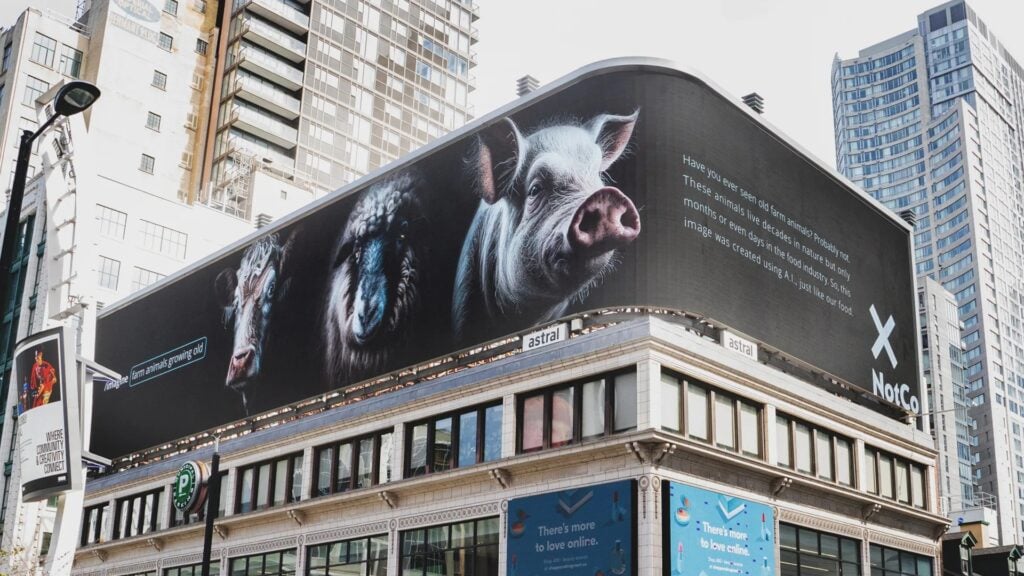 The truth about animal slaughter ages
All three species of farmed animals depicted in NotCo's AI adverts are killed considerably before their natural life expectancies.
Cows can live happily and healthily for almost 50 years. However, they rarely live longer than one-and-a-half years when reared for meat. Dairy cows live longer, up to around one-tenth of their natural lifespan, if they continue to produce enough milk.
Similarly, pigs and chickens can enjoy life for around 20 and 10 years respectively (though 20-year-old chickens have been reported). However, non-breeding pigs are routinely slaughtered at under one year old. Most shockingly, chickens only last a matter of weeks in the food system.
"These AI-generated images give us a clear picture of what these animals should actually look like in nature. We hope this sparks a larger conversation about how we can all do our part to create a better future together – for ourselves, our planet, and the animals," Fernando Machado, global CMO for NotCo said in a statement.
NotCo's AI plant-based revolution
NotCo is no stranger to AI, having built its entire food production system around it. 
Using patented AI technology, called "Giuseppe," NotCo analyzes animal-based foods to then recreate them with plant-based ingredients. It does so to mimic the taste, texture, and smell of animal products while reducing their environmental impact. As an example, NotCo's chicken is said to produce 74 percent less CO2 than regular chicken. It also requires around 92 percent less water.
Using – often unexpected – combinations of plant-based ingredients, it has launched numerous meat substitutes such as burgers and chicken products. These are stocked alongside NotCo milk and other dairy alternatives in more than 10,000 US stores.