Fast-food chain Shake Shack has made vegan versions of its signature chocolate shake and frozen custard, plus a meat-free burger, available at every US location. With more than 260 restaurants in operation, the move represents a large-scale embracing of vegan and vegetarian consumers.
Shake Shack's new dairy-free options saw the chain partner with Chilean manufacturer NotCo, which produces animal-free meat and dairy.
"Partnering up with Shake Shack used to be a dream of mine and one of the most ambitious milestones for NotCo," Matias Muchnick, NotCo's CEO and co-founder, said in a statement.
Shake Shack's Non-Dairy Chocolate Shake and Non-Dairy Chocolate Custard are made with NotMilk, a dairy alternative developed using AI. This technique, NotCo claims, allows it to scrutinize any food down to the smallest detail. It is then replicated using all-vegan ingredients, like pea protein.
The rollout of shakes and custards comes after a period of consumer testing. Both vegan-friendly products debuted last year at 10 select locations in New York and Florida, where they garnered positive reviews.
"Having a tailored NotCo product in Shake Shack stores nationwide is a clear statement of our ability to create elevated tailored-made delicious and profitable versions of products in record time that appeal to the mass market," Muchnick added.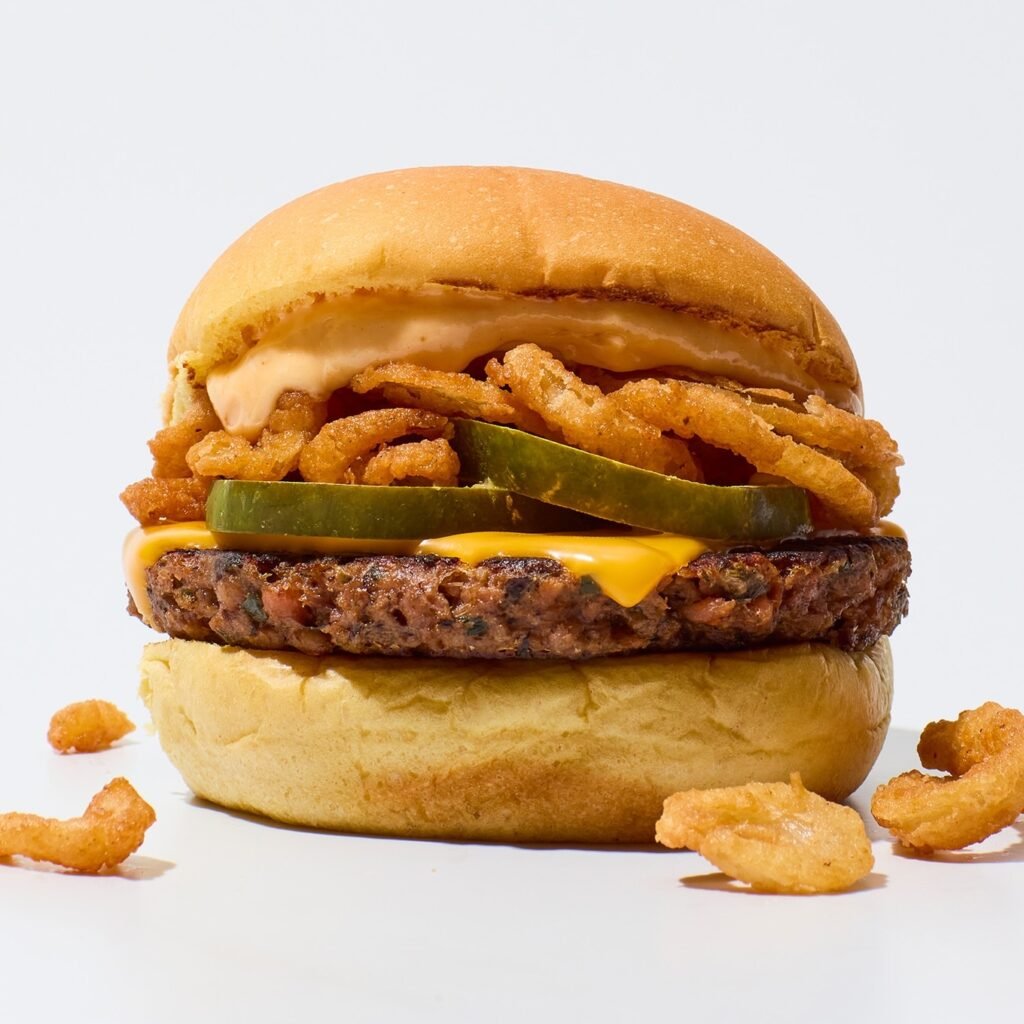 Shake Shack's veggie burger
Shake Shack has been slower than some of its competitors – such as Burger King and McDonald's – to offer any vegan menu items. And it is still lacking in terms of burgers.
"We take a fine-dining approach to culinary innovation and spent five years testing and refining our new Veggie Shack with our culinary team," Jay Livingston, Shake Shack's chief marketing officer, said in a statement. "It's packed with garden-variety vegetables and powered by farro and quinoa for a crave-able, substantial bite."
Despite the patty in the new Veggie Shack taking so long to develop, it is not suitable for vegans. This is due to the sweet potato, mushroom, and quinoa-packed burger being topped with standard American cheese. Additionally, dairy-filled ShackSauce and a non-vegan bun add extra animal products.
This means there are still no burgers on the menu that are suitable for vegans. (Shake Shack's other vegetarian option, the 'Shroom Burger, comes with a mushroom patty filled with dairy cheese.)
But the chain is not a complete stranger to vegan burgers. A one-day-only collaboration with Slutty Vegan saw the SluttyShack added to Harlem and Atlanta menus in 2021. Moreover, international locations have trialed their own meat-free options with the UK seemingly leading demand.
Shake Shack's Non-Dairy Chocolate Shake ($6.39) and Non-Dairy Chocolate Custard ($4.69) are available nationwide now.