The question of whether Oreos are vegan is often subject to intense debate. Due to their creaminess, many people assume that Oreo cookies contain dairy milk as one of their ingredients – but this is surprisingly not the case. 
Oreos are made up of two chocolate biscuits sandwiched between a layer of sweet creamy filling. They were first developed in 1912, and are now available to buy in more than 100 countries in various flavors.
They are thought to be the "world's best-selling cookie," and the brand topped sales of $4 billion in 2022. But are they vegan? Or do they contain animal products? Here's everything you need to know.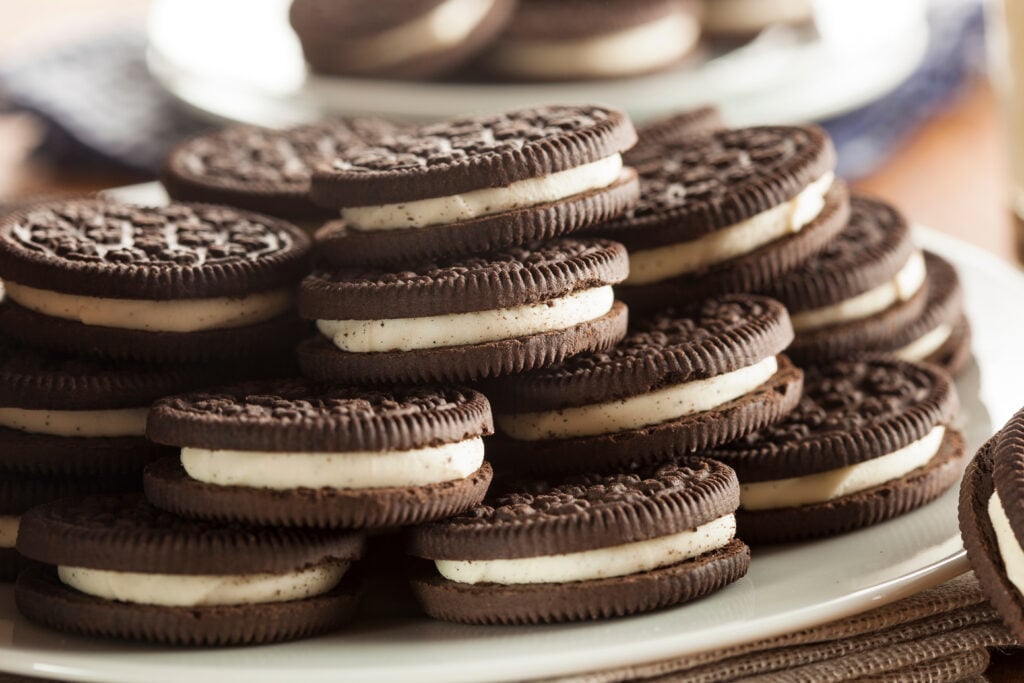 Are Oreos vegan or vegetarian?
The vast majority of Oreos do not contain animal products. The classic Oreo filling is made with plant-based ingredients, including sugar and soy lecithin.
There is often some confusion, however, about whether or not Oreos are vegan-friendly. This is because the ingredients list says they "may contain" milk products.
When a product states this, it often means that it's made in the same factory and that there is risk of cross contamination. Food items stating this are therefore not suitable for milk allergy sufferers. As long as there is no milk on the ingredients list itself, it is considered by most to be vegan. 
Oreos are therefore, for the most part, perfectly vegan-friendly.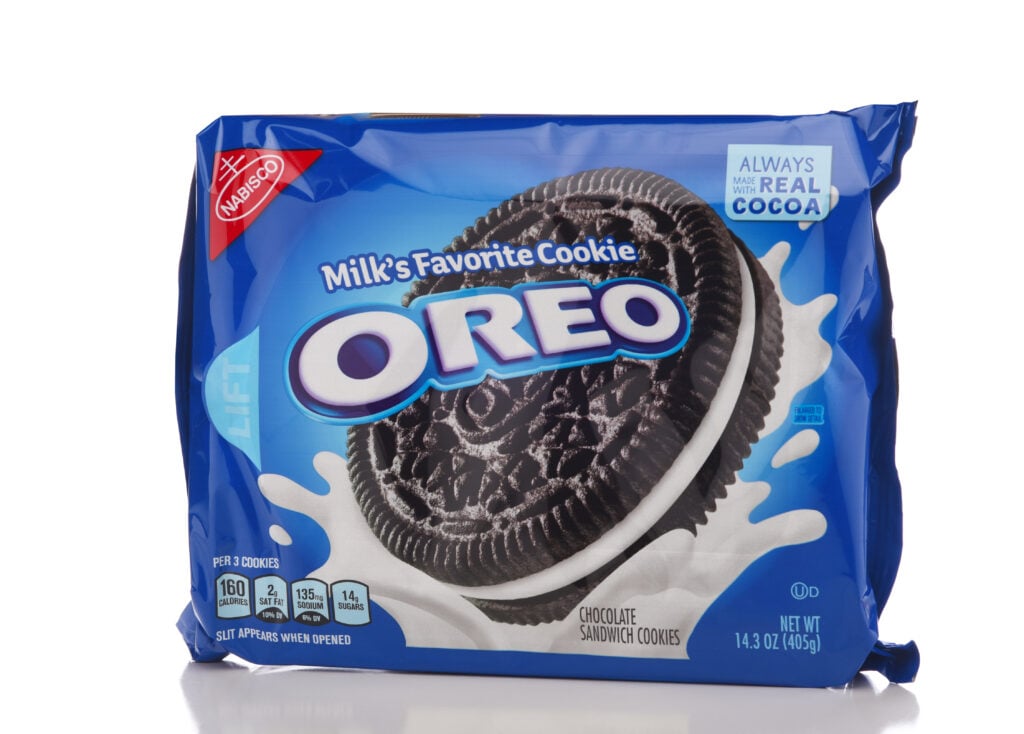 What flavors of Oreo are vegan-friendly?
Oreo has a huge number of variations that's ever-changing, so it's difficult to give a full list of vegan-friendly flavors at any given time. However, the below flavors are examples of vegan-friendly Oreos that you can generally find in supermarkets. 
Classic
Gluten-Free
Chocolate Hazelnut
Java Chip
Chocolate Peanut Butter Pie
Chocolate Marshmallow
Caramel Coconut
Peanut Butter
Carrot Cake
Golden
Lemon
Birthday Cake
Dark Chocolate
Oreo Mint
Please note, this list is subject to change. You should always check the packet before buying.
What Oreos aren't suitable for vegans?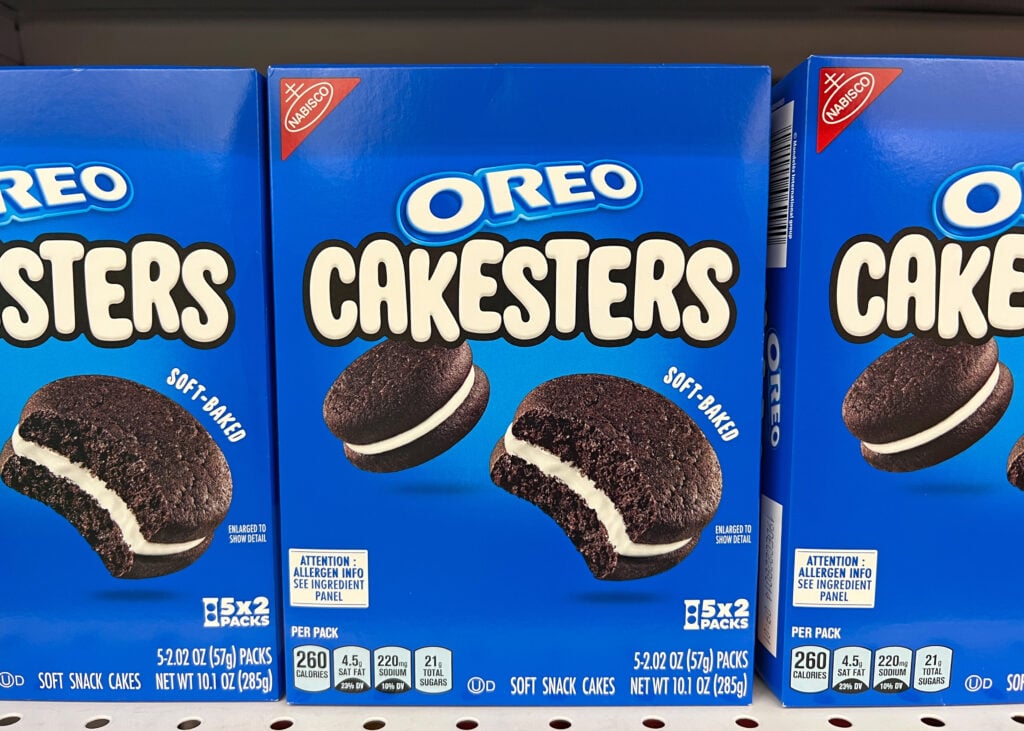 There are some Oreo cookies that do contain animal products. All fudge-covered Oreos aren't vegan-friendly, as the coating contains dairy. Oreo Cakesters also contain dairy and egg. 
You should always check the packaging of Oreos before buying, as the brand often releases new flavors that may not be suitable for those on a plant-based diet.
Do Oreos contain palm oil?
Palm oil is an ingredient listed in most Oreos. While palm oil isn't technically non-vegan, some people will choose to avoid it due to the indirect impact it has on wildlife and the environment. 
The ingredient has been linked to deforestation, habitat loss, and species extinction. Orangutans in particular have been impacted by the harvesting of palm oil, and they are currently listed as critically endangered. 
Oreo has been criticized by Greenpeace in the past for its use of palm oil. In November 2018, the environmental organization referred to the ingredient as Oreo's "dirty secret," stating it buys palm oil from a company called Wilmar, which it said was "the world's largest and dirtiest palm oil trader."
On its website, Oreo states: "Since 2018 we have maintained 100 percent RSPO [which stands for Round Table on Sustainable Palm Oil] in palm oil. We will take action against those shown to be part of verified palm oil fire allegations and fully support a sector-wide approach to monitoring for deforestation in palm oil production."