Sour Patch Kids are a hugely popular candy brand eaten all over the world, and many vegans or plant-based eaters may be wondering if they contain gelatin or other hidden animal ingredients. 
The sweets first launched in the 1970s as "Mars Men," and were later rebranded to Sour Patch Kids in 1985. They are a soft candy that feature a sour sugar coating, which is made from citric acid, tartaric acid, and sugar. They are known for their sweet and sour taste, are shaped like people, and come in a range of flavors. This includes lemon, redberry, orange, lime, grape, blue raspberry, pink strawberry, and white pineapple.
Those new to the vegan lifestyle will probably be aware that candies such as this often contain gelatin (also spelled gelatine), an ingredient with a surprisingly grisly origin.
Here's your need-to-know on Sour Patch Kids.
Are Sour Patch Kids vegan?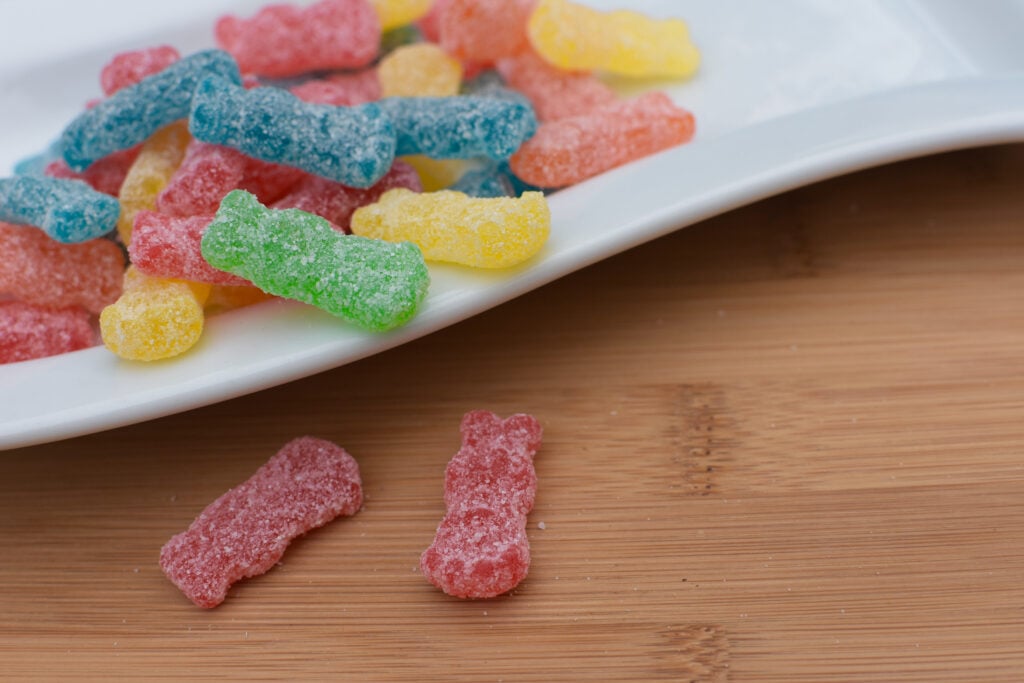 In the UK, Sour Patch Kids do indeed contain gelatin, which makes them unsuitable for vegans. The full list of ingredients is below:
Sugar, Glucose Syrup, Water, Starch, Gelatin, Acid (Malic Acid), Concentrated Apple Juice, Colors (Anthocyanins, Vegetable Carbon, Paprika Extract, Lutein, Curcumin). Acidity Regulator (Calcium Citrates), Palm Oil, Flavorings
Gelatin is an ingredient found in a range of candies, sweets, and other desserts, and it's used to give products a jelly texture. It's a protein found in animal parts, usually cows and pigs, and is obtained by boiling these parts in water. Gelatin was first discovered in the 170th century when a French physicist called Denis Papin discovered you could remove collagen from animal bones by boiling them. In the 19th century, the gelatin production process was fully developed and patented.
Given that it's a direct product of animal exploitation, and is derived from an animal who has been killed, gelatin is neither vegetarian nor vegan. This means that vegans living in the UK are not able to eat Sour Patch Kids. 
Another of the sweet's ingredients that plant-based eaters may avoid is palm oil. While this is not directly non-vegan, some people abstain from eating it due to its links to deforestation. Conversion of tropical rainforests to harvest palm oil has impacted a huge number of animal species, and is a key driver of habitat loss. 
Sour Patch Kids USA ingredients
If you're living in the US, you may be pleased to know that Sour Patch Kids do not contain gelatin. From looking at the label, it appears that they could be considered an accidentally vegan product with no animal ingredients. The ingredients list is as follows: 
Sugar, invert sugar, corn syrup, modified corn starch, tartaric acid, citric acid, natural and artificial flavor. Yellow 6, red 40, yellow 5, blue 1.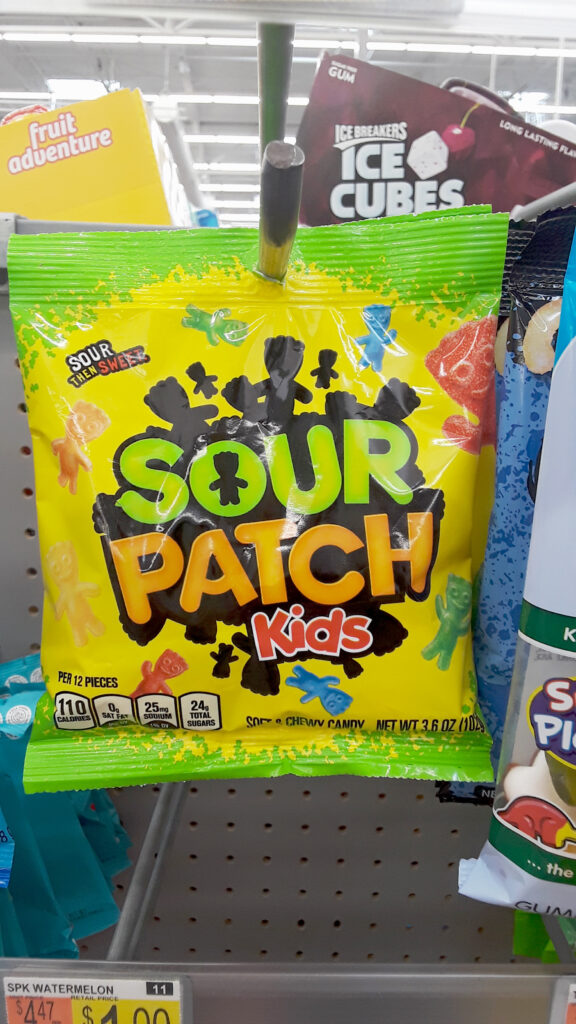 There is sometimes some confusion in the US, however, over whether sugar is acceptable to eat as a vegan. This is because bone char is used in the production of sugar cane. This ingredient is made from the bones of farmed cows, and is often bought from farmers of slaughtered animals in other countries.
By some people's definition, therefore, many sweets with sugar of unknown origin may not be vegan. Others take a more liberal approach, however, pointing out that veganism isn't about perfection. As we live in a non-vegan world, it is often impossible to avoid all indirect forms of animal exploitation all the time. 
"Don't stress too hard about sugar if you're unsure about how it was produced," PETA previously said. "You're saving more than 100 animals per year by following a vegan lifestyle, and the effect will snowball as people around you, inspired by your choices, may start trying vegan meals once you've shown them how easy it can be."
It's also worth noting that some artificial flavorings in the ingredients may have been tested on animals. While these ingredients are not animal-derived, therefore, they may therefore not be considered cruelty-free, and some vegans will avoid them.
More like this: