Halloumi is one of those foods that new plant-based eaters may miss at the start of their dairy-free journey. It's often the vegetarian option at restaurants, and a hugely popular ingredient in burgers, BBQS, and salads all over the world. As it's a cheese made from animal milk, halloumi is not suitable for vegans.
But does this mean plant-based diners have to miss out on halloumi? Absolutely not. In 2023, it's easier than ever to make dairy-free versions of pretty much any cheese – all you need is a bit of creativity.
Many countries in the world are seeing their final few weeks of summer weather of the year, and salad is an ideal dinner option to enjoy in the last days of warm evenings. Halloumi is often used as a protein source for salads, and there's no need for vegans to miss out.
Henry Firth and Ian Theasby, otherwise known as vegan chef duo BOSH!, recently released a book called MEAT, where they share vegan recipes of traditionally animal-based dishes. One of these is a Hearty Halloumi Salad.
Why is halloumi not vegan?
The halloumi that you'd find in the supermarket is not vegan-friendly as it's a product of animal use and exploitation. Traditionally, halloumi is made from a combination of sheep and goat milk. Occasionally it may contain cow's milk.
The cheese is of Eastern Mediterranean origin, and it's hugely popular in the UK. British demand for the cheese is among the highest in Europe. Due to the fact that halloumi has a high melting point, it's often served fried or grilled. This means that it's a widely-used alternative for meat, and is particularly prevalent in many vegetarian diets. Those transitioning from veggie to vegan, therefore, may be looking for a suitable halloumi alternative.
What is vegan halloumi?
With demand for vegan dairy growing, a number of brands are releasing vegan versions of popular cheeses, and some stores offer ready made vegan halloumi on their shelves.
Brands creating vegan halloumi include Violife, which offers a Mediterranean Style cheese that's suitable for grilling. Green Vie features a similar product, while Tesco has created an own brand halloumi-style cheese.
Alternatively, you can make vegan halloumi yourself. BOSH!'s version uses a combination of tofu, nutritional yeast, lemons, olive oil, mint, garlic power, and salt.
BOSH!'s Hearty Halloumi Salad recipe
If you ask us, salads should have big, punchy flavours and a robust, satisfying bite; they should please your palate and your stomach in equal measure. This salad does both of those things perfectly. Rustle it up in warmer months, serve with a cold glass of good white wine, and you will not be disappointed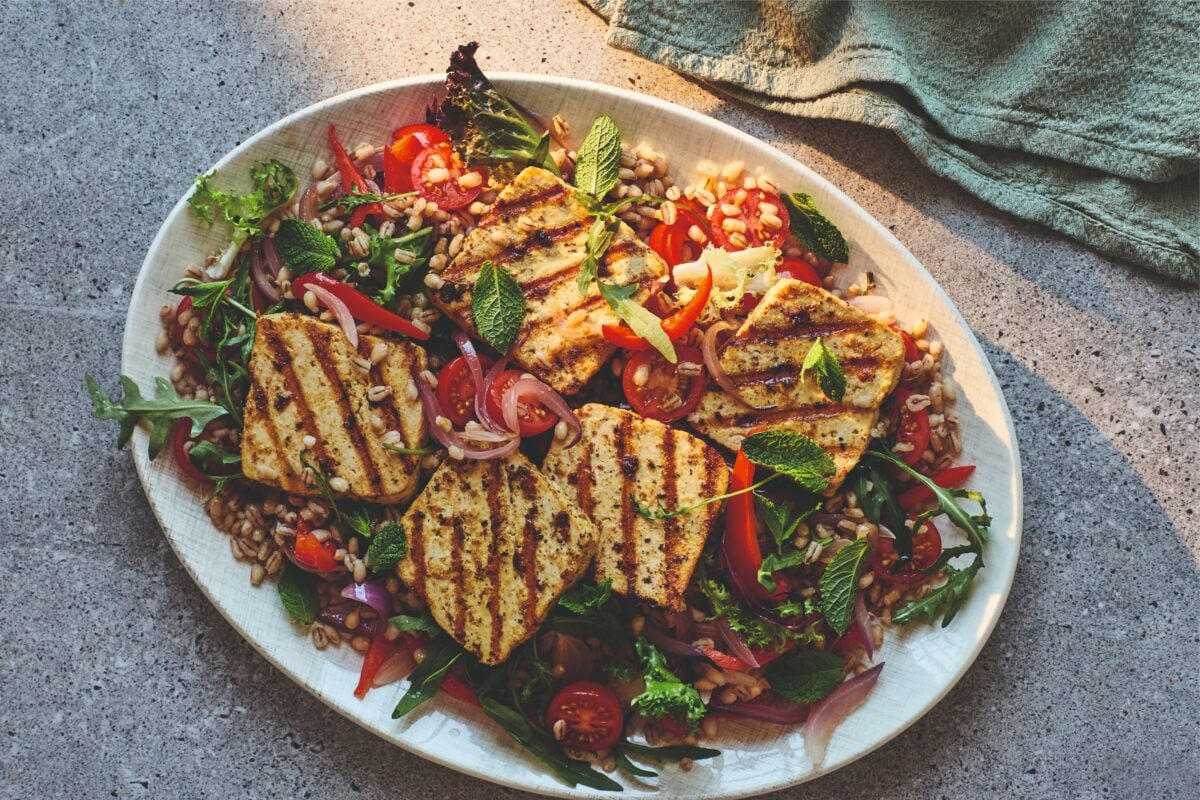 Ingredients
For the halloumi
1

325g

block firm tofu

3

lemons

3

tbsp

olive oil

3

tbsp

nooch (nutritional yeast)

2

tsp

dried mint

1/2

tsp

garlic powder

sea salt
For the salad
2

red onions

drizzle

olive oil

2

vegetable stock pots

600

ml

boiling water

2

red peppers

250

g

cherry tomatoes

200

g

pearl barley

handful

fresh mint leaves

1

bag

mixed leaves (about 150g)

1

lemon

sea salt
Instructions
Prepare the halloumi
Press the tofu to drain off any liquid

Cut the lemons in half and squeeze the juice into a container, catching any pips in your free hand

Add the olive oil, nooch, dried mint, garlic powder, and a pinch of salt, and stir to form a smooth paste

Cut the tofu into 8 strips

Put the tofu strips in the container and coat in the marinade

Leave to marinate in the fridge for at least 2 hours

Preheat oven to 180°C after 2 hours' marinating time
Bake the halloumi
Remove the halloumi from the marinade and bake it in the oven on the lined baking sheet for 25 minutes
While the halloumi is baking, make the salad
Peel the red onions and slice them thickly

Place a large saucepan over a medium heat and add a drizzle of olive oil

Once warm, add the onion slices and a pinch of salt, mix well and cook for about 10 minutes until the onion softens

Mix the vegetable stock pots with the boiling water in a heatproof jug

Trim, halve, and core the red peppers, cut into small cubes and halve the tomatoes

Add the peppers to the onions and cook for another 5 minutes before adding the pearl barley and hot vegetable stock

Cook the pearl barley according to the packet instructions until the barley has absorbed all the water and becomes soft
Griddle the halloumi
Warm a griddle pan over a medium-high heat, lay the marinated tofu strips on the pan, and sear for 2 minutes on each side to create lovely dark griddle lines

Transfer the halloumi to a plate and season with a good pinch of salt
Build the salad and serve
Remove the pearl barley from the heat, slice the mint leaves, and mix through the pearl barley, along with the mixed leaves and tomatoes

Halve the lemon and squeeze in the juice from both halves, catching any pips in your free hand

Spoon the salad onto the bottom of a large serving plate and top with the halloumi slices
More vegan cheese recipes on Plant Based News
There are a wide variety of dairy-free recipes available, and many of them taste just like the real thing. If you enjoyed this halloumi salad and want to experiment with more vegan cheeses, check out the below: