For many of us, omelettes were a staple of our childhoods, but replicating the taste and texture of the dish as a vegan can be tricky. A simple plant-based and egg-free omelette recipe would have been pretty near impossible to find a few years ago, but it's now easy to create a vegan version of pretty much anything.
Ian Theasby and Henry Firth, a vegan chef duo known as BOSH!, are attempting to prove just this in their new book MEAT, which features plant-based recipes for traditionally animal dishes. "Plant-based food options have increased in ways we wouldn't have thought possible when we first went vegan almost nine years ago," they told Plant Based News. "People are now aware of where their food comes from and the impact it has. Because of this, they've changed the way they eat, eating a lot less meat and a lot more plants. However, a lot of people still want the texture and flavours of the food they're accustomed to."
One of the recipes in the book is this vegan cheese and mushroom omelette, which features vegan dairy and and tofu.
Can you make omelettes without eggs?
It's 2023, of course you can! There are a growing number of recipes doing just that – and you can use a range of ingredients to suit your taste. BOSH!'s recipe uses silken tofu, a hugely versatile ingredient that can replicate the texture of an egg omelette. Other recipes use one of the growing number of vegan egg products available on the market, and you can also season your omelette with black salt if you wish. Black salt features the sulphur taste of egg, and can be use in a variety of vegan recipes to give them that eggy flavor.
Bosh's recipe for an egg-free and completely vegan omelette is below:
We think that if 'luncheon' is the formal word for 'lunch', then 'bruncheon' should be the formal word for 'brunch'. Now that we've got that out of the way, we think you should make this recipe for bruncheon as soon as you can!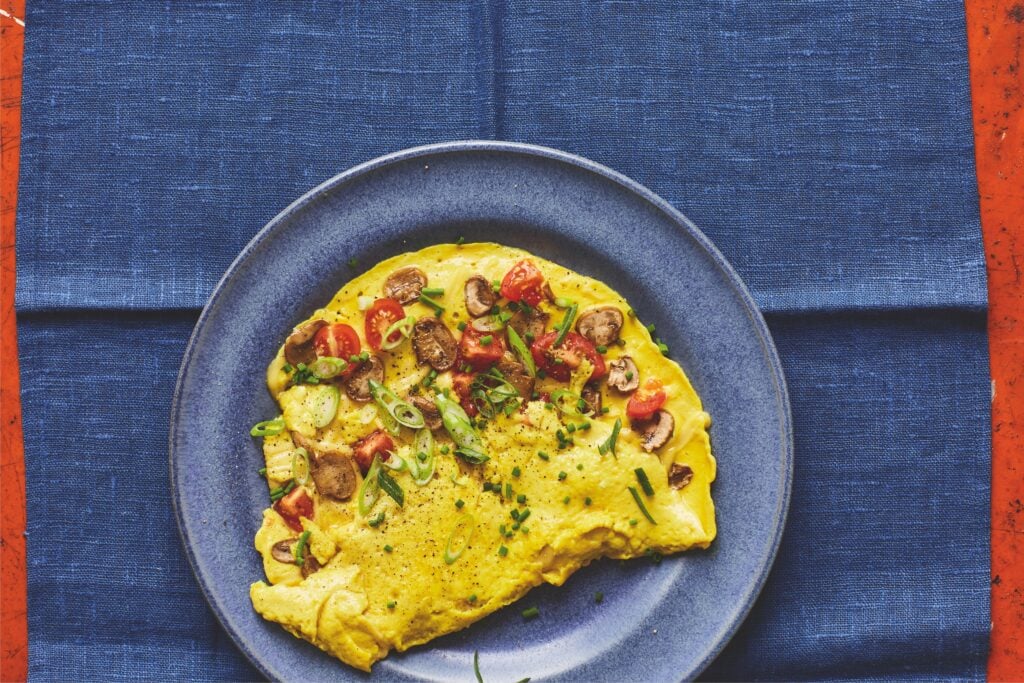 Ingredients
For the mushrooms
100

g

mushrooms

1

tbsp

light soy sauce

5

drops

liquid smoke (optional)

1

tbsp

olive oil
For the omelettes
1

300g pack

silken tofu

2

tbsp

cornflour

4

tbsp

plain flour

pinch

turmeric (optional)

8

cherry tomatoes

2

tbsp

plant-based butter (for cooking)

100

g

grated plant-based cheddar

Sea salt and black pepper
To serve
Handful of chives

2

spring onions
Instructions
Cook the mushrooms• Thinly slice the mushrooms and spoon into a mixing bowl• Add the soy sauce, liquid smoke (if using) and olive oil• Mix well to ensure all of the mushrooms are coated in the liquid• Spread out on a baking tray and bake in the oven for7-8minutes until golden and crisp• Once cooked, remove from the oven and set aside until needed

Make the omelette mixture• Drain the tofu and place it in a powerful blender along with the cornflour, plain flour, nooch and turmeric (if using)• Blend until a smooth batter forms• Season with salt and pepper• Cut the tomatoes into small pieces

Prepare the ingredients to serve• Thinly slice the chives and trim and slice the spring onions

Cook the omelettes• Heat 1 tablespoon of the butter in a frying pan over a medium heat• Once melted, add half of the tofu mixture and spread it out in the pan• Cook for 1-2minutes, until slightly setting, then scatter over half of the mushrooms, chopped tomatoes, and grated cheese• Cook for 3 more minutes, until the mixture has set, then flip one side over the other to create a half-moon shape• Slide onto a plate and repeat this process to make the second omelette

Time to serve• Scatter the omelettes with the chives and spring onions before serving
BOSH! MEAT: Over 100 Outrageously Tasty Recipes by Henry Firth & Ian Theasby. Published by HQ, HarperCollins. RRP £22.00.
More like this: