Historical football club Cheddar AFC has partnered with vegan cheese brand Violife in a new sponsorship deal.
Cheddar is a town located in Somerset, England, and is known as being the birthplace of cheddar cheese. The partnership marks the released of new Violife product "Cheddarton," which is said to be a realistic plant-based alternative to cheddar. The players in the 131-year-old football club will be encouraged to embrace a "more plant-based lifestyle" with the help of ex-England player and vegan Karen Carney.
"I turned vegan in 2018 and noticed the positive change immediately both in my health and performance on the football pitch when playing for both club and country," said Carney. "The perception of the plant-based diet is that you will miss out on certain foods but thankfully Violife means I never miss out on my cheesy favorites like pizza and cheese on toast."
The nation's favorite cheese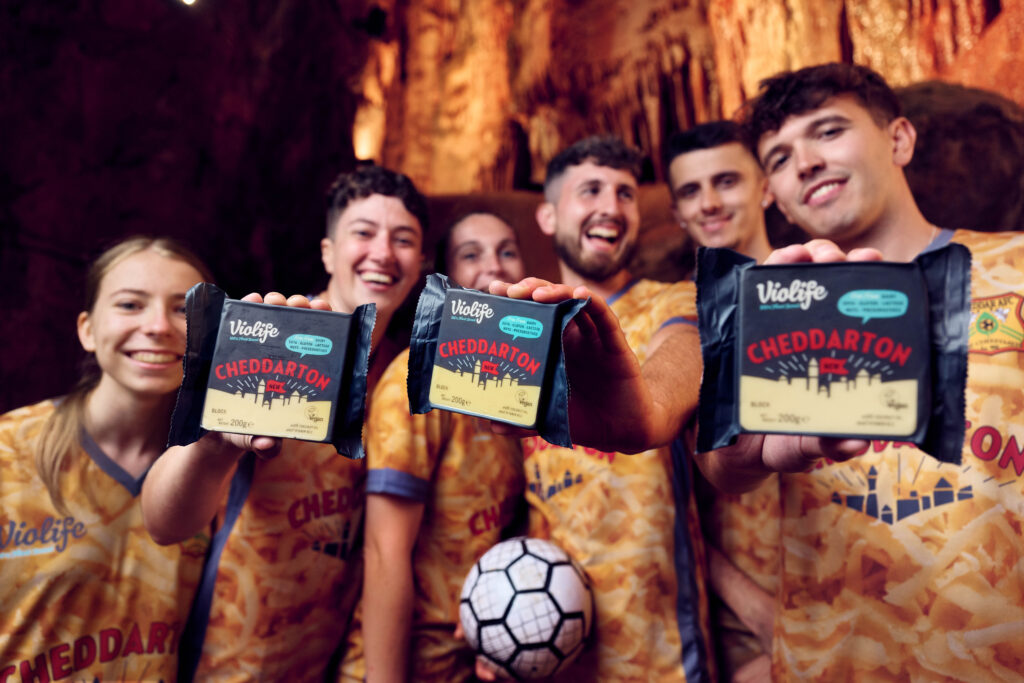 Cheddar is the most popular cheese in Britain, with research from Violife finding that 58 percent of the population cite it as their favorite. Around 330,000 tonnes are eaten each year.
Violife's research also found that 41 percent of the nation said they would miss cheese too much to go plant-based. In addition, it discovered that 23 percent of people have ended their plant-based diet due to the "irresistibility" of cheese. Violife has stated that it hopes this partnership will demonstrate "how easy it is to go plant based, and still stay cheesy, starting right on cheddar's home turf."
"Living and growing up in Cheddar, cheese is in the players' blood," commented Kieran Webster, Captain of Cheddar AFC. "We know what's key to making the cheesiest, gooiest dishes around, so if we can go plant-based, switching Cheddar for Cheddarton, anyone can!"
Cheddarton is said to mirror the taste and texture of cheddar, while also grating and melting in a similar way. It's made with a coconut oil base, and is said to have half the carbon emissions and occupy two-thirds less land than dairy products. 
The problem with dairy
As well as being responsible for around four percent of global greenhouse gas emissions – and contributing to deforestation, biodiversity loss, and water pollution – dairy production comes with significant ethical costs.
Cows used in the dairy industry need to have a baby to produce milk, and they will be artificially inseminated once a year. Each time they give birth, they will go through the trauma of having their baby taken from them so humans can take their milk.
They have been selectively bred to produce much more milk than they naturally would, which takes a huge toll on their bodies. When they are considered "spent" (no longer producing enough milk), they will be slaughtered for cheap meat.
More like this: