This recipe for a vegan red lentil and butternut squash curry ticks all the boxes. It's packed with nutrients, enjoyable to make, and simple to prepare and cook. Whether you're using an instant pot or saucepan on the stove, it takes less than 30 minutes.
This plant-powered dish brings together the natural sweetness of butternut squash and the earthy richness of red lentils to create a comforting and filling meal, infused with aromatic spices and ingredients like garam masala, turmeric, and ginger.
Serve garnished with some toasted nuts, or with vegan flatbread (or any kind of bread you like!).
Vegan Richa, who runs a food blog of the same name, crafted this recipe. She's penned multiple popular cookbooks, including Vegan Richa's Instant Pot Cookbook, from which this recipe was sourced. The book, published in 2022, features more than 150 plant-based recipes "from Indian cuisine and beyond." These cover everything from layered pot-in-pot cooking, one-pot meals, "dump-and-done" meals, and roasted and caramelized foods.
Those interested can can purchase Vegan Richa's Instant Pot Cookbook here.
Now on with the recipe!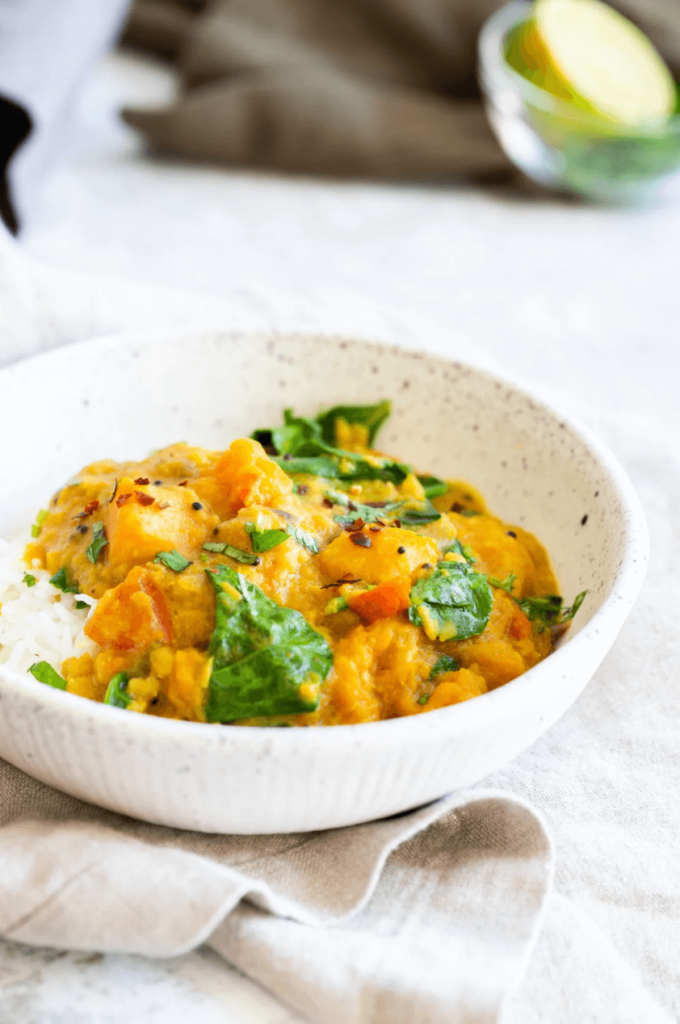 Ingredients
1

tsp

oil

safflower or sunflower works well

1/2

tsp

black mustard seeds

4

cloves of garlic

finely chopped

1/2

medium red onion

finely chopped

1

inch

fresh ginger

(1.25cm) peeled and finely chopped

1

hot green chili

finely chopped

1/2

tsp

ground turmeric

1/2

tsp

garam masala or curry powder

1/4

tsp

black pepper or cayenne pepper

or both, or more to taste

1

large tomato

finely chopped

12

oz

uncooked butternut squash or pumpkin, peeled, seeded and cubed, or use frozen

(340.2g)

1/3

cup

red lentils

(60g)

14oz

can

unsweetened coconut milk

(400g)

1/2

cup

water

(125ml)

3/4

tsp

salt

3-4

oz

baby spinach
Garnishes
Freshly squeezed lime juice

Red pepper flakes

Chopped fresh cilantro
Instructions
Instant pot instructions
Preheat the instant pot by selecting the sauté setting.

Heat the oil in the preheated pot, then add the mustard seeds and leave for about 30 seconds, or until they start to splutter.

Add the onion, garlic, ginger, chili, and a pinch of salt and cook until the onion is translucent, about 2 minutes.

Add the spices and mix well. Add the tomatoes and a quarter cup of water and cook for 2 minutes stirring occasionally to avoid sticking.

Add the butternut squash or pumpkin, coconut milk, remaining 3/4 teaspoon of salt, and remaining 1/2 cup (120 ml) of water. Add the lentils to the pot, and give it a good stir to combine and scrape up any bits of tomato from the bottom of the pot.

Close the lid and pressure cook for 4 minutes. Carefully quick release the pressure slowly once cooking time is done.

Open the lid and fold in the spinach and mix thoroughly. Taste and adjust the amount of salt, heat, and flavor. Add a good dash of lime juice. Garnish with pepper flakes or cilantro. Serve over rice or vegan flat bread or with fresh dinner rolls. 
Sauce pan instructions
Follow steps 1 to 4 in a saucepan over medium heat.

Add the butternut, coconut milk, lentils, salt, and water. Partially cover and cook for 12-14 mins or until the lentil and squash are cooked through. Add 1/4 to 1/2 cup more water if the curry is too thick and simmer for a min.

Taste and adjust the flavor to your liking, add a dash of lime juice and serve. 
Add other hardy veggies with butternut for variation. When doubling, use a bit less water than doubled.
If using brown or green lentils, pressure cook for 10 to 11 mins. 
Use water instead of coconut milk for more dal-like, less rich curry.
This recipe was republished with permission from Vegan Richa. Follow her on Instagram for more plant-based recipes.
If you purchase something through a link on our site, Plant Based News may earn a commission, which helps us to provide our free services to millions of people each week.
More like this: