Forget Friday night being the only time you treat yourself to something indulgent – make the middle of the week the moment you dive into the kitchen to whip up this vegan mac and cheese burger recipe.
Before you panic that this recipe will take hours of prep and cooking, let us reassure you that it won't. In fact, the longest part of the process is waiting for your macaroni noodles to cook. By using the noodle cooking time to whip up your guacamole and get your patties grilled, you can bring everything together in a shockingly short space of time. That's why this is such a perfect recipe for a midweek culinary blow-out.
Right. Enough talking. Let's get down to the gooey, rich, and satisfying food that will have you turning your back on fast-food chains when you want a burger fix for dinner.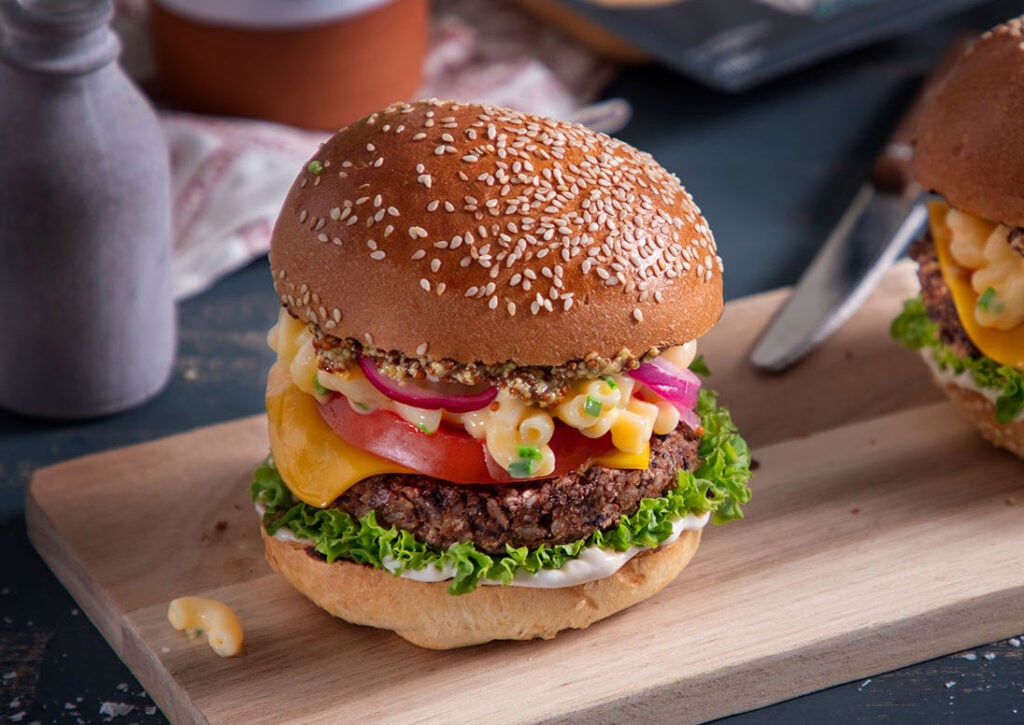 Ingredients
For the mac and cheese
8

oz

Violife Just Like Cheddar Shreds

2/3

cup

coconut milk

5.3

oz

macaroni noodles

4

tbsp

chives

(chopped)

olive oil

salt and pepper

(to taste)
For the guacamole
1

avocado

(peeled and stoned)

1/2

red onion

(finely chopped)

1

tbsp

coriander

(chopped)

1

lime

(juiced)
For the vegan burger patties
14

oz

tinned beans, drained

(black work well)

3.5

oz

cooked brown rice

1

onion

(grated)

1

tsp

fennel seeds

(crushed)

1/2

tsp

garlic powder

1

tsp

smoked paprika

0.88

oz

breadcrumbs

1

tbsp

parsley

(chopped)
To serve
4

slices

Violife Just Like Cheddar

4

burger buns

4

tbsp

pickled onions

4

tbsp

vegan mayo

lettuce leaves and tomato slices

salt and pepper

(to taste)
Instructions
To make the mac and cheese
Cook the macaroni according to the packet instructions. Drain and place in a bowl.

Heat the coconut milk in a small pan and add the Violife Just Like Cheddar Shreds and a bit of olive oil, stirring until it becomes a rich, thick sauce. Season with salt and pepper and stir in the pasta. Add chives and set aside.
To make the guacamole
Add all ingredients in a bowl and mash well with a fork.
To make the burgers
Add all the ingredients into a blender and pulse until combined. Divide into four equal parts and shape into burger patties. 

Heat a griddle pan on high heat, drizzle with some olive oil and grill patties for three minutes on each side. Top each pattie with a Violife Just Like Mature Cheddar Slice and remove from heat.
Construct the mac and cheese burgers
Cut burger buns in half and spread the base with mayo. Top with lettuce, Violife burger pattie, tomato, a dollop of mac and cheese and pickled onions.

Spread the top bun with mustard and cover your burger. Enjoy!
Top tips for the best vegan mac and cheese burger
This recipe simply states "beans" for your patties, giving you scope to use whatever variety you like best. Black beans work exceptionally well as they add depth of flavor to the burgers, but neutral options – including cannellini and butter beans – would be excellent too. While not strictly a bean, chickpeas would be worth experimenting with as well, especially if you like a patty with more texture.
Don't be afraid to riff in this recipe by adding your own garnishes. Onion rings? Why not. Gherkins? Of course. You can even adapt the mac and cheese to suit your palate. We can recommend adding a little mustard to the mac, just to give it some bite and to cut through the richness a touch.
This dairy-free mac and cheese burger recipe was republished with permission from Violife Foods. Find the original post here.
—
Looking for more vegan recipes like this? You might like: