This unique recipe from Vegan Richa's Instant Pot Cookbook combines the simplicity of a classic baked potato with the bold smoky flavors of barbecue lentils, topped with zingy sriracha mayonnaise. The result is a hearty and satisfying main meal or side that will please vegans and non-vegans alike.
This recipe is simple to prepare, with the help of a trusty instant pot.
It includes nutritious ingredients like red lentils, packed with iron, protein, and B vitamins; carrots, a good source of beta carotene, which the body converts into vitamin A; and mushrooms, which provide iron, potassium, and B vitamins.
Here's how to make tasty baked potatoes topped with barbecue lentils and vegan sriracha mayo.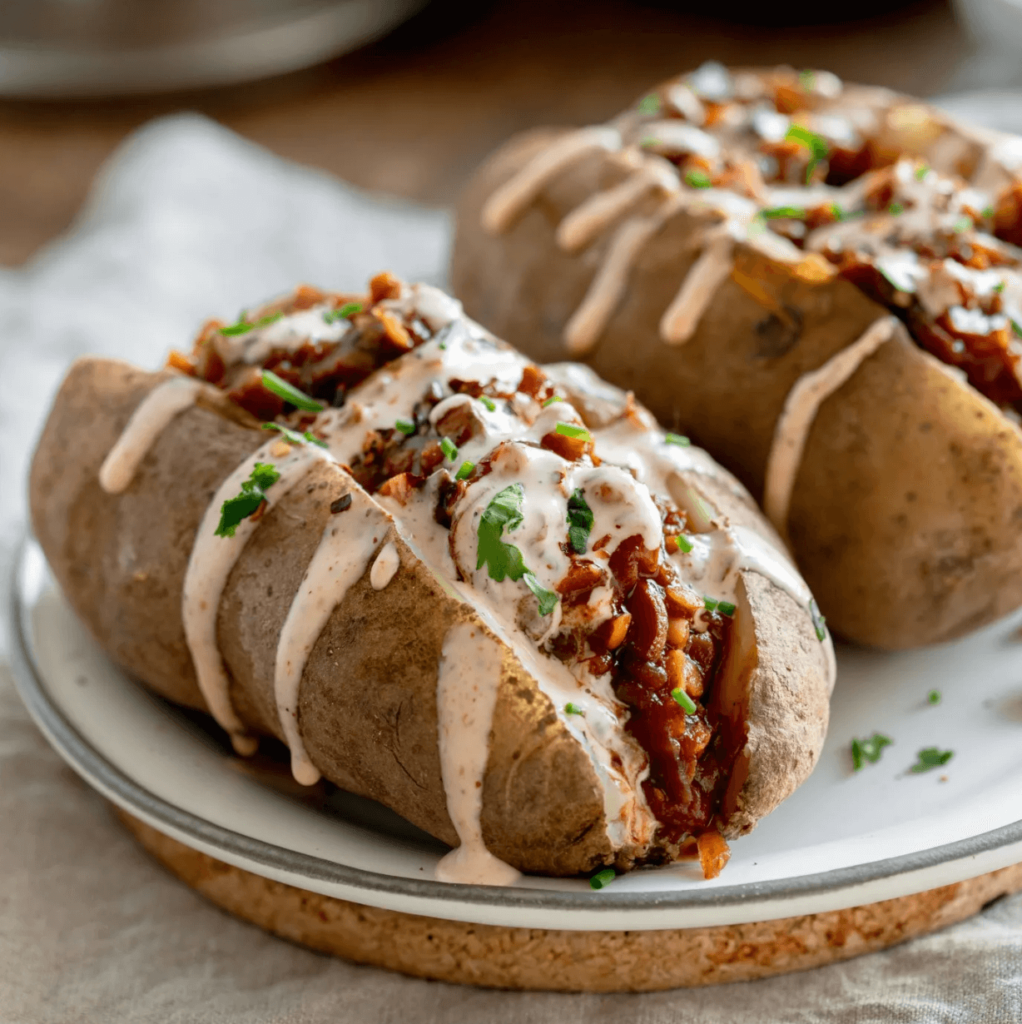 Ingredients
Potatoes
3

large or 4-5 medium russet potatoes

about 1.5 pounds (680g)

1.5

cups

water

(355ml)

1

tbsp

melted vegan butter

or safflower or sunflower oil
Barbecue Lentil Mushroom Filling
1/2

medium red onion

finely chopped – about 3/4 cup (120g)

4

oz

mushrooms (white, cremini, or a combination)

thinly sliced (115g)

1

medium carrot

finely chopped or shredded, about 1/2 cup (60g)

1/2

cup

vegan-friendly barbecue sauce

(60ml)

1/2

cup

water

(120ml)

1/4

cup

dried split red lentils

(50g)

4

garlic cloves

finely chopped (about 2 teaspoons)

1

tbsp

Barbecue Spice Blend

See the recipe below or use an equivalent amount of any store-bought BBQ spice mix

2

tsp

granulated sugar or sweetener

optional

1/4

tsp

salt

or more to taste
Sriracha Mayonnaise
1/4

cup

vegan mayonnaise

(55g)

2

tsps

sriracha

or less, based on heat preference
For Serving
Fresh parsley, cilantro, or chives

Chopped

Red pepper flakes
Instructions
For the potatoes, scrub the potatoes well, then poke holes in them with a fork or knife. Put the water in the inner pot, set the steamer rack inside, and put the potatoes on the rack.

If you're making your own Barbecue Spice Blend, combine the ingredients listed below this recipe in a small bowl.

For the filling, in a stainless-steel container that fits your Instant Pot, combine the onion, mushrooms, carrot, barbecue sauce, water, lentils, garlic, Barbecue Spice Blend, and sugar if using, and salt. Stir to mix well.

Place the container on top of the potatoes. Cover with foil or a lid. Lock the lid into place, set the Pressure Release Knob to Sealing, select the Pressure Cook/Manual setting at high pressure, and set the cooking time to 17 minutes.

Let the pressure release naturally, then open the lid. Remove the pan with the lentils and stir to mix. The mixture will continue to thicken as it sits. Taste for seasoning, adjusting if needed.

For the sriracha mayonnaise, stir together the mayonnaise and sriracha in a small dish, adding a bit of water, if needed, so it will be easy to drizzle.

When the potatoes are cool enough to handle but still warm, slice open. Brush the melted vegan butter on the cut potatoes and fill them with the barbecue lentil mixture.

Drizzle with the sriracha mayonnaise, garnish with parsley and red pepper flakes and serve warm.
You can use sweet potatoes instead of russet potatoes if you prefer
Barbecue Spice Blend recipe (optional)
To make your own vegan barbecue spice mix, combine the ingredients below in a small bowl and stir until well blended. Store in an airtight contained for up to two months.
Ingredients
1 tbsp smoked paprika, or a combination of sweet and smoked
1 tsp garlic powder
1 tsp dried oregano or parsley (or 1/2 tsp of each)
3/4 tsp onion powder
1/2 tsp dried thyme
1/2 tsp cumin or ground coriander
1/4 tsp celery seeds (optional)
1/4 tsp cayenne pepper (optional)
1/4 tsp freshly ground black pepper (optional)
1 tbsp coconut sugar
1/2 tsp salt (optional)
This baked potato recipe was republished with permission from Vegan Richa's Instant Pot Cookbook. Follow her on Instagram for more plant-based recipes.
More like this:
---
If you purchase something through a link on our site, Plant Based News may earn a commission, which helps us to provide our free services to millions of people each week.