Mushroom sales across Australia have risen significantly, according to new reports. The trend has been linked to growing demand for meat alternatives due to health, environmental, and cost reasons.
ABC Rural, a department of the Australian Broadcasting Corporation, first reported on the uptick in consumption. It stated that mushroom sales are "shooting up" throughout the country, as the plant-based food "turns up on dinner tables across Australia in greater numbers than ever."
According to the organization, Australians are now consuming more than 70,000 tonnes (more than 154 million pounds) of mushrooms a year, compared to roughly 65,000 tonnes in 2013.
Mushrooms boost Australia's economy
Increased demand for mushrooms has translated into a 25 percent increase in the Australian market between 2012 and 2020. By the end of this period, the sector's value topped AUS $368 million, with domestic consumers making up the majority of buyers.
Indeed, of all the mushrooms grown between 2019 and 2020, 97 percent remained within the country. Foodservice accounted for just 22 percent of this, with other sectors clocking up minor percentages. The rest (almost 78 percent) is attributed to retail sales.
At present, neighboring states New South Wales and Victoria are the principal growing regions. However, recent talks indicate that Adelaide will be crowned the country's mushroom capital. This will follow a AUS $110 million redevelopment of a former General Motors Holden factory into a dedicated fungi factory.
The site is predicted to produce more than 20,000 tonnes of exotic mushrooms and related products each year. Some of these will include mycoprotein meat alternatives which, to date, have not been manufactured at a commercial scale in Australia.
The growing popularity of mushrooms has been documented elsewhere in the world, too. In fact, over the 30-year period from 1990 to 2020, global mushroom production increased 13.8-fold to 42.8 million tons.
Why are mushrooms so popular?
Multiple factors are said to be influencing the pattern. Some sources claim that increased living costs are spurring on a move away from meat across the country. As such, animal protein is being left off plates to reduce grocery shopping bills, with cost-effective mushrooms and other alternatives taking their place.
With a fibrous texture and umami flavor, mushrooms can be a convincing replacement for traditional animal meat. Moreover, they are versatile, meaning they can be used in a variety of dishes and cuisines.
"From a culinary perspective, mushrooms perform really well as a meat replacement," nutritionist Flavia Fayet-Moore told ABC Rural News. " When you add umami, it's the meat savory taste, and that makes food taste better."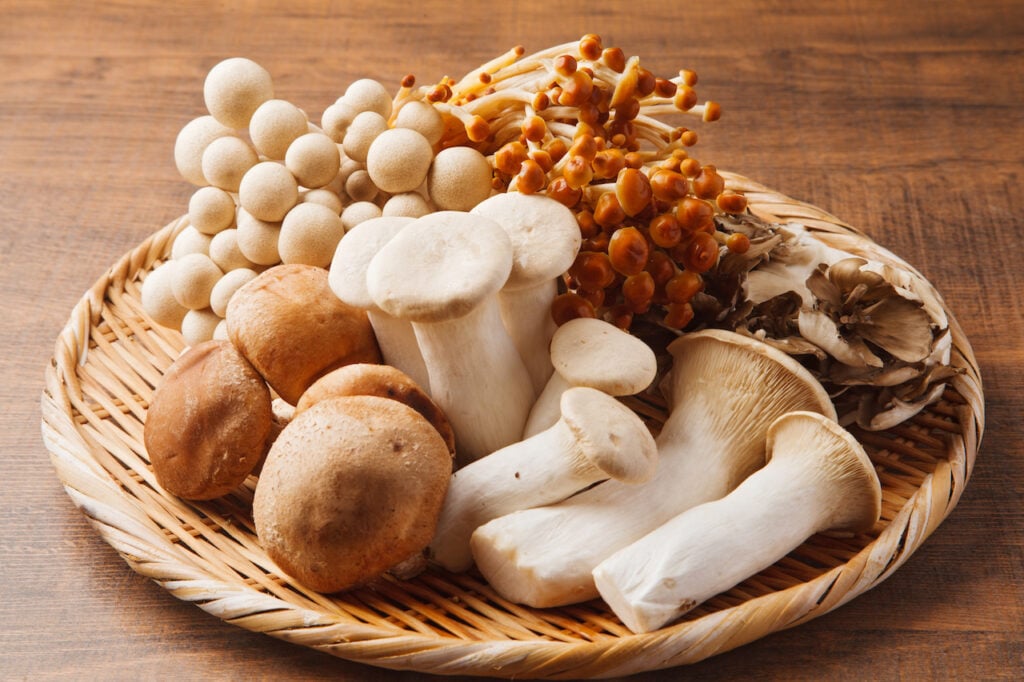 Alongside their likeness to meat, mushrooms make for a more sustainable option than animal protein, with significant potential to decrease deforestation, greenhouse gas emissions, and pollution.
Nutritional benefits of mushrooms
The potential health benefits of eating mushrooms are also drawing consumers in.
As a food source that's dense in protein and detoxifying properties, mushrooms are considered to be a powerful weapon in the fight against many chronic conditions. These include but are not limited to heart disease, depression, Alzheimer's, and cancer.
Additionally, mushrooms play a key role in maintaining healthy immune systems and bones. The plant-based food can be a rich source of vitamin D, and provides potassium, B vitamins (B2, B3, B5, and folate), and selenium.
Ways to cook mushrooms
You can do a lot of things with mushrooms, from recreating Derek Sarno's Lion's Mane steak to a simple garlic butter topper for jacket potatoes.
Here are some vegan-friendly recipes to try: