Mac 'n' cheese is a staple in almost every vegan home. But add in some delicious butternut pumpkin (squash) and it takes on a whole new vibe. That's exactly what Zacchary Bird was aiming for when he developed his hugely popular veggie-filled pasta recipe.
As Bird says: hidden veggies in food are a dead trend. The practice of trying to sneak healthy ingredients into meals died alongside other failed food fads, such as salads suspended in Jell-O (what WAS this about in the 1950s?). Now, it's time to proudly display your love of vegetables at the dinner table. That's why you'll find generous chunks of butternut pumpkin stirred through this mac 'n' cheese recipe. This is instead of being blended into the cheese sauce.
Why add pumpkin to mac 'n' cheese?
It's true, there are a host of vegetables that would work as a mac 'n' cheese addition. However, butternut squash or pumpkin work so well due to their texture. Soft, smooth and with an almost sweet taste, they offer depth to any vegan cheese sauce but without overpowering it.
Moreover, perfectly-cooked chunks will mirror the texture of macaroni noodles, offering a cohesive mouthfeel. In short, their pairing was just meant to be.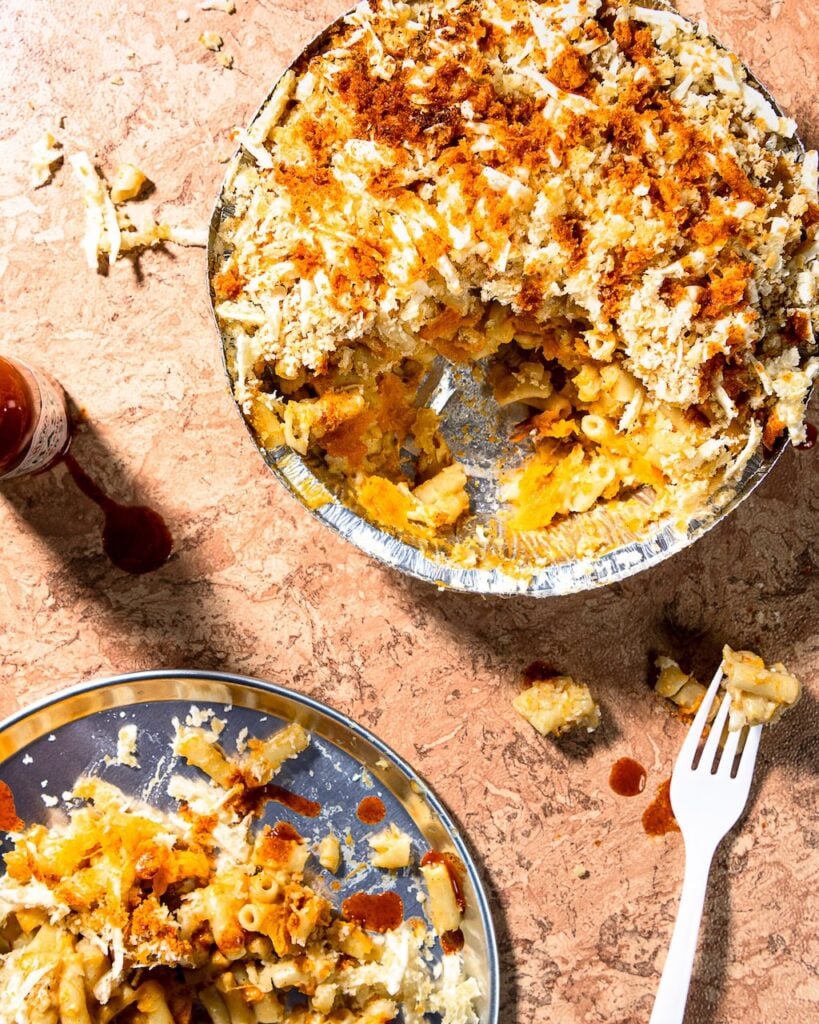 Ingredients
200-300

g

butternut pumpkin (squash)

(peeled, deseeded and roughly chopped)

200

g

dried macaroni

1

tbsp

olive oil

1.5

tbsp

plain all-purpose flour

310

ml

soy milk

125

g

shredded dairy-free cheese

1

tsp

garlic powder

1

tsp

dijon mustard

2

tbsp

nutrtional yeast

1/8

tsp

ground nutmeg

1

tsp

finely chopped thyme

1/2

tsp

ground sage

sea salt and ground pepper

30

g

panko breadcrumbs
Instructions
Preheat the oven to 200°C (400°F). Line a baking tray with baking paper. 

Place the chopped butternut on the prepared tray and bake for 20 minutes or until soft and cooked through. Transfer the pumpkin to a bowl and lazily mash it with a fork to create a lumpy mash. Reduce the oven temperature to 160°C (320°F). 

Cook the macaroni according to the packet instructions until just before al dente. Drain and set aside in a medium baking dish. 

Heat the olive oil in a saucepan over medium heat. Sift in the flour and stir constantly for 2 minutes until you have a roux. Once the roux starts to bubble, gradually whisk in the soy milk a little at a time. When all the milk has been incorporated, stir in three-quarters of the cheese, the garlic powder, mustard and nutritional yeast and cook, stirring, for 8–10 minutes, until thickened. Remove from the heat and stir through the nutmeg, thyme, chilli and sage. 

Pour the cheese sauce over the cooked pasta, add the mashed butternut and gently mix to combine. Season with salt and pepper, then scatter the remaining cheese and the breadcrumbs over the top.

Transfer to the oven and bake for 30 minutes or until the breadcrumbs are crisp and golden. 

Allow the mac 'n' cheese to cool for 10 minutes before serving.
Top tips for the best veggie-filled mac 'n' cheese
Tweak this recipe to align with your personal preferences. Try experimenting with different cheese varieties and flavors and even squash styles. For a double vegetable hit, you could even make a carrot and swede mash (a UK favorite!) and stir that through in place of butternut.
—
This butternut mac 'n' cheese recipe extract was republished with permission from Vegan Junk Food by Zacchary Bird.