It's now officially fall in many parts of the world, and many of us will be on the lookout for some warming breakfast recipe ideas that are both nutritious and seasonal. This pumpkin spiced oatmeal could be just what you're after.
In the UK alone, it's estimated that around 24 million pumpkins will be bought this month. The vast majority will be utilized for Halloween, with many families carving them up and using them as decoration. Despite the fact that pumpkins are often regarded as a versatile and nutritious food, around half of the pumpkins we buy will be thrown away without being eaten.
Benefits of pumpkin
Pumpkins are in season right now in many parts of the world, meaning there's no better time to experiment with cooking them. As well as being tasty, pumpkins are hugely rich in vitamin A, with one cup containing 245 percent of your recommended daily amount. They are also a source of vitamin C, potassium, copper, and manganese.
The below recipe, which comes from World of Vegan, uses pumpkin puree as its ingredient. You can find this in tinned form in many grocery stores, or alternatively make it yourself from scratch at home.
Pumpkin baked oatmeal recipe
Oatmeal is such a staple breakfast in so many households! In this recipe, instead of cooking it on the stove, we baked it so it has a more compact feel and you can have several portions in one go! A sweet and perfectly spiced baked oatmeal!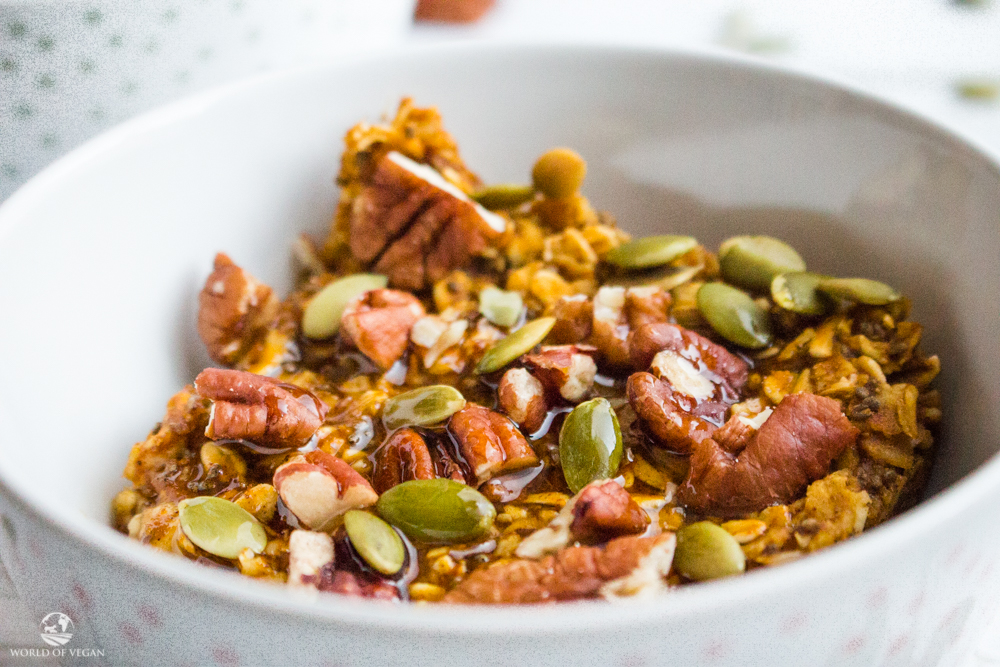 Ingredients
1 & 1/3

cup

rolled oats

1

tbsp

chia seeds

2

tsp

pumpkin spice

1

tsp

cinnamon

1/4

tsp

baking powder

1/4

tsp

salt

1/2

cup

non-dairy milk

1/2

cup

pumpkin puree

1/4

cup

maple syrup

plus more for serving

1

tsp

vanilla extract

1/4

cup

chopped pecans

1

tbsp

pumpkin seeds
Instructions
Preheat the oven to 350 degrees F. Gently grease a loaf pan with coconut oil or line it with parchment paper. Set aside.

In a large bowl, add the oats, chia seeds, spices, baking powder, and salt.

In a medium bowl, whisk together the milk, pumpkin puree, maple syrup, and vanilla extract.

Add the liquid to the dry ingredients and mix to combine.

Pour the oatmeal into the loaf pan. Sprinkle the pecans and pumpkin seeds on top of the oats. Bake for 15 minutes.

Remove the oats from the oven and serve it immediately while it's hot. Use a large spoon to scoop a serving into a bowl. Drizzle with maple syrup and enjoy!
More like this: