Millionaire's shortbread is a hugely popular baking recipe that originates in Scotland. While it's traditionally heavy on animal products, it's perfectly easy to make a vegan version. If you're looking for some Sunday baking inspiration, try out this dairy-free millionaire's shortbread recipe.
Also known as caramel shortbread, millionaire's shortbread refers to a biscuit item containing three layers: shortbread, caramel, and chocolate. Generally speaking, the shortbread will contain butter, while the chocolate will be made using milk.
The below Romy London recipe, however, uses only plant-based ingredients.
How to make vegan millionaire's shortbread
The demand for dairy-free alternatives is growing around the world, and you can now find vegan versions of pretty much any ingredient you'll need in your local supermarket. This recipe calls for plant-based spread instead of butter, as well as dairy-free milk, cream, and chocolate spread.
Here's how to make it:
Dairy-free millionaire's shortbread recipe
Deliciously sweet and gooey Vegan Millionaire Shortbread, created with a vegan shortbread base and tasty salted caramel made from almond butter – that's next level snacking!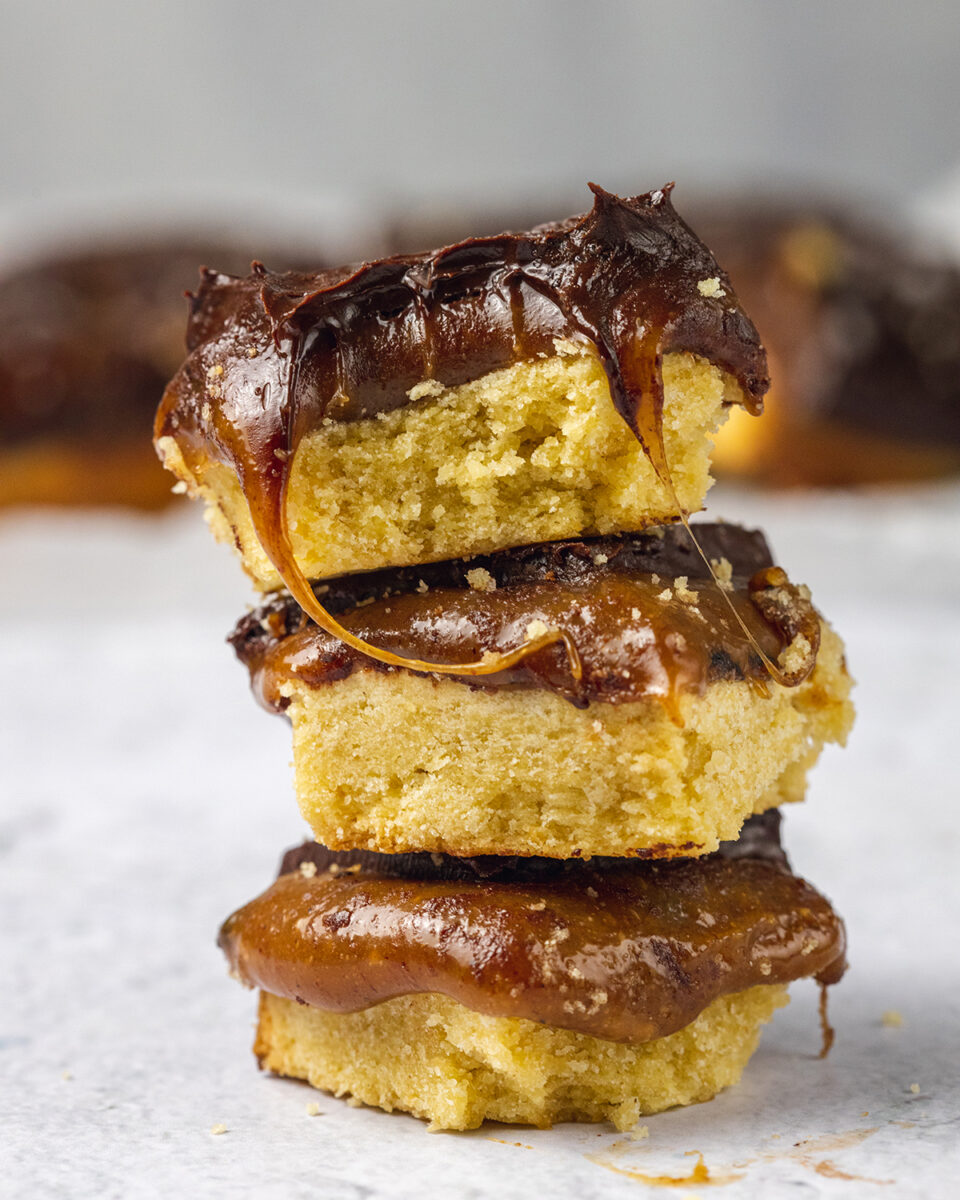 Ingredients
For the shortbread case
1.5

cups (180g)

all purpose flour

2

tbsp

almond flour

1

pinch

sea salt

1/2

cup (63g)

icing sugar

1/2

cup (115g)

dairy-free butter
For the almond butter caramel
1/2

cup (130g)

smooth almond butter

1/2

cup (100g)

light brown sugar

1

cup (300g)

dairy-free sweetened condensed milk

1/2

tsp

sea salt flakes

2

tbsp

dairy-free cream

3

tbsp

cornstarch
For the chocolate topping
1/2

cup (140g)

vegan chocolate spread

Sea salt flakes (optional)
Instructions
Start with the shortbread base – preheat your oven to 180C (356F), then combine the flour, almond flour, sea salt, and icing sugar in a mixing bowl, then add in the dairy-free spread and use your hands to crumb it into the mix until no big pieces of spread are left and the mixture is crumbly.

Place the mixture into a 8×8-inch (20×20 cm) square baking tin and press it against the bottom to create an even layer. Pierce the base with a fork multiple times, then bake it in the oven for 20 minutes or until lightly golden. Remove from the oven and cool for at least 30 minutes.

In the meantime, prepare your salted almond butter caramel: to a non-stick pan add the almond butter, brown sugar and condensed milk. Give it a good stir to mix and heat over gentle heat until the sugar is caramelised and well incorporated. Sprinkle in the sea salt flakes and fold them in, then stir the cornflour into the vegan cream and pour the mixture into the caramel. Stir to combine, then remove the caramel from the heat and allow for it to cool for 5-10 minutes to slightly harden.

Pour the caramel on top of the shortbread base and spread it out evenly, then place it in the freezer for at least 1 hour.

Melt your vegan chocolate spread in your warm oven at about 50-60C for 10 minutes, so that the spread becomes soft and runny. Pour the chocolate spread on top of the frozen caramel and spread it across the top with the back of a spoon, then sprinkle with sea salt flakes (optional). Transfer to a fridge or freezer to set for at least 2 hrs.

Remove from the freezer and slice the millionaire shortbread whilst still frozen. Let it rest at room temperature for at least 20 minutes before digging in & enjoy!
This recipe was republished with permission from Romy London. You can view the original recipe here.
More like this: