Kourtney Kardashian and her husband Travis Barker have joined the growing list of celebrities showing off their vegan creations this holiday season.
The reality star organized an entirely plant-based Thanksgiving meal for her Blink 182 drummer husband's 48th birthday last week, with 14 items on the menu. 
The spread featured plant-based versions of a number of traditional Thanksgiving dishes, including setian "turkey," mashed potatoes, green bean casserole, and pumpkin pie.
Kardashian shared a number of photos of the table and menu to her 224 million Instagram followers, writing: "vegan thanksgiving for my baby's birthday @travisbarker."
Kourtney Kardashian's vegan Thanksgiving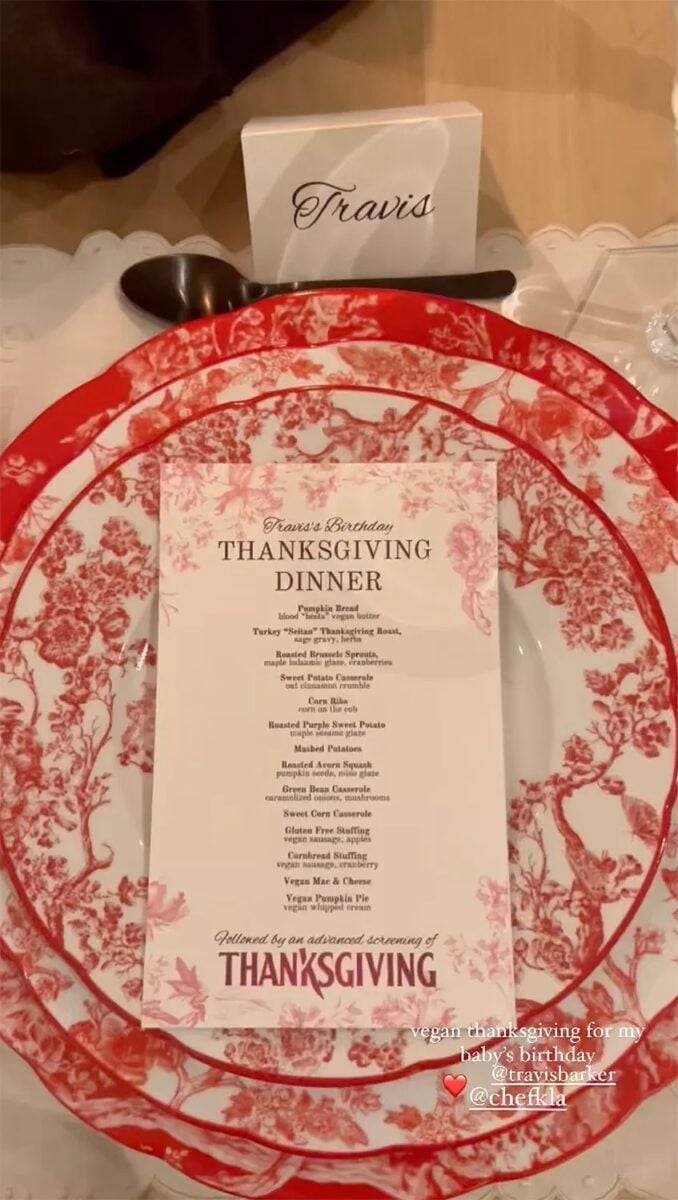 Thanksgiving falls on Thursday, November 23, this year – and if you're looking for some inspiration for your own vegan meal, here's everything Kardashian and Barker ate:
Pumpkin bread
Turkey "seitan" Thanksgiving roast
Roasted Brussels sprouts
Sweet potato casserole
Corn ribs
Roasted purple sweet potato
Mashed potatoes
Roasted acorn squash
Green bean casserole
Sweet corn casserole
Gluten-free stuffing
Cornbread stuffing
Vegan mac & cheese
Vegan pumpkin pie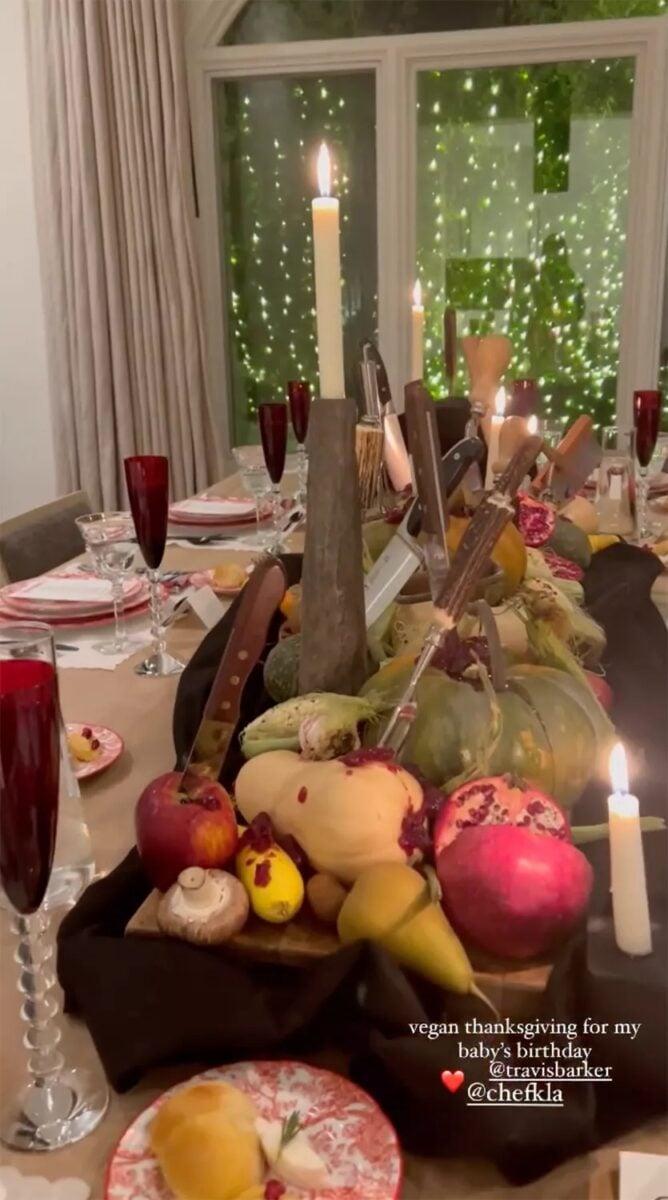 Travis Barker and veganism
Barker has been vegan for a number of years, and he has regularly been vocal about animal advocacy.
It's thought that he adopted a vegetarian diet at the age of 13, but he started to eat meat again after surviving a plane crash in 2008. Speaking to the Guardian in 2015, he explained that he had to eat a huge amount of food to recover, and that there wasn't vegan food available in the hospital.
"I had to have 6,000 calories a day. Obviously, they didn't have a vegan chef for me, so I had to eat whatever," he told the publication. "I ended up eating a lot of beef jerky, and extra-large peanut butter smoothies, which had like 3,000 calories each."
Travis subsequently dropped all animal products from his life and went vegan. He has since starred in campaigns for animal organizations, and discussed the health benefits of a plant-based diet.
"I've been vegan for many years and vegetarian for even longer—Alabama [his daughter] is vegetarian," he told PETA in 2017. "We've always loved animals, and we choose not to eat animals. We choose a vegan and vegetarian lifestyle … we have a pig that's so smart, and to think that people still eat them is insane."
Barker has stated that he has "endless amounts of energy" due to his diet, and that he often snacks on vegetables like broccoli and cauliflower.
Kourtney and Travis promote vegan brands
Kardashian has previously stated that she eats mostly plant-based diet, but that she isn't fully vegan. The two have starred together in advertisements for vegan brands, including for Daring Chicken in 2022.
"I've been on a health and wellness journey for the past 13 years, which has made me super conscious of what I put into my body and my kids' bodies," she said at the time.
"I'm not fully vegan, but Travis has helped me keep to a mostly plant-based diet, which is so much easier with Daring… I honestly cannot believe how much it tastes like chicken. There are a lot of plant proteins out there, but we're always looking for options that are super clean with all-natural ingredients."
More like this: