Succession star James Cromwell has again called on Starbucks to end its vegan milk surcharge by partaking in a new PETA-led initiative.
The campaign sees nearly 100 screens "take over" the iconic Atlantic City Boardwalk in New Jersey. The stretch is said to be the longest and busiest boardwalk in the world.
The actor's face can be seen on dozens of advertising columns and other structures along the coast. Beside it, some text reads: "Helping Animals and the Earth Isn't a Tall Order. Starbucks, End the Vegan Upcharge."
The five-mile-long boardwalk first opened in 1870, making it the oldest in the United States. It's considered by some to be "the backbone" of Atlantic City.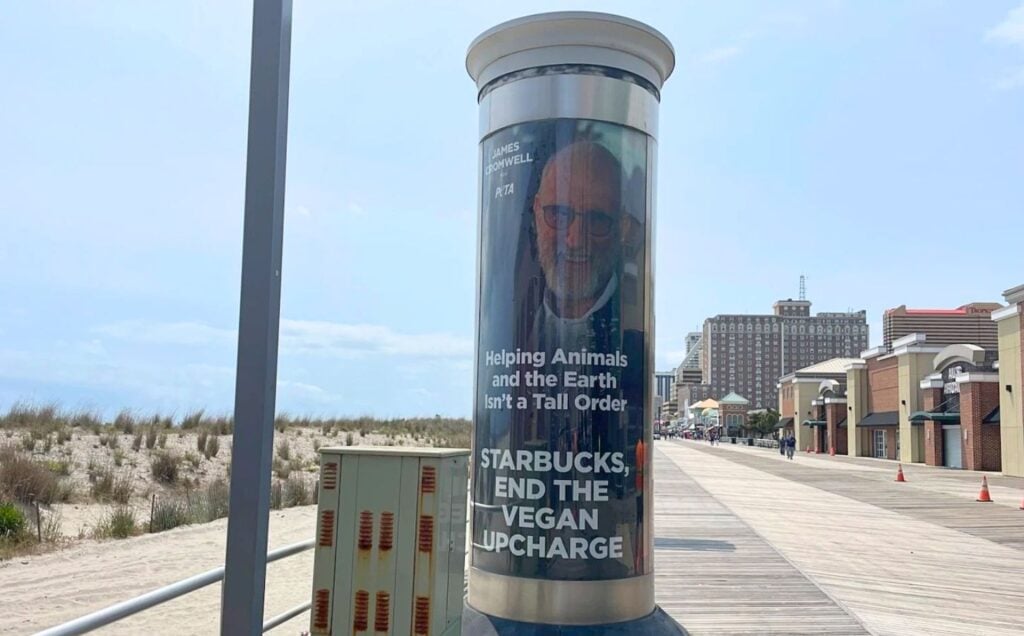 Shops, restaurants, hotels, casinos, and other attractions line the promenade. PETA says the new screens are within sight of two separate Starbucks locations.
Starbucks charges extra for vegan milk
The world's largest coffee chain has long applied surcharges to its dairy-free milk options. In the US, Starbucks offers almond, coconut, oat, and soy milk alongside dairy. But consumers have to pay around 70-90 cents more for it.
"Dropping the upcharge would make it easier for compassionate customers to choose animal- and planet-friendly vegan options," commented Cromwell, who starred in Babe in 1995. The film earned him an Academy Award nomination, and was the catalyst for his journey to veganism.
The actor underscored that "many other coffee companies have already stopped charging extra for these choices." Indeed, even some of Starbucks' own international locations have ditched the added fee, including in the UK and Germany.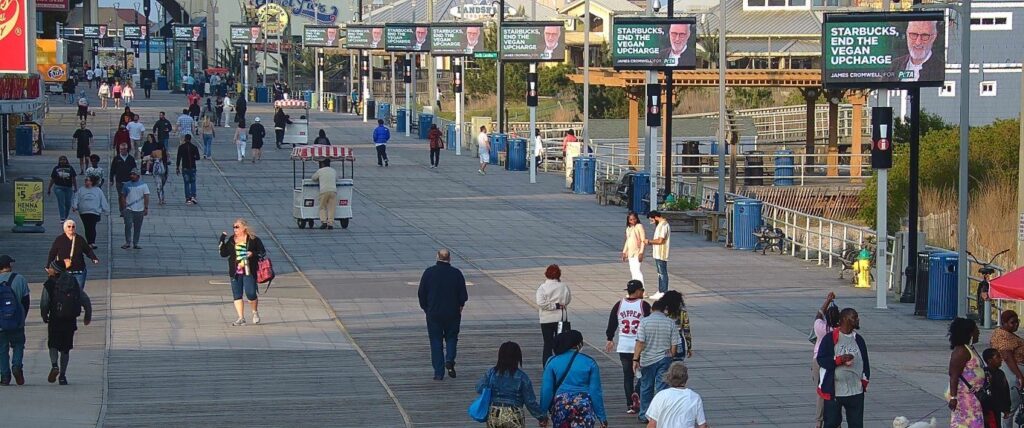 The move is more important than ever, the actor says, in part due to environmental reasons. "We all have a stake in the life-and-death matter of the climate catastrophe, and Starbucks should do its part by ending its vegan upcharge," he stated, adding that the surcharge "punishes kind and environmentally conscious customers."
Cromwell isn't alone in his request. Beatles legend Paul McCartney has also participated in PETA campaigns about the matter. McCartney wrote to the CEO of Starbucks and placed his support behind a petition urging the company to stop the upcharge. It has since garnered more than 150,000 signatures.
James Cromwell activism
The recent Atlantic City campaign is certainly not Cromwell's first in the vegan space, or his first aimed Starbucks.
In May 2022, the 83-year-old superglued himself to a Starbucks counter in protest of the vegan dairy surcharge. "When will you stop raking in huge profits while customers, animals, and the environment suffer?" he said at the time.
In 2019, Cromwell was arrested during a protest against animal testing at Texas A&M University. Two years prior, he was arrested for trespassing after interrupting an orca performance at SeaWorld.