Plant-based milk giant Oatly has issued the dairy industry with a challenge. Specifically, to follow its lead and be honest about its climate and environmental footprint.
Oatly completed a lifecycle assessment of its oat milk lines. The results, it claims, show that the vegan Barista Edition milk has a significantly lower climate impact than traditional cow's milk. Figures floated suggest a footprint of 44-76 percent smaller.
To highlight its perceived environmental superiority, Oatly bought up premium advertising real estate in the New York Times, LA Times, and Washington Post. Alongside, large billboards in Times Square and Hollywood also display the environmental messaging.
Arguably the most notable part of the campaign is not Oatly's declarations, but the blank ad spaces that sit adjacent to them. These were purchased by Oatly for Big Dairy to shout about its own environmental impact. All the dairy sector has to do to use them is reveal its climate footprint data.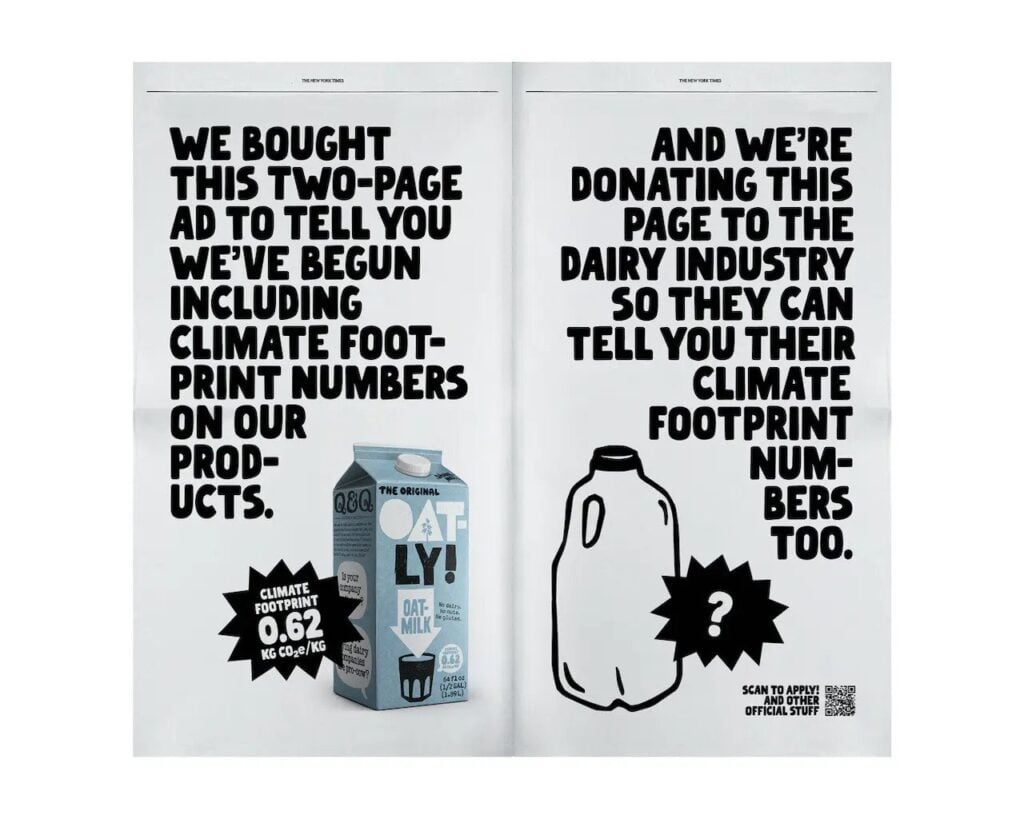 Will Big Dairy accept Oatly's challenge?
To take Oatly up on its offer of free advertising, the dairy sector needs to work out its environmental impact using a dedicated website. There, it will have to answer the same questions as Oatly.
Once the dairy figures have been calculated, they would be published across premium ads, next to Oatly's, for easy comparison. However, the likelihood of this transpiring seems small, given animal agriculture's historic lack of transparency.
Big Dairy, along with the meat sector, has traditionally tried to downplay its environmental impact. This, while not revealing quantitative data that can be objectively scrutinized.
However, widely accepted working theories suggest that dairy is a leading cause of deforestation and methane emissions. Moreover, it has been claimed that even the least sustainably produced soy milk is still less impactful than the most sustainable dairy.
Taking aim at plant milk
Oatly's offer comes as Big Dairy recently fanned the flames of its competition with vegan alternatives. Paying for a satirical milk advertising campaign starring actor Aubrey Plaza, the dairy sector delivered the message that "only real milk is real."
The campaign has received significant backlash with even Plaza's own fans voicing their disappointment. However, once the feedback started to pour in, her Instagram comments were turned off.