If someone was asked to make a list of vegan celebrities, there's a good chance Joaquin Phoenix would be at the top.
The Academy Award-winning actor, known for his roles in films like Walk the Line and Joker, is almost as well known for his animal advocacy as he is for his movie career. He regularly uses his platform to stand up for non-human animals, and takes part in a great deal of activism. 
Phoenix has been an actor since childhood, starring in his first TV role in 1982 when he was eight years old. He had a small role in a Christmas episode of American musical comedy series Seven Brides for Seven Brothers.
Many people may be unaware that he had already begun his vegan journey by the time he had his first job, as he developed a passion for animal rights at a very young age. Here's everything you need to know about his veganism.
Is Joaquin Phoenix vegan?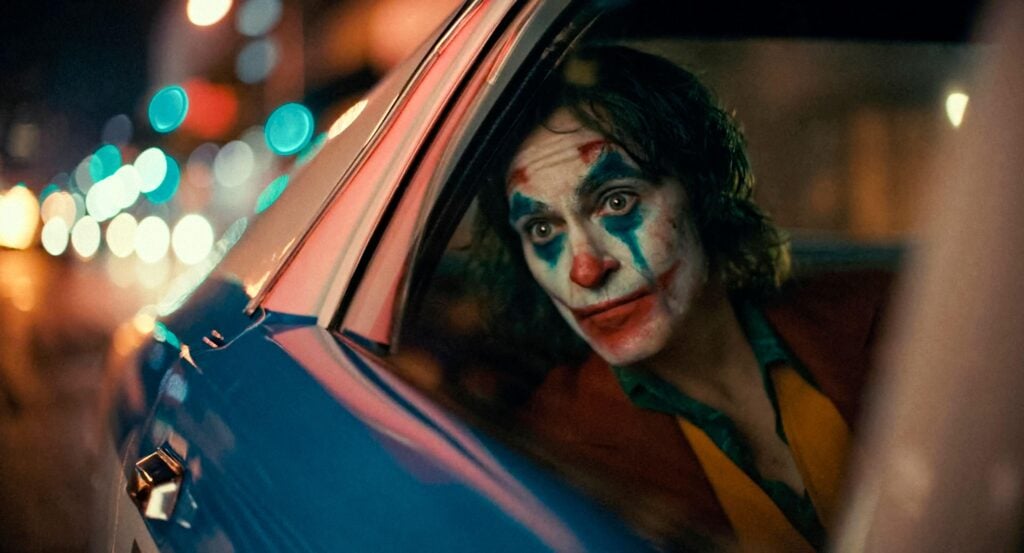 You've probably guessed by now that, yes, Joaquin Pheonix is indeed vegan. He was just three years old when he ditched animal products. While traveling with his family on a cargo ship from Venezuela to Miami, he and his siblings witnessed fish being "killed in a really violent and aggressive way."
Recalling the incident in an interview with Brut, Phoenix said: "It was just absolutely obvious that that was something we didn't want to participate in and support. To me, it just seems obvious.
"I don't want to cause pain to another living, empathetic creature. I don't want to take its babies away from it, I don't want to force it to be indoors and fattened up just to be slaughtered." He went on to describe killing animals for food as "absurd and barbaric," adding: "I just don't understand how you could witness that and not be affected by it."
After he and his family saw the incident, Phoenix asked his mom why she didn't tell him that's how fish were made. He said that she had "tears streaming down her face," and a few months later he and his siblings went vegan.
Joaquin Phoenix's animal advocacy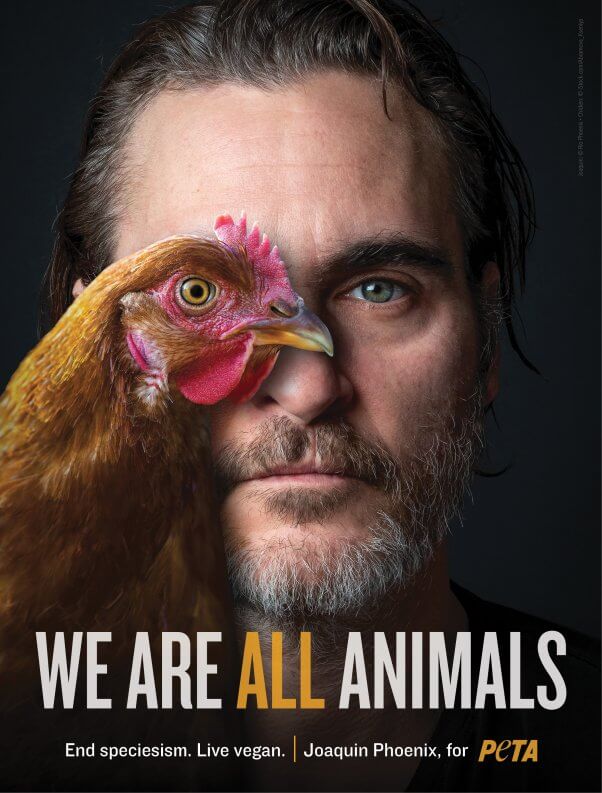 Throughout his life, Phoenix has joined forces with a number of animal organizations, including PETA. In 2021, he appeared in a campaign called "We Are All Animals," which encouraged the public to "live vegan" and "help end speciesism."
Speciesism is the idea that humans are superior to other animals. It's this belief that has, for thousands of years, served as our justification for exploiting and killing them for our own benefit. "When we look at the world through another animal's eyes, we see that inside we're all the same – and that we all deserve to live free from suffering," said Phoenix at the time. 
Phoenix has regularly attended vigils outside slaughterhouses. In January 2023, he released a statement to mark the closing of Farmer John slaughterhouse in LA.
"The closure of the Farmer John slaughterhouse is only the end of a chapter in a book that is still being written, a book in which we continue to advocate for the liberation of all animals who suffer in these oppressive systems," he said. "I am thankful to L.A. Animal Save and everyone in this community who has shown these animals the only kindness and respect they have ever known. You have taken the pain of bearing witness, and turned it into effective, peaceful, diplomatic advocacy for animals."
Raising awareness at the Oscars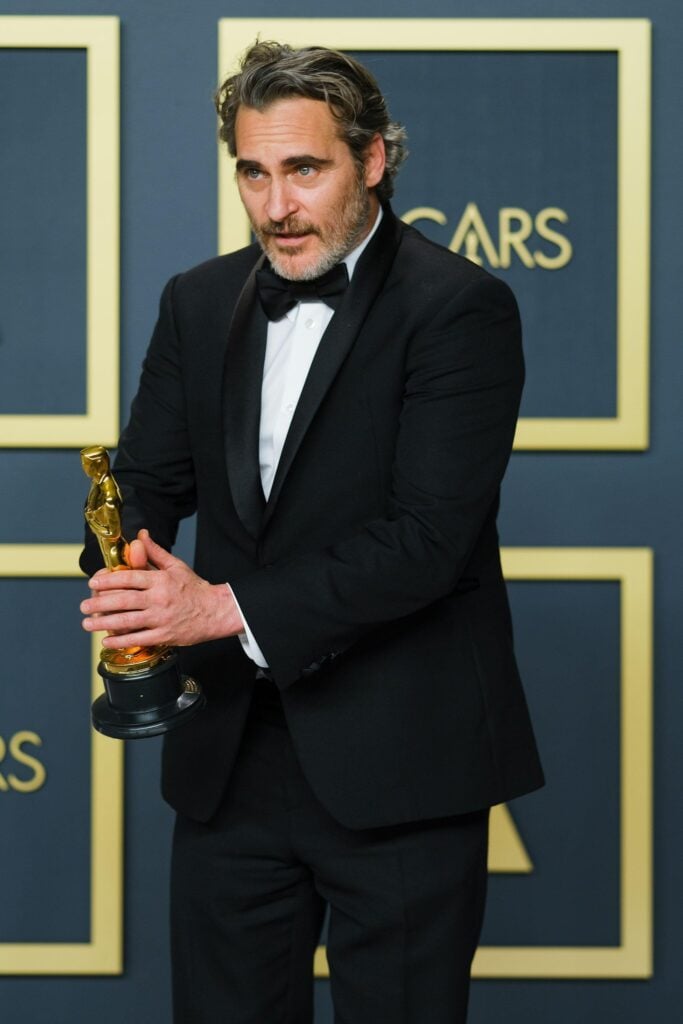 Phoenix won his first Academy Award in 2020, bringing home the Oscar for best actor in Joker. While many celebrities use their speech to thank their family and friends, Phoenix dedicated his to sending a powerful message about animal rights.
"We (actors) share the same love, the love of film. And this form of expression has given me the most extraordinary life … I don't know what I'd be without it," he said. "But I think the greatest gift that it's given me, and many of us in this room, is the opportunity to use our voice for the voiceless."
He then highlighted that social justice issues like sexism, racism, LGBTQIA+ rights, Indigenous rights, and animal rights all fall under the same umbrella. He said that these occur when one group, or species, feels they have "the right to dominate, control and use and exploit another with impunity."
Phoenix went on to say: "We go into the natural world and we plunder it for its resources. We feel entitled to artificially inseminate a cow and steal her baby, even though her cries of anguish are unmistakable. Then we take her milk that's intended for her calf and we put it in our coffee and our cereal."
While his speech was celebrated by some in the audience, a few people noticeably abstained from applauding. One of his supporters was Ellen Degeneres, who later tweeted: "That was a brave speech straight from Joaquin Phoenix's heart. Thank you, Joaquin."
Joaquin Phoenix and animal rescue
The day after his speech, Phoenix rescued a cow and her calf from a slaughterhouse in California. He did so in partnership with Farm Sanctuary, where the two were later housed.
"My hope is, as we watch baby Indigo grow up with her mom Liberty at Farm Sanctuary, that we'll always remember that friendships can emerge in the most unexpected places; and no matter our differences, kindness and compassion should rule everything around us," he said at the time.
Joaquin Phoenix, Earthlings, and other vegan films
Phoenix is the narrator of the 2005 documentary Earthlings, which has been credited with helping a large number of people make the move to veganism. The film explores the many ways humans exploit animals, with focus on the food, pet, clothing, science, and entertainment industries.
He also served as an executive producer on the 2020 film Gunda, which documents the life of a mother pig and other animals. He held the same role on 2022 film End of Medicine, which explores the link between animal agriculture and health threats like pandemics and antibiotic resistance. 
Is Joaquin Phoenix's partner and kids vegan?
Phoenix has been engaged to Rooney Mara since 2019, and they share a son named River, who was born in August 2020. Mara is also a committed vegan and activist. Phoenix previously shared that he won't "force" his son to be vegan, but that he will be honest with him about where his food comes from.
"Well, certainly I would hope that [he is vegan], but I'm not going to impose my belief on my child," he told The Sunday Times. "I don't think that's right. I'm going to educate him about the reality. I'm not going to indoctrinate him with the idea that McDonald's have a Happy Meal because there's nothing f***ing happy about that meal.
"And I'm not going to tell him that it's OK to read books about all the wonderful little farm animals, and they say 'oink oink oink' and 'moo moo moo', and not tell him that that's what a hamburger is. So I'm not going to perpetuate the lie, but I'm also not going to force him to be vegan. I'll support him. That's my plan."
—
More like this: