Krispy Kreme is one of the world's most famous doughnut brands, selling its treats on a global scale. The brand was relatively late to the vegan market, with the Krispy Kreme Original Glazed Vegan arriving in 2021 as its first animal-product-free doughnut. Krispy Kreme has now extended its vegan range further, currently only available to doughnut lovers in the United Kingdom, and it has just announced two doughnut flavors going on sale in Australia.
Krispy Kreme was born in 1937, when founder Vernon Rudolph purchased a yeast-raised doughnut recipe from a French chef in New Orleans. He then rented a building in North Carolina to begin selling the doughnuts to local grocery stores. In 1955, the brand's famous bowtie logo was trademarked, and sixty years later in 2015, the company celebrated opening its 1000th Krispy Kreme store in Kansas City. UK supermarket chains such as Tesco now sell Krispy Kreme doughnuts in dedicated display cases. In the USA alone, there are 379 Krispy Kreme stores.
Krispy Kreme's Vegan Range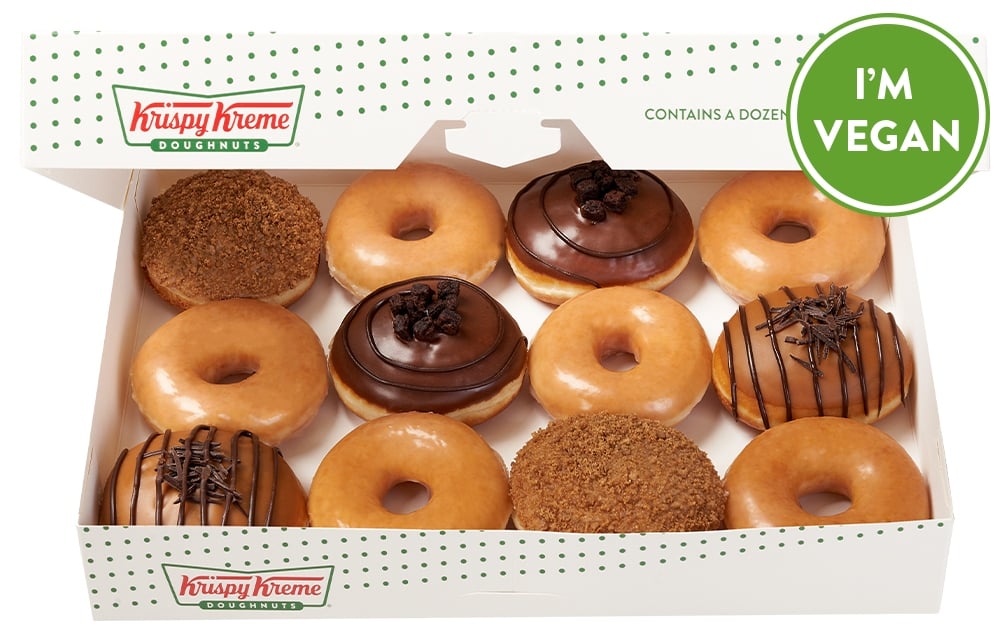 Krispy Kreme's first trialed vegan doughnut was a plant-based version of its Original Glazed, which it describes as "where it all began." Like the entire vegan range, the Original Glazed Vegan is certified vegan by the Vegan Society.
Following its success, Krispy Kreme now offers six vegan doughnuts in the UK. There are two chocolate varieties: first, the Choc Custard Doughnut, hand-dipped in chocolate icing, with a filling of vanilla custard. Second is the Fudge Brownie Bliss, with a Belgian chocolate filling. As well as its chocolate icing, it is topped off with brownie pieces and dark chocolate drizzle.
There are then two Vegan Society-approved doughnuts that fall under the iced ring category: the Caramel Iced Ring and the Strawberry Iced Ring — the former with caramel icing finished by a caramel drizzle, the latter with strawberry drizzle and icing.
Completing this plant-based lineup is the Salted Caramel Doughnut, from the 'jelly doughnut' style such as the Fudge Brownie and Choc Custard, as there is filling rather than a hole in the center. Within is a salted caramel filling, and sitting atop the caramel icing are pieces of honeycomb.
Where to buy Krispy Kreme Vegan Doughnuts in the UK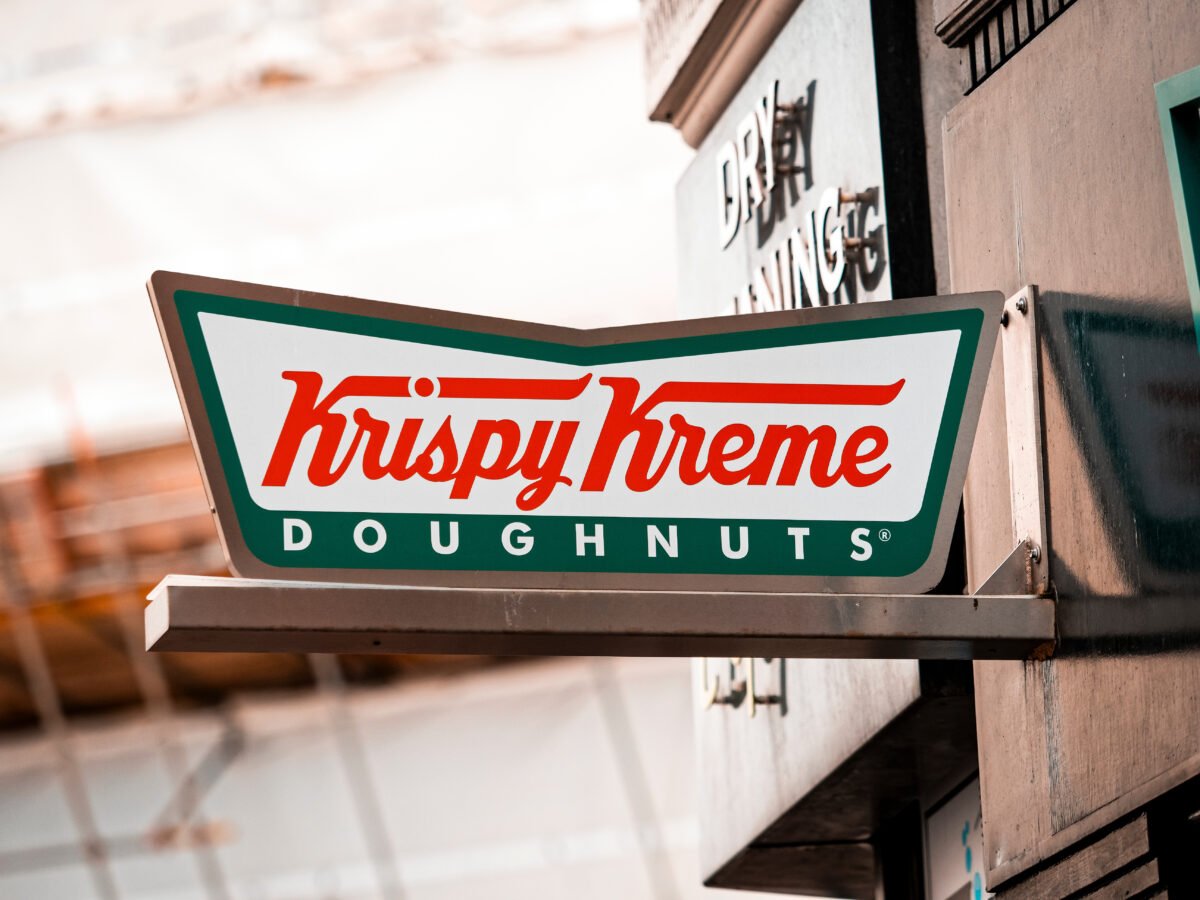 One way in which UK customers can purchase their vegan Krispy Kreme doughnuts is to order boxes from the company's official website. There is the Vegan Selection Dozen Box, containing 12 doughnuts that cover the full cruelty-free range. Those who just want the Original Glazed Vegan can order a box of 12, or a box of six with "Happy Birthday" written in icing on top of the Original Glazed icing (or, alternatively, a box of 12, with just one with the birthday message).
The boxes are for delivery only, while the Strawberry and Caramel Iced Ring varieties are available for both delivery and collection from the Krispy Kreme website. Other options for delivery, depending on your location in the UK, are via Just Eat, Deliveroo and Uber Eats.
Or, to purchase in person, look out for the Krispy Kreme branded display cabinets in certain UK supermarkets. The brand is currently partnering with Tesco, Asda, Sainsbury's, Morrisons and Eurogarages. As the doughnuts on offer will vary from shop to shop and what is available on each given day, make sure to double-check that the items you choose are labeled as vegan.
This leaves the final way in which to indulge in vegan Krispy Kremes, and that is from select Drive-thru locations around the UK. At present, you can drive up to a doughnut kiosk window in Bristol, Braehead, Edinburgh, Enfield, Leeds, Manchester, Peterborough and Shannon Corner.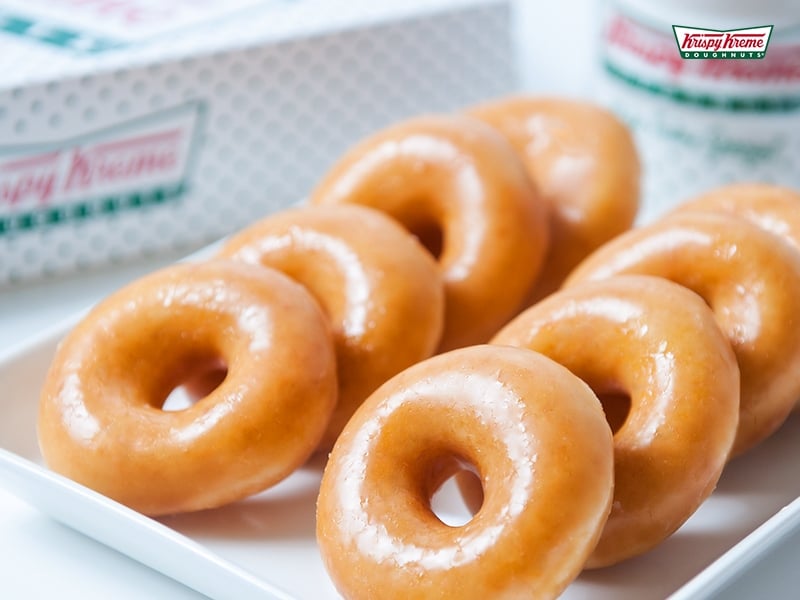 This may come as frustrating news for vegans who live in other countries and continents where Krispy Kreme doughnuts are available, such as the USA, Canada, Australia, Russia, Japan, the Middle East, Africa and beyond. The onus is on UK vegans to keep buying Krispy Kreme's vegan range until the company is convinced to introduce these plant-based doughnuts in other locations around the world.
Krispy Kreme announces vegan doughnut arrival in Australia
Krispy Kreme recently announced that two vegan doughnut flavors are to go on sale in Australia. The news came on World Vegan Day, Wednesday 1st November. The plant-based doughnuts will be available at Krispy Kreme and 7-Eleven stores across the country.
The Fudge Brownie Bliss, mentioned above as part of Krispy Kreme's UK range, is now available in Australia (but only until December 4th), as well as a new flavor not yet on sale to UK customers. The brand new Apple Custard Crumble flavor completes the brand's Australian plant-based lineup, containing creamy apple custard, dipped in spiced icing and topped off with a vanilla biscuit crumb.
"Krispy Kreme has always been about creating moments of joy through our delicious doughnuts," Aimee Cutajar, Head of Marketing at Krispy Kreme ANZ said. "We're thrilled to bring our vegan-friendly doughnuts to Australia for all to enjoy this World Vegan Day. Fudge Brownie Bliss and Apple Custard Crumble are also a testament to our commitment to delivering incredible flavours to our customers, and I'm confident they will captivate the taste buds of vegans and non-vegans alike."
Alternatives in the USA
It's not only Krispy Kreme that's yet to bring vegan doughnuts to the American market; we are still waiting on rivals Dunkin' Donuts to unveil a cruelty-free version of its famous delicacies. For US doughnut fans, there are lots of dedicated doughnut stores offering plant-based options around the country. Remember, when traveling, the Happy Cow app can be used to find vegan options and specific foods like doughnuts.
Voodoo Doughnut is an independent vegan doughnut chain, founded in Portland, Oregon, going on to open locations in Los Angeles, Denver and beyond. It isn't totally vegan, but it does offer lots of options for vegan customers. With a 220k following on Instagram, these doughnuts aren't to be sniffed at.
In New York City and NY State are two solid options — in Brooklyn, you can find Dun-Well Doughnuts, a 100 percent vegan business dedicated to selling a range of hand-crafted artisan doughnuts. Further afield out of the city in Beacon, NY is Peaceful Provisions. It's a completely vegan business selling small-batched yeast-raised doughnuts that are handmade from scratch.
In California, Friendly Donuts can be found in Orange County, and have a range of vegan and gluten-free options. The menu changes seasonally, but there are always a few plant-based sweet treats to choose from. You can check out the full Plant Based News guide to doughnuts in the USA and UK here.
More like this: