Chipotle is a hugely popular Mexican-inspired fast food restaurant chain. It specializes in burritos, tacos, and bowls, and has long offered a wide range of accidentally vegan menu options. It's therefore been a long-time favorite among meat-free, dairy-free, and plant-based diners.
Founded in 1993 by American businessman Steve Ells, Chipotle initially had 16 restaurants in Colorado in the US. The McDonald's corporation was an early investor in the business, helping the chain grow to 500 locations. Chipotle is no longer connected to McDonald's, but now operates more than 2,000 restaurants. The vast majority of these are in the US, but it also can also be found in Canada, the UK, France, and Germany.
Here's everything you need to know about eating vegan at Chipotle.
Chipotle vegan menu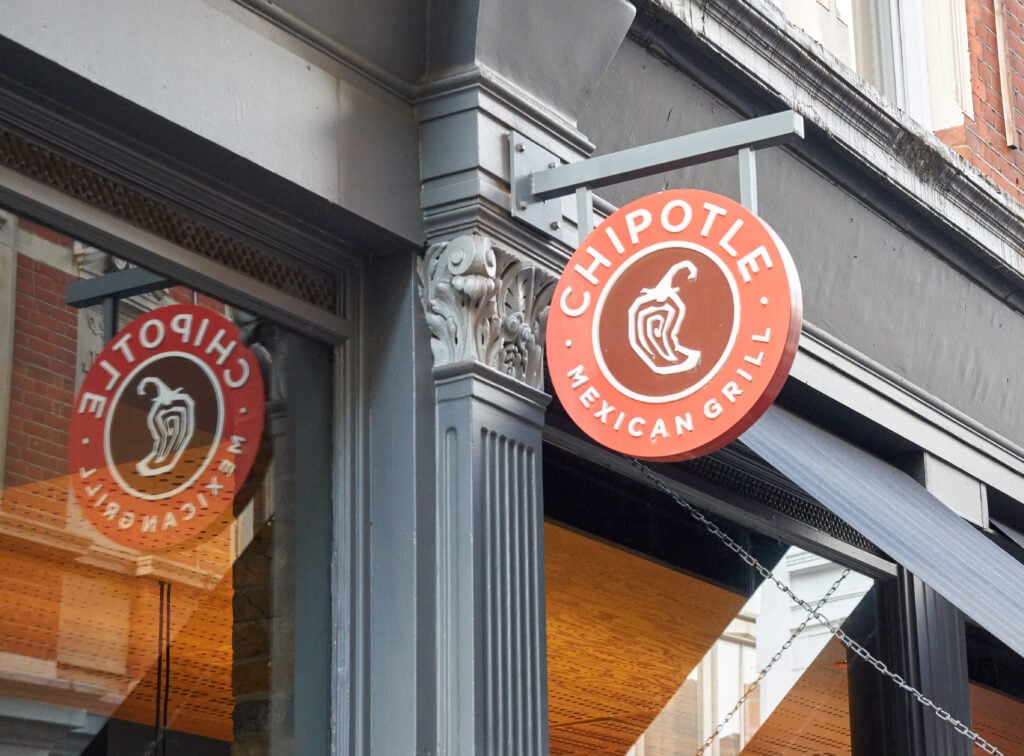 Eating vegan at Chipotle is a lot more straightforward than fast food chains like McDonald's or Domino's. This is because meat isn't really an integral part of any meal, and is merely just an optional addition. All the meals that make Chipotle famous – the burritos, tacos, salads – are all vegan-friendly if you order them without meat and dairy. The only menu item that isn't suitable for vegans is the quesadilla, as a key ingredient in this is dairy cheese.
Vegan main meals at Chipotle
First, you should decide if you want a burrito, a taco, or a salad. Neither the tortillas nor the taco shells contain any animal ingredients. You should tell your server at the start that you'd like a vegan version of these and will be holding the sour cream, cheese, and meat. Then, you can decide on what fillings you want.
You can choose from a number of different ingredients to add to any meal. Both flavors of rice – the Cilantro-Lime Brown and Cilantro-Lime White – are plant-based.
It's the same story for the beans, with both the Pinto and Black Beans containing no animal ingredients. You could also opt for the tofu-based Sofritas if you want a more hearty meal. The Sofritas were introduced to the menu back in 2014, a few years before most fast food restaurants introduced similar vegan options. They are made from organic tofu spiced with poblano pepper, cumin, and chipotle chiles.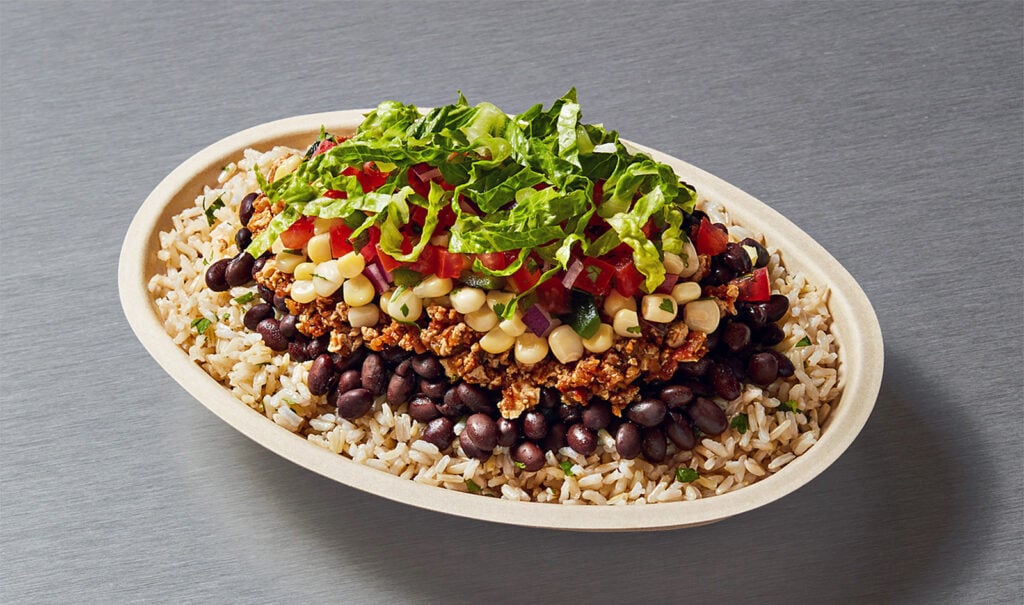 All the vegetable options are vegan, including guacamole, lettuce, peppers, and onions. When it comes to sauces, you can choose from a variety of salsa, including Roasted Tomato Red-Chili Salsa, Roasted Tomato Red-Chili Salsa, Roasted Tomato Red-Chili Salsa, and Chili-Corn Salsa. Just make sure you ask for no sour cream or cheese, and also avoid the Honey Vinaigrette.
If you'd prefer a bowl, rather than burrito or taco, you can either build your own or ask for the Vegan Bowl, which the chain launched in 2019 to offer plant-based eaters more choice. "We've found that many people are increasingly looking for plant-based protein options, Chris Brandt, Chief Marketing Officer of Chipotle, said of the launch at the time. "So we wanted to make it easy for our customers with digital shortcuts for these bowls,"
Are the tortilla chips vegan?
If you're still hungry after that bowl, taco, or burrito (no judgment here), you'll be delighted to know that the chips and guacamole are indeed suitable for plant-based eaters.
Does Chipotle have vegan cheese?
Unlike many other fast food restaurants, Chipotle hasn't yet introduced a vegan cheese option for plant-based diners anywhere in the world. This could change though, so watch this space.
Chipotle embraces veganism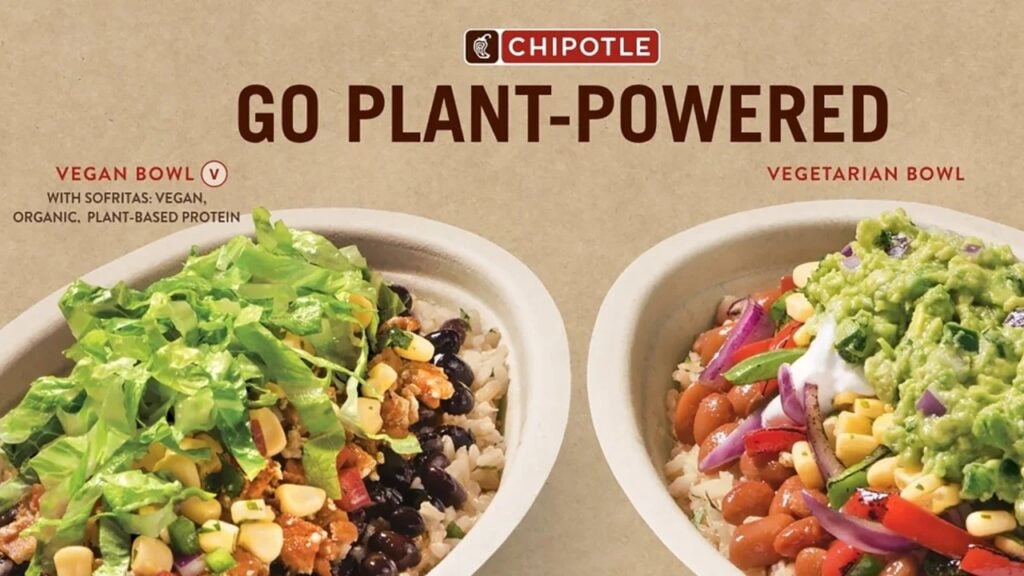 As well as being accidentally vegan-friendly for a number of years, Chipotle has been actively embracing its vegan customers in recent times. In January 2023, during Veganuary, it added two plant-based "Lifestyle Bowls" to its menu in the US. "Lifestyle Bowls" refer to bowls that can be enjoyed by those following a particular lifestyle – whether it be vegan, keto, paleo, or Whole30.
The Veggie Full Bowl was filled with White Rice, Black Beans, Fajita Veggies, Tomato Salsa, Roasted Chili-Corn Calsa, as well as Guacamole. The Plant-Powered Bowl contained a Supergreens Lettuce Blend, White Rice, Sofritas, Fajita Veggies, Fresh Tomato Salsa, Roasted Chili-Corn Calsa, and Guacamole.
Chipotle vegan meats
For a limited time in summer 2021, Chipotle introduced a vegan "Chorizo" in some locations. After a successful run, this ingredient became available at 2,700 stores nationwide. It's now been removed from the menu, and we don't know if/when could return on a more permanent basis.
Chipotle vegan drinks
The chain offers a range of vegan-friendly certified organic drinks. These are as follows:
Watermelon Limeade
Lemonade
Hibiscus Lemonade
Mandarin Agua Fresca
Berry Agua Fresca
Black Tea
More like this: