Many of us enjoy a glass of wine at the end of a busy day or long commute, and assume that since our favorite rosé or sauvignon blanc is made from grapes, it's suitable for vegans. But is wine vegan?
A lot of consumers are unaware of the fact that winemaking involves filtering the liquid through fining agents, some of which are derived from animal products. This can include egg whites, fish bladders, and more. Additionally, most wines contain additives that are not listed on the label.
Before you drink your next glass of wine or buy a popular bottle, here's everything you need to know.
How is wine made?
Wine is made from ripe grapes plucked fresh off the vine, which seems simple enough. What happens next is where the complex production process begins:
Winemakers crush and press grapes
Fermentation begins to allow the sugar in the grapes to turn into alcohol
The liquid is then "clarified" and transferred into barrels
Filtration happens next, which is common but not necessary
Producers then bottle their wine immediately, or barrel-age it
Wine clarification and filtration
Based on those steps, it would appear that wine is vegan. So why isn't it? What consumers aren't often told is that the winemaking process commonly involves several animal-derived ingredients including blood, fish bladders, gelatin, eggs, and parts of milk protein.
There are several steps that involve washing the wine through clarifying agents to make it brilliant and clear, and filtration to remove any extra organic products (such as stems), that are not listed on the labels but make wine not suitable for vegans. 
However, vegan wines are on the rise as more winemakers have answered demand for vegan or organic or natural wines. Even celebrities are getting into the vegan wine business. Cameron Diaz and partner Katherine Power launched Avaline in 2020, which has been widely successful, with more than 20 million in sales revenue as of March 2023, according to Forbes.
Also in 2020, Cara Delevingne and her sisters Chloe and Poppy launched a vegan Prosecco brand Della Vite, which uses sustainable agricultural methods. Since then, both companies have seen sales soar.
Why isn't wine vegan?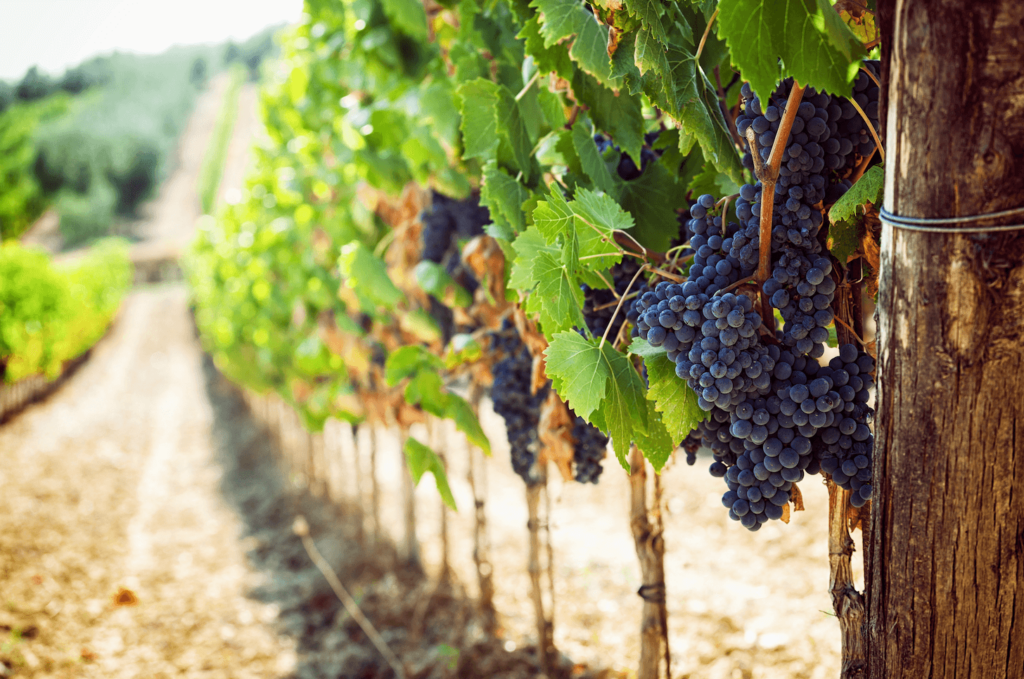 There are several parts of the winemaking process that utilize animal products, meaning a significant number of wines of all types — red, white, and rosé — are not vegan. Animal products are commonly used during fining, according to vegan YouTube sommelier Nicole Vranjican, also known as NikkiVegan.
After the fermentation process (in which yeast from the grapes feeds on the sugar inside the grapes), is when the "fining" process happens, says Vranjican. The first step in this process is to remove all that yeast, she explains.
"Egg whites or fish bladders are often used to collect the dead yeast. But, there are vegan-friendly ways to do this too," Vranjican previously told Plant Based News.
"Using bentonite clay is one example and many winemakers use these vegan-friendly ingredients for reasons that have nothing to do with creating a vegan product."
What animal products are in wine?
Eggs, casein, gelatin, and isinglass are common wine fining agents. As they're removed before bottling, they don't have to be labeled.
Animal-based wine fining agents include:
1. Egg whites
Egg whites are used to remove sediment that slips through the filtration process. Sediment and tannins stick to the egg whites. One barrel of wine can use several egg whites, they're removed after fining is complete.
2. Casein
Casein is the main protein in cow's milk. It removes unwanted sediment common in white and sparkling wines. Casein prevents oxidation and helps reduce bitterness, according to the Australian Wine Research Institute (AWRI). Additionally, it removes unwanted colors caused by sediment.
3. Gelatin
Gelatin is made by boiling pig and cow tendons into a gelatinous substance and is used in wine to remove bitterness, especially from red wines. AWRI calls gelatin the most "aggressive" of the protein-based fining agents.
4. Isinglass
Isinglass is another popular method for filtering wine. It comes from the swim bladders of certain fish. Isinglass has been used for centuries to get rid of any cloudiness in wine and beer and give wine its clear transparency. In addition, isinglass removes protein and yeast.
Where can I find vegan wine?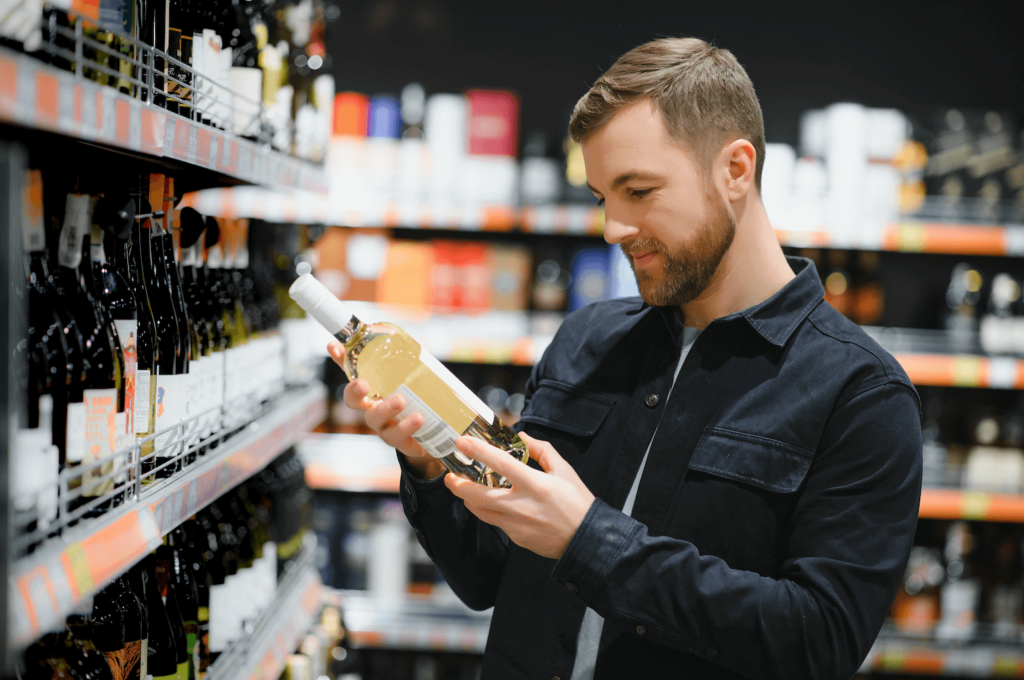 Demand for vegan wines has skyrocketed in recent years, with Harpers estimating the market to be worth £1.5 billion.
Many large retailers have created separate sections to make things easier for shoppers to find vegan wines in their stores, another sign of the explosive growth of vegan and plant-based products on the market.
Supermarkets in the UK responded to the demand for vegan wine, with Tesco adding an array of vegan bottles to shelves as part of its Finest range. Additionally, SPAR rolled out its own affordable vegan wine range. The Co-op followed suit and promised to sell more than 100 vegan wines back in 2018.
It is becoming increasingly common for supermarkets to label their wines vegan, according to The Vegan Society, which suggests plant-based customers find wine by searching for the vegan trademark. The Vegan Society keeps a list of products carrying the vegan trademark, including vegan wines.
A handy tool for finding vegan wine, including those without the vegan trademark, is Barnivore. The website contains a large database of different wines and spirits and informs users whether they're vegan.
You can also ask your local wine store about vegan-friendly options. Some stores keep lists of which of their wines are vegan, even if they aren't labeled.
How informative is a wine bottle label?
In the US, it is not mandatory for winemakers to add information on wine bottle labels, other than ingredients and alcohol content by ounce. That means you will never know whether or not the wine you're about to buy has been made using animal-derived fining agents.
In the UK, the government requires wine labels to list allergens as well as ingredients. That means any ingredients that include eggs and milk. Unfortunately, this does not include having to mention the use of gelatin or isinglass in the winemaking process.
Countries such as South America and Georgia traditionally use bentonite clay as a fining agent. However, they don't routinely print this fact on the bottle. These different rules (or lack of them) are examples of the confusing labeling process, Stowell explains.
Top 10 vegan wines to try
These wines suit all tastes and budgets, and most importantly: they're all vegan. With a large market full of options, picking our favorites was a tricky task. But here are 10 brands and bottles to try.
1. Proudly Vegan
This award-winning wine producer sells in the UK, and launched in the US in 2019. The brand proves there is no compromise on the palate with vegan wines – whether a fruity Chilean merlot is your favorite or a crisp sauvignon blanc.
To find Proudly Vegan near you, visit the Proudly Vegan website.
2. Las Dalias Malbec
UK supermarket chain M&S stocks a selection of vegan wines. One of its vegan best selling red wines is the Las Dalias Malbec. Customers describe it as a "smooth operator" for its plum and bramble flavors. A bottle of this Argentinian malbec will cost you £9.
You can order Las Dallas vegan Malbec online.
3. Bellissima Prosecco
Made in the vineyards north of Venice, Bellissima Prosecco is not only vegan but organic as well (which refers to the soil and farming practices, not the wine itself). In addition, the brand uses eco-friendly packaging.
Customers in the US can order Bellissima Prosecco online.
4. Lidl Winemaker's Selection Cabernet Sauvignon
Popular budget-friendly supermarket chain Lidl's 2018 Cabernet Sauvignon, made in Coonawarra, Australia, was given a high score of 89 out of 100 by Decanter.
Find this vegan Cabernet Sauvignon at Lidl supermarkets.
5. Definition Chardonnay 2019, Limoux
The UK's largest wine retailer, Majestic, lists Definition's aromatic oaked chardonnay as a customer favorite. This could easily be due to its notes of peach and vanilla. It's from the Limoux region in France, which is where French wine growing is concentrated.
It's currently on offer on Definition Chardonnay's website.
6. Chandon Rose Sparkling Wine
Juicy watermelon and strawberry flavors make this Argentinian chardonnay a crowd-pleaser. It's one of NikkiVegan's favorites and she assures her fans that it's "incredibly delicious."
Order on Chandon Rose Sparkling Wine's website, or from a range of retailers around the world.
7. Wine Box
Looking to order your vegan wine in bulk? The UK's Wine Box website allows shoppers to order a mixed box of vegan wines, as well as individual bottles, online.
8. Avaline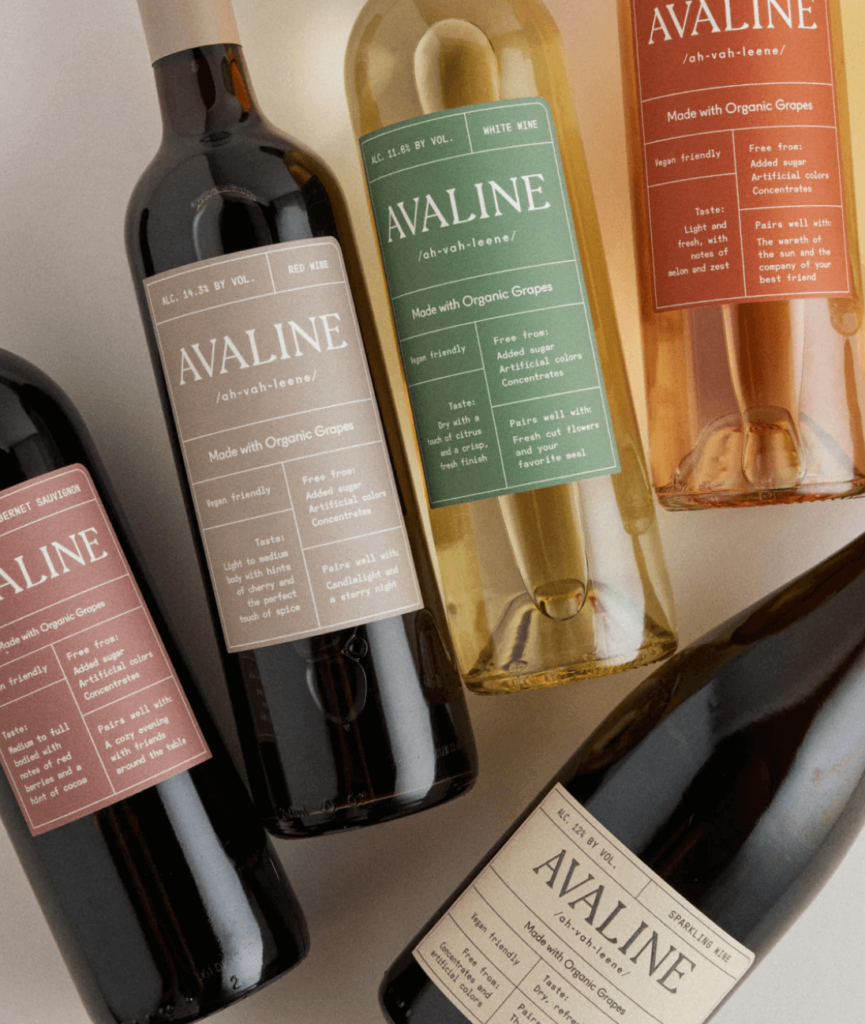 Diaz and Power's vegan and organic Avaline brand sells a variety of red, white, and rosé vegan wines. This company says it believes in transparency, and the full ingredients list can be found on every bottle.
Avaline sources their wine from a variety of regions such as Provence in France, as well as Penedès, Valencia, and Sant Sadurní d'Anoia in Spain. 
Buy Avaline's vegan wine online or check out the store locator to find it near you.
9. Della Vite
The Delevingne sisters' vegan Prosecco brand Della Vite considers itself a sustainable winery. The company offers two variations: Superiore and Treviso. Superiore is described on the site as rich and extra-dry with hints of crostini and chamomile. Treviso tastes has a clean and bright flavor that is accentuated by the flavors of gooseberry and dates.
Check out the store locator to find Della Vite vegan prosecco near you.
10. Santa Margherita
This wine brand that has been around since 1935 in Veneto, Italy. Santa Margherita stopped using animal products in their wine production years ago and instead opted for more conscious and sustainable practices. The company now uses vegan-friendly bentonite clay, along with yeast- and vegetable-derived products in the filtration process. 
The brand also only works with vegan suppliers. Santa Margherita sells a range of wines such as Pinot Grigio, Prosecco, Rosé, and Chianti. 
You can find Santa Margherita wine in major US supermarkets and liquor stores.
This article was originally published on January 19, 2021. It was last updated on June 27, 2023.
—
Looking for more content like this? You might like: