Strawberries are one of the most popular berries in the world. As well as being sweet and juicy, they have a number of health benefits. They're a source of vitamin C, manganese, folate (vitamin B9), and potassium, and packed with fiber and antioxidants. But new research indicates that they may also contribute to heart health, improve cognitive function, and reduce the risk of several chronic diseases.
The research, conducted by Michelle Tsang at San Diego State University, was presented at the Nutrition 2023 conference in Boston, Massachusetts. Strawberries' impact on cognitive function and heart health was monitored, with a particular focus on looking at daily consumption. Thirty five people aged 66 to 78 who were deemed healthy were studied over the course of eight weeks. Divided into two groups, one group would have 26 grams of freeze-dried strawberry powder every day. This represented two servings of the fruit. The other group had a placebo-like control powder.
Those who had the strawberry powder had a 5.2 percent increase in cognitive processing speed. They also had a 3.6 percent decrease in systolic blood pressure, and 10.2 percent increase in total antioxidant capacity. The conclusion of the study was that "daily consumption of 26 grams of freeze-dried strawberry powder moderately improves cognitive processing speed, lowers systolic blood pressure, and increases total-antioxidant capacity, potentially promoting cognitive function and improving cardiovascular risk factors."
One of the findings is that strawberries don't have to be consumed fresh. Giving a helping hand to reduce costs of buying and storing fresh produce.
Strawberry nutrients
Strawberries have an incredibly rich nutritional composition, which might just be why they're so good for the body. A cup of strawberries has three grams of filling fiber and a low carb count, at 11 grams. But they're a big source of vitamin C, coming in at 85mg for that cup. That almost meets the total desired daily intake of the vitamin. The benefits of this intake are thought to be increased immune function, healthy skin, and a reduced risk of some chronic diseases while working as a natural anti-inflammatory. 
Strawberry recipe ideas
If you're feeling inspired to incorporate more strawberries into your daily diet, check out the below vegan strawberry recipes:
This recipe is a new take on an old favorite. It's low on ingredients and quick to make for a breakfast, while packed with enough flavor that it could feel more like a treat.
When it comes to speedy breakfasts, toast is a mainstay. But this recipe isn't just for any old toast—this is toast taken to another level.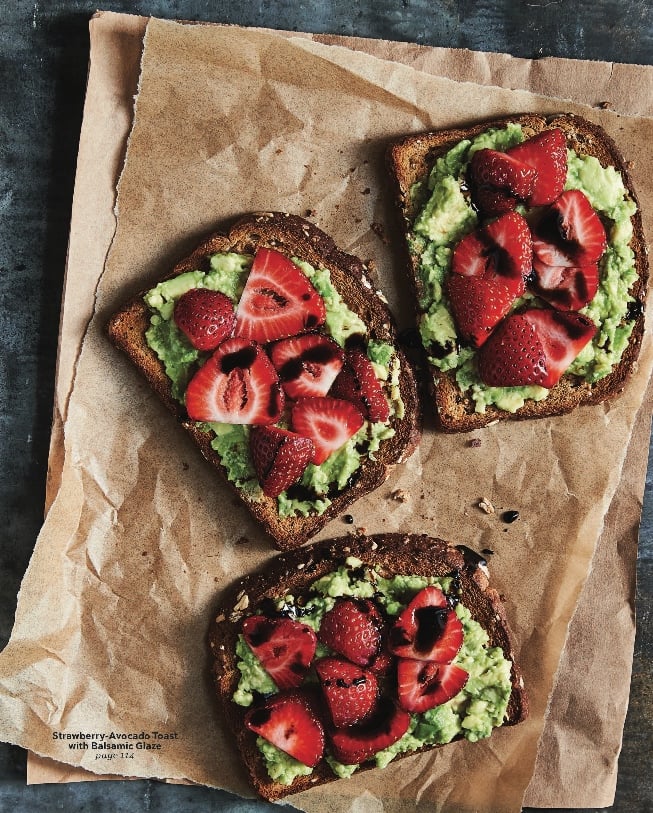 Ingredients
1

avocado

peeled, pitted, and quartered

4

whole

wheat bread slices, toasted

4

ripe strawberries

cut into 1/4 (inch slices)

1

tablespoon

balsamic glaze or reduction
Instructions
Mash one-quarter of the avocado on a slice of toast.

Layer one-quarter of the strawberry slices over the avocado, and finish with a drizzle of balsamic glaze.

Repeat with the remaining ingredients, and serve.
This recipe was republished with permission from Gabriel Miller, aka Plant-Based Gabriel.
A simple smoothie to cram in all those nutritional benefits on the go. The recipe uses frozen fruits, too, meaning you can keep them in the freezer and make it at any time.
This may be a healthy and tasty breakfast for you to make for that special someone on Valentine's Day! With only 3 ingredients, beautifully pink and sure to set you up for the day ahead.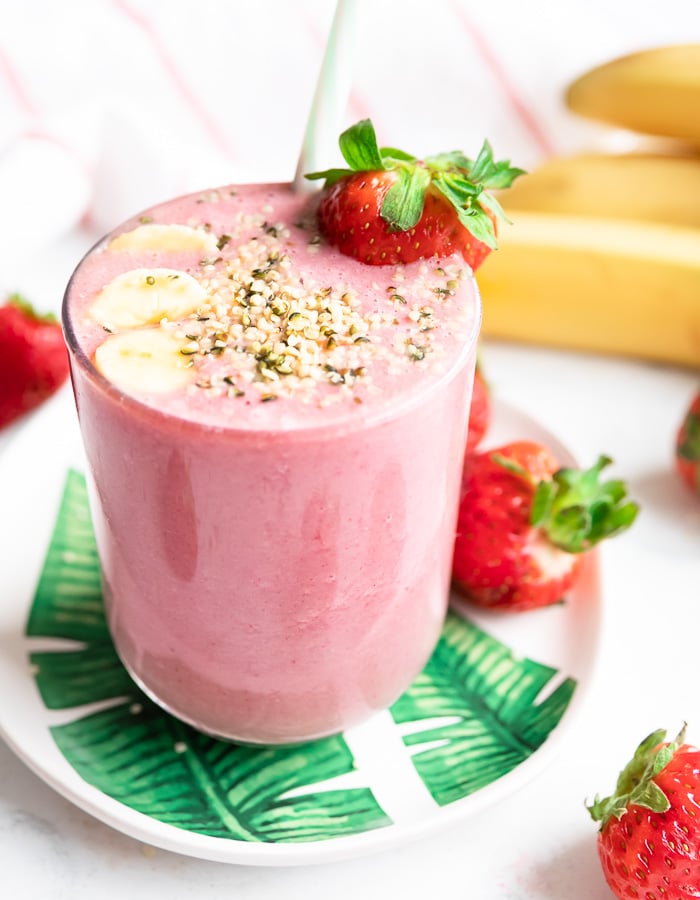 Ingredients
1

cup

frozen strawberries

1

banana

frozen

3/4

cup

soy milk

or any other plant milk

maple syrup

optional (to taste)

ice cubes

optional
Instructions
Place all ingredients into a high powdered blender and blitz until smooth and creamy.

If you'd like your smoothie a little sweeter, add up to 1 tablespoon of maple syrup or agave nectar.

To make your smoothie thicker, add an additional 1/4 cup frozen strawberries or a handful of ice cubes! Enjoy!
This recipe was republished with permission from The Plant Riot.
You can find the original recipe here.
If you feel like spending a bit more time in the kitchen, this tart could be an opportunity to pack in a bunch of vitamins without compromising on taste. It's zesty, fresh, and colorful.
How gorgeous is this! So colorful, sweet and zesty! We think it would be great on the table at Easter time!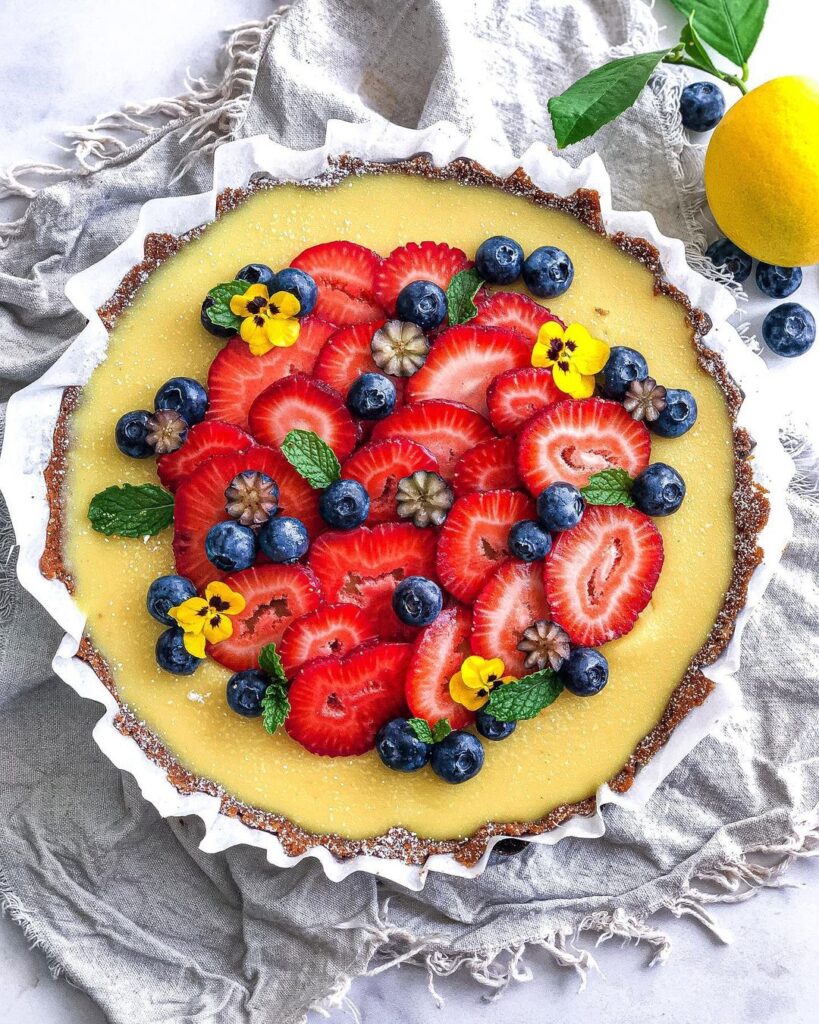 Ingredients
Crust
2

cups

almond flour

2

tbsp

tapioca starch

3

tbsp

coconut oil

melted

5

tbsp

water

3

tbsp

maple syrup

1/2

tsp

pink salt
Filling
1 1/2

can

coconut cream

3/4

cup

granulated sugar

5

lemons

(just the juice)

1

tsp

vanilla extract

4

tbsp

corn starch

1/3

cup

soy milk

1

tsp

turmeric
Instructions
Mix crust ingredients together in a bowl and then put it on a parchment paper lined 9 inch tart pan. Distribute the crust evenly, pressing around the edges. Poke few holes in the center of the crust then bake the crust for 15 min at 350 F oven. Cover the edges to prevent from browning too quickly. Take it out set it aside.
Custard Filling
In a med saucepan, bring the coconut cream to boil stirring it frequently. Add the sugar, lemon juice, zest, turmeric, vanilla extract, Keep stirring over a low heat.

In a separate bowl, Mix 4 tablespoons of corn starch with 1/3 cup of coconut milk or soy milk, mix well to get rid off any lumps. Add the mixture slowly the filling mix in a saucepan, keep stirring to avoid lumps for 5-8 min until custard thickens. The filling should be thick and custard like. Cook it little longer of the custard is not thick enough. Remove from the heat. Pour the filling into the crust. Distribute the filling evenly.

Put the tart in a flat surface in the fridge for at least 5 hours to set.

Decorate your tart with fresh strawberries, blueberries and more lemon zest.
This recipe was republished with permission from Naturally Zuzu.
Find the original recipe here.
More like this: