Since getting involved with Veganuary, Wetherspoons has been increasing its vegan and plant-based offering. Wetherspoons was one of the first pub chains to provide vegan options for the annual monthly vegan challenge, with many dishes staying on the menu for the rest of the year. It now offers plant-based breakfasts, burgers, sausages, and more.
JD Wetherspoon is a national pub chain, with branches found throughout the UK and Ireland. Most towns and cities will have at least one Wetherspoons in them. Every Wetherspoons is unique, with the bar, layout, and carpet tailored to each location. It's known for taking over interesting buildings, like old theaters, banks, and cinemas. 
Since being founded in 1979, it's opened up close to 900 pubs and hotels across the country, with a focus on trying to make food and drink more affordable. When it comes to vegan options, there are a few variations based on location. Beyond Meat burgers were introduced to almost all of their branches in 2020. Prices and availability varies from pub to pub, but we've listed below the plant-based dishes found on a standard menu, found in most Wetherspoons locations.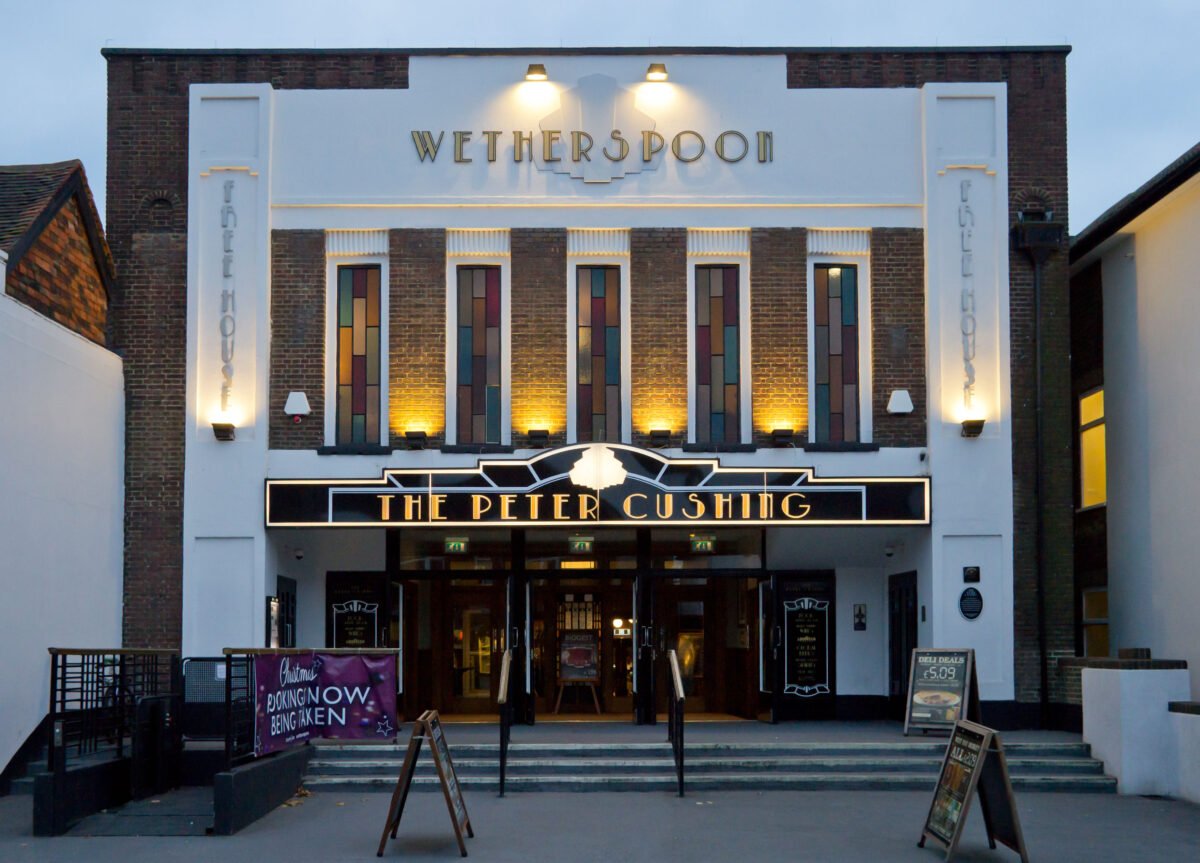 Breakfast
Wetherspoons vegan breakfast
The Wetherspoons vegan breakfast offers two Quorn sausages, baked beans, two hash browns, mushrooms, and tomato. Served with a slice of toast and vegan spread.
Fresh fruit
A bowl of chopped apple and banana, with blueberries and strawberries.
Smashed avocado muffin
Guacamole and pico de gallo on an English muffin, topped with rocket.
Wetherspoons vegan breakfast extras
Additions of a Quorn sausage, baked beans, hash brown, two mushrooms, and two grilled tomato halves from the 'breakfast extras' section are vegan.
Small plates and sides
Vegan roasted vegetable pizza
A freshly baked sourdough base (8" or 11"), topped with mushrooms, roasted pepper, courgette, onion, and basil. Extra red onion, red chilis, roasted vegetables, and mushroom can be added for an additional cost. There's also a vegan garlic and herb dip available for an extra cost.
Chips with curry sauce
A bowl of chips served with chip shop-style curry sauce.
Quorn nugget wrap
Tortilla wrap filled with Quorn nuggets, tomato, cucumber, and salsa. Chips, salad, tomato and basil soup, and spicy rice can also be added to the deli deal for an additional cost.
Quorn nugget basket meal
Eight coated pieces of Quorn nuggets, with a choice of sweet chili or naga chili dip.
Mains
Jacket potato
Simply served with a choice of fillings: beans, five-bean chili, or roasted vegetables.
Beyond Meat burger
Available as classic (served with chips) or gourmet (served with chips and six onion rings). There's also the option to add five-bean chili, bbq sauce or a second Beyond Meat patty to your burger.
Fiesta burger
Additionally to its classic burger, this one is a Beyond Meat patty with salsa, guacamole, roasted pepper, courgette, onion, and six onion rings.
Quorn katsu curry
Wetherspoons released its katsu curry range onto the menu earlier in 2023. The vegan option includes eight coated Quorn nuggets, with a mild Japanese-style katsu curry sauce. Served with coconut rice, sliced chilis and coriander.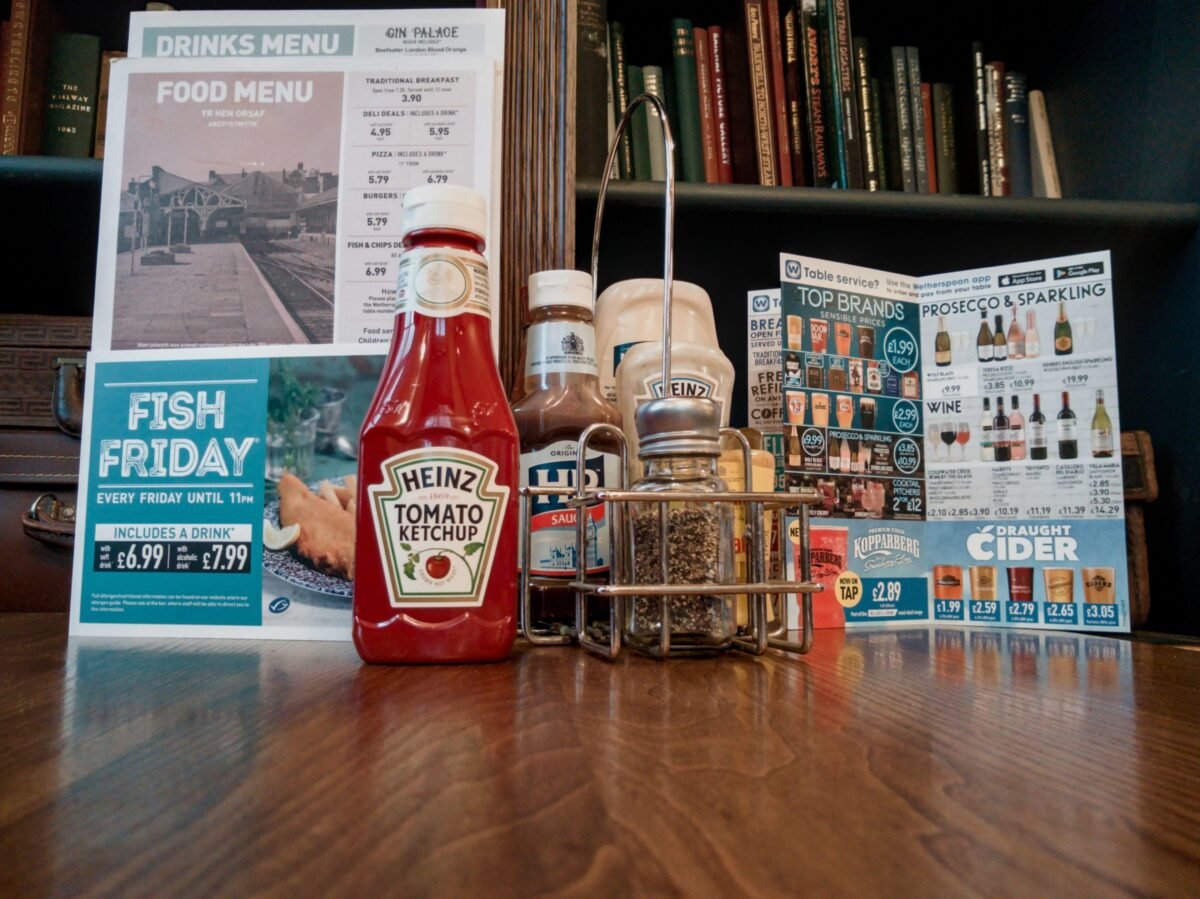 Mangalorean roasted cauliflower and spinach curry
A floral, mild and creamy curry with a hint of coconut. Can be ordered as a 'classic curry' – comes with basmati pilau rice, poppadoms, and plain naan. Or as a 'simple curry', with basmati pilau rice or chips.
Vegan sausage, chips, and beans
From the 'pub classics' section. Three Quorn sausages served with chips and beans.
Five-bean chili
A classic five-bean chili served with rice.
Mediterranean salad
While most of the salads on the menu are vegetarian, there's currently one vegan option. Pearl barley and quinoa form the base. Butternut squash, wheat berries, red pepper, and cherry tomatoes are added. Served with pumpkin seeds, basil, and a dressing on top. Extra roasted vegetables can also be added for an additional cost.
Desserts
Wetherspoons currently has no vegan dessert options on its menus. Though Matt Eldson, Wetherspoons' Senior Food Development Manager, confirmed to PBN that some dessert options are in development. 
Drinks
The vegan drink options vary between regions, so it's best to check with each branch what there is on offer.
More like this: